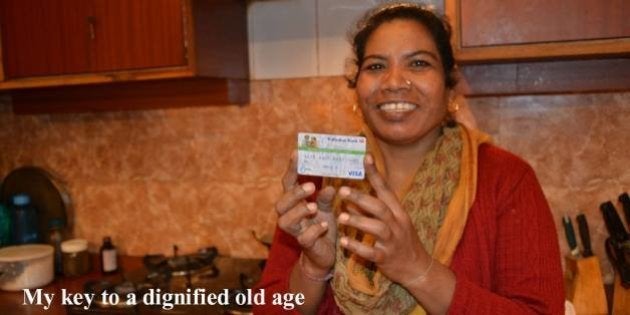 When Neerharika Aggarwal, a Delhi-based Lawyer, tried to sign up Madhav Khatri, her 25 year-old cook, into a pension scheme, she met with fair bit of resistance. "Convincing him was slightly tedious. He had doubts about where the money would go, and that he wouldn't have access to his money." she said.
"But it's quite a luxury for them to plan for their future. They don't have a stable source of income. There are times in their life they won't be able to work." Aggarwal said. Using the interactive demos and videos on this site, she was able to convince him that his money will be accessible to him even when he goes back to his village. She puts in Rs500 every month on his behalf. By the time he retires, at his current rate of savings, Madhav stands to draw a monthly pension of Rs7,600.
Giftapension.com is an online platform launched by Delhi-based non-profit Micro Pension Foundation, which enables domestic workers—cooks, maids, drivers and nannies—plan for their lives after 60. Ideally, the role of the employer is to just enrol, which has a one time convenience fee of Rs300.
The employee can make monthly contributions through the Micro Pension prepaid card provided in the welcome kit, or use their bank accounts, if they have active accounts that they are willing to use.
"We took inspiration from Flipkart and Ebay—in four simple steps, you can gift a pension to your domestic help."
"There are 40 million domestic help in India. We can change the life of one million this weekend. All we have to do is decide to change the life of that one person." said Parul Seth Khanna, program director at Micro Pension Foundation.
The non-profit is promoted by Invest India Micro Pension Services Pvt Ltd, whose focus is on creating pension plans for informal sector workers, comprising 94 percent of India's 487 million workforce.
"We took inspiration from Flipkart and Ebay--in four simple steps, you can gift a pension to your domestic help. The initial enrolment happens completely online, and then within four days you receive a courier in your house." Khanna said. "Once you get their signatures, the courier gets picked up again from your doorstep, to make it super convenient." she added.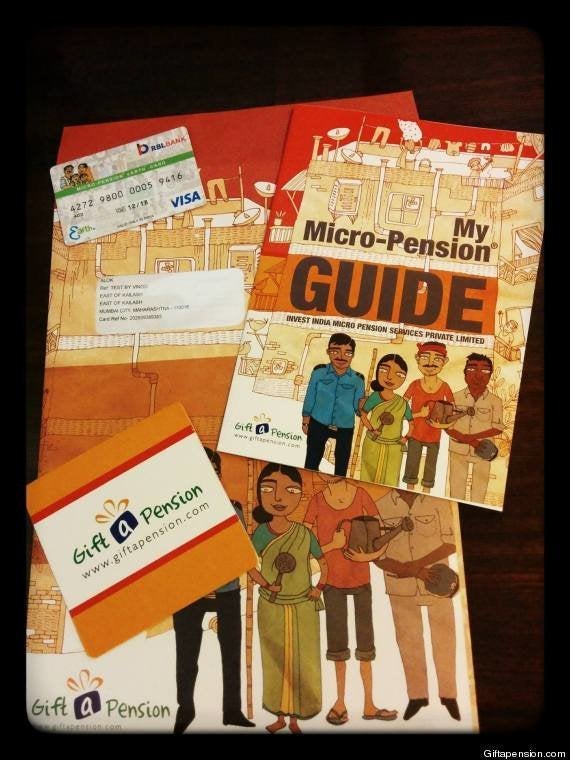 Domestic workers in India's big cities typically earn a monthly salary of around Rs5,000 to 12,000. That's often barely enough to make ends meet—which is why the NPS Lite scheme enables savings as low as Rs100 a month. "Moreover, the product does not lapse, and there are no penalties if an individual misses their regular contributions." Khanna said. Giftapension also enables access to an SBI Life life insurance plan that costs just Rs135 to Rs345 annually. "It covers life and accident, but not health. We shall add a health product as well in the next few months." she added.
What happens when your driver goes to a new employer, or he goes back to his village? They can continue making their contributions using their Micro Pension VISA card at recharge outlets located across the country. Alternatively, they can also use their bank accounts to make regular contributions. In both situations, the helpline guides them in nine Indian regional languages.
Swavalamban Yojana, valid till the financial year 2016-17, is a special scheme offered by the Government of India, where the central government contributes Rs1,000 for contributions between Rs1,000 and Rs12,000 in a financial year. The money one saves in NPS Lite is invested and grows over time, earning an interest rate of around 8 percent. A 25-year-old maid who makes a monthly contribution of Rs1,000 a month would get an estimated pension of Rs15,292 monthly at retirement, and accumulate a corpus amount of nearly 23 lakh rupees.
Since September 2014, roughly 1,200 employers have registered on Giftapension.com, and 450 domestic help have been gifted a pension already. "Several employers gift a pension to more than one person, and that is a very encouraging statistic." Khanna said.