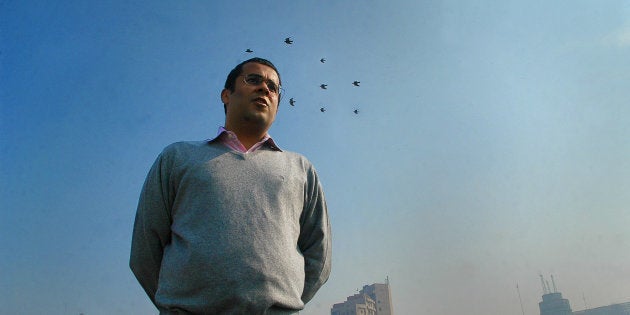 In the pantheon of spammers writers tend to occupy a special position of significance. I know one poet, for instance, who has been sending me, for years, the slightest mention of his name or work, dredged from the bottomless pit that is the Internet, via every conceivable means of communication known to human beings, except for snail mail. Apart from being tagged on social media platforms, I receive his updates on various messaging services and email. His challenge is to break down my wall of silence, my battle is to make my fortifications stronger.
Then there are authors who have aced the social media game with such panache, especially on the micro-blogging platform Twitter, that many of us who may not usually read a word of their literary output would be provoked to engage with them, often only to contradict the atrociousness of their statements.
Does engagement then indicate the popular appeal of writers? A recent survey by Twitter suggests that may be the case. Here are the top five most mentioned Indian writers in it.
The metrics for this survey, based on the number of the mentions, aren't foolproof, since these don't take into account paid promotions, which are as common as buy-back deals in the publishing industry by authors who want to enhance the sale of their books. Be that as it may, the popularity of Twitter, as a platform for literary discussion and promotion of books, remains indisputable.
"We tracked the way these users engage with the audience on the platform," Keya Madhvani, the Head of Lifestyle & Creator Partnerships at Twitter India, told HuffPost India. "The final analysis was based on the number of engaging followers an account has."
With their eagerness to drive dialogue and conversation, be it through tweets or live videos on Periscope, many Indian authors are showing a remarkable prowess over the medium. Publishers, too, are devising innovative strategies to use Twitter: from running contests and giveaways to quizzes and chats, it keeps buzzing with a myriad activities.
Not all is fun and games or venomous hatred (as the case may be) on social media though. One of the more pleasant outcomes of literary Twitter is a book like Tales of Tweet, edited by Manoj Pandey, spawned by a crowdsourcing masterstroke.
While revising his own novel, Pandey began tweeting out snippets from it into cyberspace, like litmus tests in 140-characters. At some point, he started soliciting tweet-length tales from the most formidable names in the business, not in the least hoping to hear back from any of them.
To his delight and astonishment, writers like Salman Rushdie, Margaret Atwood, Shashi Tharoor and Teju Cole sent him their contributions. Those, along with a few others chosen from wide-ranging submissions, found their way into a book, beautifully illustrated by artist Yuko Shimizu.
Among other literary delights on Twitter, Terribly Tiny Tales (@terriblytiny) draws on a similar inspiration to generate profound vignettes in 140 characters. There are dozens of celebrity bloggers and curators (like Maria Popova of @brainpickings fame), who have turned Twitter into a refuge for the literary-minded.
Then, there are the hundreds of writers, the famous and the emerging, whose duty to the readers and publishers must now extend to being active on social media, apart from spending enough time on their literary pursuits.
The Dos and Don'ts
Almost every book publicist will tell you their dream is to work with an author, who is digitally savvy and blessed with the charisma, wit, even looks (you may roll your eyes, but that's how it is) to draw in readers. From Ramachandra Guha to Ravinder Singh, Amitav Ghosh to Amish Tripathi, no writer is exempt from the grind of social media.
"Social media is where your readers are," says Amish, whose spectacular success as the author of the Shiva trilogy owes immensely to social media promotions. But he also admits it can be a "time sink", a bog that may drown you in controversies.
When HuffPost India asked him for some pro-tip about using social media, he had one solid piece of advice: never respond to any message, especially those that rile you, from your phone. Switching on the computer, typing in the username and password, then scrolling to the message add up to taking a deep breath, which helps dissipate an immediate irritant. QED: less chances of you blowing your top in public.
Most publicists, as well as authors, will also tell you that being yourself on social media is the best strategy. To be honest, it is and isn't.
Not pretending to be someone else is a good check on making faux pas. But what if your need for attention is as importunate as the above-mentioned poet's? That's where phrases like "pacing yourself" and intelligent "content-curation" come in. Ugly as they may sound, they are your guiding lights on social media platforms, be it on Twitter, Facebook or Instagram.
The frequency of your posts, the substance of what you're posting, the quality of your engagement with the readers — cumulatively add up to your credibility on social media. For every post about your book, balance it out by at least pushing out 3-4 posts that have nothing to do with it or yourself. That way, you may have a better of appearing as an appealing persona, rather than a salesman only interested in transaction.
Truth be told, social media does fill an increasingly gaping hole in mainstream media, left by the vanishing culture pages.
"Book review sections are disappearing from newspapers," says Savi Sharma, who self-published her first book, Everyone Has a Story (2015), before it was picked up by Westland and given a second life in trade. Wesland claims the title has sold a staggering 125,000 copies in the first 100 days of its release.
Although she occasionally uses paid promotions to increase her reach, Sharma emphasises the importance of having an organic following. To that end, she spends as much time interacting with her readers, like any other successful mass-market writer, as on her writing.
What the figures tell
Since social media campaigns may be measured in terms of clicks, views and other metrics of engagement, their impact on sales of books can also be deduced, to an extent, by the performance of such promotions.
A digital-first publisher like Juggernaut Books, which uses an app to push out content into the market, puts a premium on social media promotions.
One of Juggernaut's most successful titles last year was journalist Vaasanthi's biography of J Jayalalithaa, the former chief minister of Tamil Nadu. With her sudden death at the end of the year and the attendant interest on social as well as mainstream media, Amma: Jayalalithaa's Journey from Movie Star to Political Queen saw a huge spike in sales. In three days, 600 copies were downloaded on the app.
The benefits of a robust social media presence, however, are more incremental than immediate. Not only can it improve the fortunes of a book or an author, but it may also improve to the image of the publisher, leading to better recognition of its brand in the market. The role of such platforms is, largely, to whet the appetite of the potential reader, who may then be persuaded by a campaign to purchase a book.
That's really as far as any campaign can take an author or a publisher. The rest — whether it helps create a loyal readership or paves the road to the bestsellers' list — will always remain a mystery, especially in an unpredictable business like publishing.
As history shows, the greatest often die in obscurity and the biggest charlatans find enduring glory.
Popular in the Community