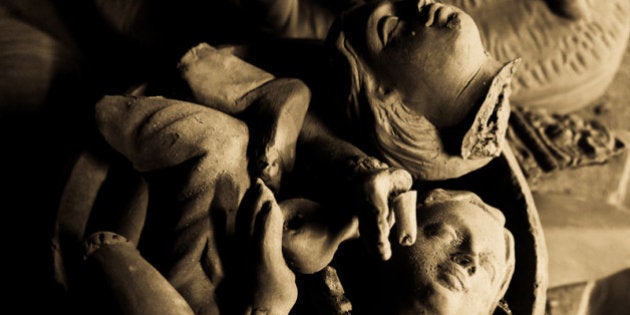 Ghurni is a humble neighbourhood of Krishnanagar West Bengal's Nadia district. What makes it remarkable is that it is a centre of production for stunningly beautiful and lifelike clay dolls (have a look at them here).
Raja Krishna Chandra Ray, king of Krishnanagar in the 18th century, was a great patron of the arts, including literature and music. He supported the production of clay dolls during his reign with unstinting devotion, bringing a large number of families of potters from Dhaka and Natore in East Bengal to Ghurni and patronising them.
While clay artefacts are created in many parts of India, few can compare with the intricate detailing and finesse that define the clay dolls of Krishnanagar. The marvellous creations of these artisans are displayed in handicraft museums and art galleries around the globe, including our very own Shankar's Doll Museum in New Delhi.
Every doll - just two or three inches in height -- tells a story or depicts a vignette of rural life -- a horse rearing to gallop to a quietly relaxing dog, a village housewife chopping vegetables on the floor, a fisherman selling fish from a huge bamboo basket, basket weavers working with bamboo bark, a priest doing puja in front of a shivling, umbrella repairmen fixing broken handles, Santhal adivasis dancing with dhols, villagers carrying home firewood, an iron welder at his craft, a rope-maker working with jute and cotton... the list is endless.
"If we can generate public awareness through national and international exhibitions, social media initiatives, dedicated blogging etc, it might inspire the Krishnanagar clay doll makers to infuse new life in their beautiful heritage."
Fruits, fish, insects, animals, birds, and the entire pantheon of Hindu gods and goddesses are expressed in clay. Some artists even give their dolls a modern twist, creating their own interpretations of Donald Duck and other popular cartoon characters.
Krishnanagar clay dolls are truly unique in their realism and the supreme quality of their finish. They truly represent a remarkable breakaway from traditional clay work. Yet some aspects are rooted in age-old techniques.
The dolls are made with clay deposits from the banks of the holy River Ganges. This soil is incredibly soft, and can be moulded easily into any intricate shape. The doll makers use tiny iron rods to provide the skeletal structure for the dolls, then work with delicate tools to craft the clay. When they are nearly done, the dolls are baked in a kiln, given a final coat of varnish, painted, and then costumed with authentic miniature clothing.
Exhibitions of Krishnanagar dolls have been held in many parts of the globe including London, Paris and Boston. Ghurni clay models have won several prestigious medals and certificates at international exhibitions.
Unfortunately, despite the occasional accolades, doll making is a dying art form though it has been a part of the legacy of the local potters for over five generations.
The art received international recognition and saw its golden days during the reign of Raja Krishna Chandra Ray, when the figures were exported and the artisans were even sent abroad to promote and teach the art. But after his death, royal patronage came to a standstill. Now, exports have completely stopped.
Currently, the artisans are in dire financial straits primarily due to a lack of patrons and proper promotions. There is no support from the government either. No one wants to invest in them. This naturally reflects in the quality of their workmanship. Nowadays, the figures lack that characteristic intricacy and attention to detail for which the dolls were renowned.
Add to that a slew of inexpensive copies cast in plaster-of-Paris and other cheap raw materials. People buy these rip-offs, not knowing how much more beautiful and refined the real dolls are.
Disillusionment is a natural outcome of this among the craftspeople and the younger generation is looking for alternative employment. Yet, some artisans, anonymous geniuses that they are, continue to toil, painstakingly crafting detail upon detail to the diminutive clay forms.
It is time we step in where Raja Krishna Chandra Ray left off to preserve this grand artistic treasure. If we can generate public awareness through national and international exhibitions, social media initiatives, dedicated blogging etc, it might inspire the Krishnanagar clay doll makers to infuse new life in their beautiful heritage.
We also need a drive to educate and empower these artisans with the knowledge and skills that allow them to harness the power of technology. How much more they could do if they had access to knowledge about sales, digital marketing techniques and the power of the internet to promote and sell their work. It is then and only then that this age-old craft will continue to survive in this century.