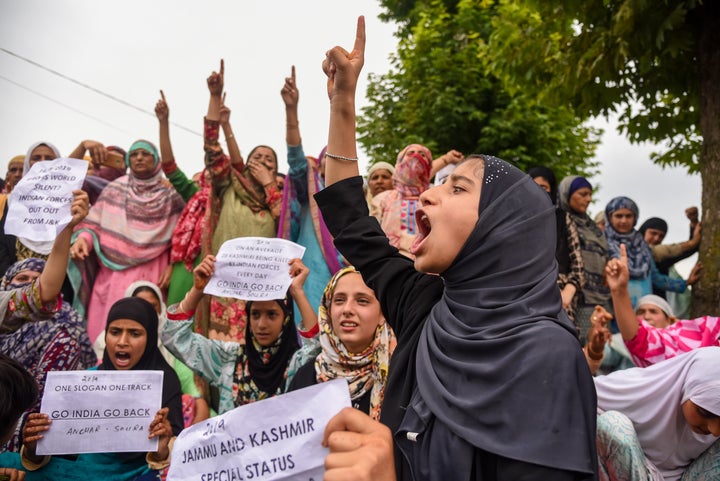 Prime Minister Narendra Modi on Thursday said "we have to create a new paradise" and "hug each Kashmiri" as the region entered its 45th day of partial shutdown.
Jammu and Kashmir has been under lockdown since the government abrogated Article 370 of the Constitution to do away with the special status given to the state. Strict restrictions were put in place to clampdown on people's movement while telephone and internet connections were snapped.
Modi made the comments while he was in Nashik to launch BJP's poll campaign for next month's Maharashtra assembly elections. He said efforts were being made to foment cross-border violence in Jammu and Kashmir.
In Thursday's rally speech, Modi defended the government's Article 370 move saying, "This decision is going to be the medium of fulfilling the aspirations and dreams of the people of Jammu and Kashmir."
"We had promised that we will make new efforts to curb the problems in Jammu and Kashmir and Ladakh. Today I can say with satisfaction that the country has started walking towards fulfilling those dreams," he said, quotes PTI.
Contrast this with a Reuters report today that said businesspeople in Kashmir were saying key sectors of its economy like tourism, fruit and handicrafts had been hit hard since the lockdown began on August 5.
Members of the chamber of commerce told the news agency the continuing lack of internet and mobile connections had paralysed their work, including the ability to file taxes and make bank transactions.
"With a few businessmen raided and more under detention, why would anyone from the rest of the country engage with them and subject himself to a possible enquiry of his transaction and opening of his books?" Haseeb Drabu, the state's former finance minister told Reuters.
According to its report, the government's own data showed tourist numbers, that had begun improving between April and July this year, dropped off a cliff in August. Only 10,130 tourists visited Kashmir in August, compared to nearly 150,000 in July and more than 160,000 in June this year.
On Monday, the Supreme Court directed the central government to restore normal life in Kashmir as soon as possible even as the government told the top court restrictions were still required in order to maintain law and order.
On the eve of the hearing, the government detained former chief minister Farooq Abdullah under the PSA, which allows a person to be detained without trial for 2 years.
In interviews with the Associated Press, multiple Kashmiris alleged abuse by Indian security forces.
A hug is far from the need of the hour. Restoration of democratic rights would be a start.