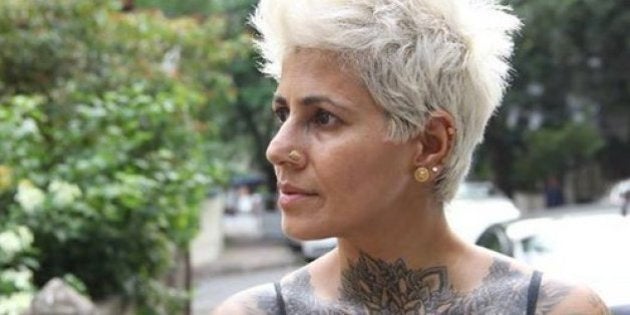 Celebrity hair stylist Sapna Bhavnani is known for a lot of things: her quirky sense of style, her wicked tattoos and mostly her don't-mess-with-me attitude. But the exterior one sees betrays no memories of the horrific gang-rape incident that she endured 20 years ago one Christmas Eve in Chicago: the Bigg Boss (Season 6) contender recently shared her chilling story on the Facebook page Humans of Bombay, saying she was accosted outside a bar late at night by a group of men who threatened her with a gun, and forced themselves on her.
"It took me 20 years to voice my incident, but for me a woman keeping it all within her because she has no other choice isn't a sign of weakness — it's a mark of strength and something we need to start respecting," Bhavnani was quoted saying in the Facebook post (that currently has over 54,000 likes and 5,000 shares).
Bhavnani's story first got reported by the media in March 2014. In this Deccan Chronicle interview, she had spoken about how the play Nirbhaya, which was performed at the Edinburgh Fringe Festival in 2013, had led her to a realisation about an incident she'd buried in her head for 20 years.
The incident took place when she was 24 and is described in the post above in detail. Bhavnani's only coping mechanism was to deny the truth of what had happened. In the interview, she spoke about having a conversation with South African playwright Yaël Farber — the director of the play — and related the incident quite matter-of-factly.
"I was having a Skype session with Yael and I told her the story in my usual fun style. I told her I was wearing heels and 'kill-me-red-lipstick' (sic) (words changed). I even told her that at least the boys were cute. I said everything without saying 'rape' once. Yael was not amused. She cut to the chase. She said, 'You don't hear yourself. Do you understand what happened?' The conversation took a serious graph. I thought I was being the smart one. But Yael just told me what it was. I was gang raped."
Bhavnani then used this traumatic realisation in her performance, saying that she felt raped every time she went on stage and told her story to audiences. However, as the play grew more popular and travelled to various parts of the world, she grew in confidence. Her need to tell her story spurred her on.
Now, in this Facebook post, Bhavnani's amazing resilience comes out through her blunt words as she reveals how she never let this experience break her spirit: "We live in a world where everyone stresses the importance of voicing yourself or walking out of tough situations, but I just want to say this — no one wants to be beaten up, get raped or sell their bodies."