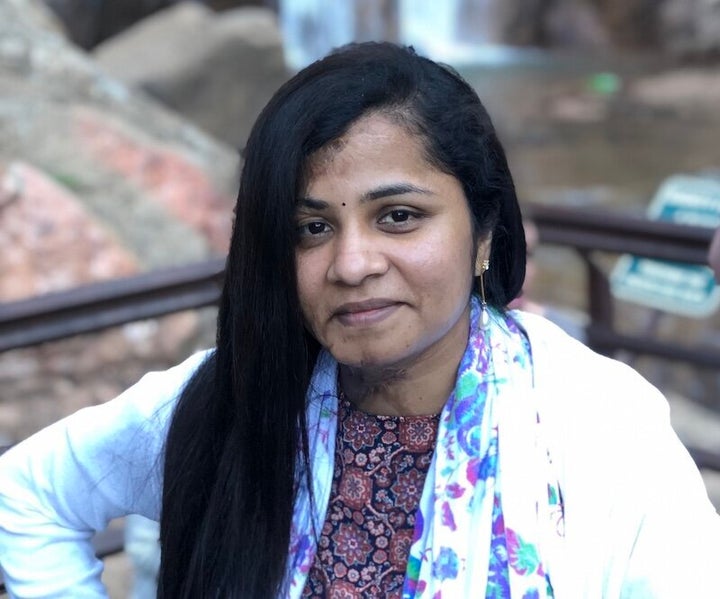 Hyderabad, TELANGANA: T. Pranitha, a 31-year-old Telugu woman living in Denver, Colorado, stopped watching television on November 28, the day the Telangana police found the charred body of a 27-year-old veterinarian who was gangraped and murdered in the outskirts of Hyderabad. She could neither get herself to pore over the assault details splashed on broadsheets nor could she watch the visuals of the massive protests that broke out in Hyderabad soon after.
As Twitter trended the hashtag #HyderabadHorror and protesters across the country, including parliamentarians who should know better, demanded that the four accused and other rapists be castrated, lynched or killed in a police 'encounter', Pranitha remained disturbed because the #JusticeforDisha campaign triggered memories of a harrowing day in her life, and its aftermath.
On 10 December 2008, three men threw acid on 20-year-old Pranitha and her classmate and friend Swapnika, and left them to die on a busy street in Warangal town when they were returning home from college. The trio—25-year-old S. Srinivas, D. Sanjay (22) and P. Harikrishna (24)—attacked the women because Swapnika had turned down Srinivas's proposal. Three days after the attack, as protests demanding justice for the young women raged across Andhra Pradesh and Telangana, the three accused were killed in an 'encounter'. The police claimed that the youth had attacked them first with country-made weapons and acid. The alleged killing, however, took place after the Warangal police was accused of not acting on a complaint which Swapnika and her family had filed three weeks before the attack, accusing Srinivas of harassing her.
A decade later, as public outcry for quick justice was resurrected after the veterinarian's murder, the Warangal case was example held up by the mob as an example of the 'right thing' being done.
However, Pranitha, who was hospitalised when the Warangal 'encounter' took place (Swapnika died some days after the attack), remains torn when it comes to the death penalty. Though she is thankful to the police for "helping her" by taking the 'incident' seriously in 2008, she is yet to come to terms with the 'killing', she said in an interview with HuffPost India. Eleven years since the attack, she is certain that the 'encounter' of the perpetrators did not serve justice, she said. Making a strong case for stringent legal recourse instead of mob violence, Pranitha maintained that preempting assault is the best way to ensure justice for women.
V.C. Sajjanar, the current commissioner of police, Cyberabad, who arrested the four accused—Mohammed Areef (26), Jollu Shiva (20), Jollu Naveen (20) and Chintakunta Chennakeshavulu (20)—in the Hyderabad rape case was Warangal's Superintendent of Police and in charge of the acid attack case investigation as well. In 2008, he had received both accolades and brickbats for what was then referred to as 'swift justice' from police by one section and 'extrajudicial killing' by the other. Commissioner Sajjanar was not available for comment when contacted by HuffPost India on Thursday.
It's too late for the accused in the veterinarian's rape and murder, but to everyone who demanded death for them, Pranitha wants to advocate her demand for shorter response time for police complaints, a fast-track legal recourse and conviction by trial.
Pranitha was enrolled in her final year B. Tech in Kakatiya Institute of Technology when she was attacked. She had already secured an offer letter for a "dream job" in Infosys-Hyderabad and was preparing for her final-year examinations. Recollecting the day the attack took place, she said, "I knew that a man had proposed to Swapnika and that she had rejected the proposal. As that was a common thing in college, I did not take it seriously. I was not aware that she had reported the person to police".
She was riding her bike, with Swapnika on the pillion, when the trio approached them and Srinivas poured the corrosive liquid on both.
"Some bystander called an auto and we got in. I had to instruct the auto driver to take us to a private hospital nearby and even show him the way because he was from out of town," she recollected. The first call she made was neither to the police nor a hospital but to her parents. When asked why she did not turn to the law-and-order officers first, she asked, "Would the police have come if I had made the call?".
Last week, when the young vet made her last call to her sister and not the police, Telangana's Home Minister Mahmood Ali had wondered why she did not call the police. In 2008, it took 10 minutes for the two women to reach the hospital and within half an hour, their parents and relatives joined them. Pranitha's father Kantharao told HuffPost India, "The police reached the hospital later. It was the doctors who were around to help us". The women were soon shifted to a private hospital in Hyderabad.
On Day 3 after the attack, in the intervening night between December 13 and 14 when Pranitha was resting in her hospital room, a commotion woke her. "I did not open my eyes. But someone who was standing near the door shouted, 'Because of you they are encountered'". Though she did not recognise the voice or open her eyes which were bandaged, she realised that her attackers were dead. The encounter happened when the police took the accused youth to Mamnoor, in the outskirts of Warangal, where the trio had allegedly hidden acid bottles which were used in the attack.
"Just imagine, a regular college girl who went for her classes getting attacked and hospitalised. And when you get told that you caused three deaths, you will think what you did was wrong"
What was her first response to the news?
"I was afraid. I was very afraid. Imagine being told that you are the cause of someone's death," she said. After a pause, she explained, "Maybe the expected reaction was happiness. But in my case it was different. I was afraid".
The voice which told her of the encounter remains etched in memory. She said, "Just imagine, a regular college girl who went for her classes getting attacked and hospitalised. And when you get told that you caused three deaths, you will think what you did was wrong". The 'encounter' reinforced the blame which she had felt when people had earlier asked her, "Why did you ride a bike that day?" and "Are you aware that you have become a burden for your family?". Pranitha blamed herself. Her parents had to remove the television from her hospital room to shield her from news about the killing. Her mother also told bystanders not to discuss the deaths with her.
Why did she feel afraid? "I had never entered a police station in my life. So when you know something like a killing has happened…it is difficult to come to terms with it".
Notwithstanding debates around death penalty, did the killing instil courage in Pranitha? "Please don't ask me this question. I never wanted to think about the encounter ever. I never did. It was scary and I do not want to think about it," she said.
Did she think justice was done? "I think there's no justice in that kind of action. Justice will be done when my face comes back to normal, when my skin is normal and I get to lead a normal life. That will be called justice. Though they are killed, I am still facing the aftermath of the incident," she said.
Remembering the first day in the hospital, Pranitha said, "I was not aware of the severity of the attack and that I was battling for my life. All that I could think of was that I had a mid-term examination coming up".
To the doctors in Hyderabad she had naively asked, "Will you discharge me before my examination in January?". She did not get an answer to the question as the doctors were certain that she would be bedridden for at least three months.
The first month after the attack, she laid motionless in the hospital bed for her wounds to heal. Swapnika, her friend, succumbed to the acid burns after 20 days. For the next two months, she focused on studying for her mid-term examination. It was not easy.
"There were only two options for me—either watch TV or study. I chose the latter," she said. All the while, she needed assistance to meet even her basic needs, her father Kantharao told HuffPost India. She had to undergo 14 surgeries on her skin during the time. For her mid-term examination in March 2008, Pranitha reached her college, face bandaged. "The week before, a surgery was performed on my eyelid and I was still bandaged. At the examination hall, media personnel surrounded me and they stayed till I finished writing. At that moment I thought of the previous times I had casually appeared for the examination. Life had changed drastically," she said. Justice was the last thing on her mind at the time. Survival was her priority.
Though she secured 82% in her final year examination and took up the Infosys job in January 2009, her life did not return to normalcy. During the six months of mandated training in Mysore, Pranitha remained troubled. "I did not trust men. I used to talk only to my male classmates who were also posted on the same campus. Whenever I had to collaborate with other male professionals, I used to ask my classmates whether 'they are good' (people)", she said.
Outliving the aftermath of an attack was difficult and she started building her career networks only a year later. Still, she was not prepared to face the discrimination and taboo which came with the attack. "I was once told that I cannot go for a foreign business trip because the team leader felt I am not physically fit. I had to contest this and get my right to attend the business meeting," she said. In 2012, when she got married, she thought the ghosts of her past would cease following her. That was not to be. "When I take a photograph I get reminded of that day. When I look in the mirror I know that I look the way I look because of that day," she said.
Does she ever imagine changing the past? "I am not in a position to blame the police. When I look back, I want to change the sequence of events. I wish I had sent Swapnika in an autorickshaw instead of offering her a lift. I wish I had ridden my bike at 60 km per hour instead of 30 kmph," she said. Even with the recent incident, she wishes she could change the series of events that led to the vet's killing. "I wish she had not faced the attack. I wish she had listened to her sister who advised her to stay near the toll plaza. I wish somebody had helped her," Pranitha said.
But shouldn't the law-and-order mechanism in the state be held responsible for not having prevented the attacks? The vet's family had complained that the Cyberabad police kept sending them from one police station to other instead of searching for the missing woman. Pranitha thinks that police inaction emboldens most perpetrators. Neither the men who attacked her nor the ones who allegedly attacked the vet would have thought of "getting caught" because most "attackers think that they can get away with a police case and a long-drawn legal battle that would give them immunity", she said. Then, should stringent action against the accused include death penalty or extrajudicial killings?
When she first heard legal experts argue against death penalty for the accused in crimes against women, Pranitha admits she was furious. But as she thought more about it she realised that, "even if the perpetrators are killed, the public will not remember the attack after the media hype dies down. And the same incident gets repeated".
Now, Pranitha is sure that death penalty for the accused does not prolong public memory of the assault. "If the death of the accused in my case was a deterrent, attack on Nirbhaya or Disha would not have happened," she stressed. The Justice J.S. Verma Committee, which was set up after the 2012 rape and murder of a young woman in Delhi, had not recommended death penalty for the rape accused. Several legal experts and feminists have also been stressing that the death penalty does not act as a deterrent for crimes against women. Moreover, insistence on death penalty and retributive justice leads to fewer reported cases and murders to silence the rape victims, experts have argued.
"On Wednesday, the Telangana government set up a special court to fast-track the trial of the four accused in the young vet's rape and murder case. On Friday morning, the men were shot dead by the police."
Quick and efficient response from the police would help many victims of assault, Pranitha said.
"If every two kilometres, a police response team is available for women who need help, it may ensure quick relief in case of emergency. Also, if we had an emergency number like the 911 service in the US which responds to distress calls immediately, we could ensure shorter response time. A medical team and police should be available for women in distress," she said, adding that immediate medical help could have reduced the impact of acid in her case.
A swift, yet efficient legal trial could also become a deterrent, she added. "The police should ensure that they gather enough evidence against the attackers. The attackers should be tried in court and should be sentenced to appropriate penalty. "Systematically following up and ensuring penalties for each case could deter such crime," she said.
Legal experts too have recommended systematic police and judicial intervention as the apt deterrent for crimes against women. "There is no statistical proof for the claim that death penalty works as a deterrent for crimes against women. Varying degrees of punishment including rigorous imprisonment for life (where a person has to remain in prison till they die) should be the apt legal recourse," said Madabhushi Sridhar, a professor of law and former Chief Information Commissioner.
On Wednesday, the Telangana government set up a special court to fast-track the trial of the four accused in the young vet's rape and murder case. On Friday morning, the men were shot dead by the police.