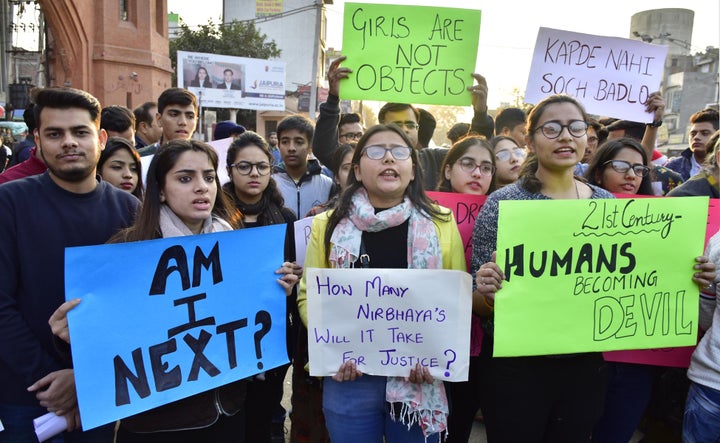 If the past week has been anything to go by, the world's shortest horror story would be: 'I was born a woman in India'.

Four men planned to rape and murder a young woman, and executed it. Every time a man rapes a woman and the news makes it to the headlines, I cannot stop thinking that he did it because he felt there was a fair chance that he would get away with it. He would slink away into the frustrating darkness of inefficient policing and the bureaucracy of violence, while the woman — a flesh-and blood-human — diminishes into a rape statistic.

Every time my mother reads about a rape, or rape and murder, she calls with a new request. Will I remember to buy a power bank, or maybe two, and keep them in the bags I frequently use while going out? If I plan to go drinking, can I tell her who I am going with? If it's a man I do not want to talk to her about, can I at least tell a friend about him before I go out? Can she have just one colleague's number? Will it be too weird if she called my boss if I am unreachable for more than an hour? Or sometimes, to make sure she doesn't exhaust me, she will WhatsApp, 'hey, what are you wearing, is it that dress?', 'hey, are you drinking Sangria again, show photos', 'okay send photos, okay'. Some times, she really wants to know what I am wearing, what I am drinking and that I am having fun. Some times, she just wants to know I am alive and well.
Once, slightly weary of her calling me all the time, I asked, "Why do you keep calling so many times? I could be busy, right?"

My mother said she always hoped that I was. Busy, that is. But was always scared—what if 'like those girls in the news', I never picked up that phone again?

For some women who don't have the privileges I have, the above requests are not even an option.
The Hyderabad police issued an advisory, addressding 'women, girls or any person', with 14 'safety tips' to keep in mind while travelling. This was in the light of gangrape and murder of a 19-year-old old student in Hyderabad last week.
"She was always scared—what if 'like those girls in the news', I never picked up that phone again?"
The Hyderabad Police advisory reads uncannily like what mothers tell daughters a dozen times every day before they step out of their homes. Only, they are not our mothers, whose only resource to keep us 'safe' is their ability to relentlessly worry and let us know they are relentlessly worrying.

In fact, one can say, the police — the usually frustrating nature of their interaction with civilians, their apathy and their unavailability — is one of the primary reasons we worry about our safety. So even if well-meaning, the Hyderabad Police advisory shows that they are simply taking the easy way out — asking women to live in terror every day. Which, incidentally, we do already.

So we fixed the Hyderabad Police's 'advisory' to suggest what, as women, we'd rather have the police tell us.


While travelling she should tell her family or close relative/friend where she is going and when she will be back.

While travelling, a woman should know that there is a police outpost/emergency response vehicle/traffic police team she can summon and which will arrive in 10 minutes if she feels unsafe, e.g if her vehicle breaks down in an unfamiliar, isolated place.

Share last location if possible.

The police will hold regular workshops, along with help from activists and experts, at various locations to apprise men and women of how we plan to curb harassment and violence and sensitise them about gender. We will share the locations for these workshops every week.


Mode of transport; if taxi or auto share the photo of number plate, contact details (it will be on the backside of the auto driver seat, for taxi the ID card will be available).

We will put in a thorough vetting process, complete with strict background checks, to issue licences to vehicles. We will ensure there are strict rules in place for vehicle aggregators and travel companies to conduct a thorough background investigation before hiring drivers. We will put in a process to verify if the agencies are doing their due diligence and if they are found to be flouting the rules, we will revoke/suspend their permits.

Get to know about the route if going to an unfamiliar place.

We will do regular recee of cities, towns and villages, talk to locals and find empty unpoliced stretches or sites and quickly set up police outposts in those areas. We will try to make sure these outposts are manned, unfailingly at night.


Always wait in crowded and in illuminated areas. Avoid isolated areas. Never hesitate while giving signal to police patrol cars or Blue Colt police motorcycles in the area for help. They are for your safety and security.

We will find non-illuminated stretches and push the concerned government agency to install street lights without long bureaucratic delays.


If there is no person visible around, you should walk to a nearest shop, commercial unit and stand very close to it so moving traffic can easily observe you.

We will identify areas which get isolated and period of time they remain isolated for and make sure a sufficiently armed patrol van is always posted in the vicinity. We will also make sure that security cameras and installed and functional.

Always be ready to Dial 100.

If you dial 100, you can be assured of help within minutes.

Download Hawk Eye ― Telangana Police mobile application ― and put the location services on at all times.

Since everyone cannot access mobile internet, and not at all times, we will set up multiple phone booths for people to reach the police if needed.


In suspicious circumstances, please ask help from passengers around you.

If you are making a woman uncomfortable, staring, stalking, or trying to get close to her without her consent, know that we are watching and you won't get away from us easily. We have patrol vans, police outposts and plainclothes personnel keeping a watch at all times.


If there are no passengers or passersby, act like you are talking to your relative on phone who is a police, and share all the details of place and vehicles and people around you, this will scare them.

Harassment can land you in jail for your entire life. We will fast-track investigation into complaints of abuse, harassment and use our strong networks to track you down.


Be confident and talk loud when confronted. Shout for help if situation requires.

If you are harassing a woman, issuing a rape threat or abusing her on social media, we will take suo motu action against you if the woman tags us, or someone brings it to our notice. We will have our cyber crime cells track you down.


If you are in a helpless situation, please shout and run towards a crowded area. Together we work to prevent crimes. Inform local police about local bad hats.

If you see a man or a group of men catcalling or harassing a woman, making her uncomfortable or trailing her, ask if she needs help politely. And immediately alert people around and the police in case she hasn't already. If she has, ask her what she needs and help prevent the offenders from escaping till police arrives.

In case you want to send some pictures for verification you can send on WhatsApp at 9490616555.

In case you have ideas about how we can improve police infrastructure to make the city safer for women, feel free to reach out to us. We will listen and try to incorporate the suggestions.