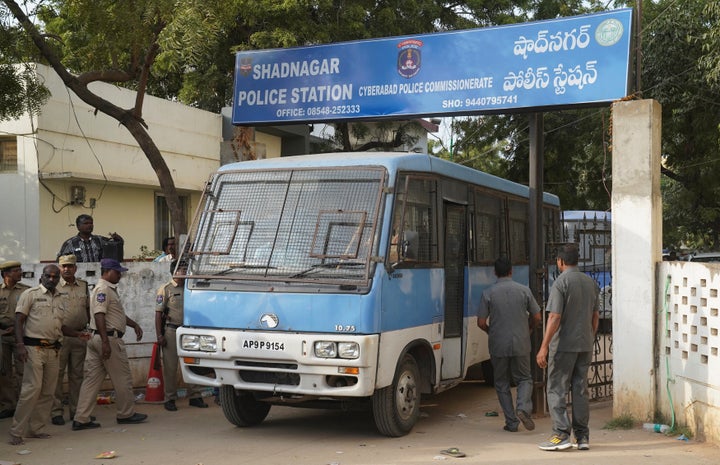 Three policemen were suspended on Saturday for delaying the FIR in the rape and murder case of the 26-year-old veterinarian in Hyderabad.
The News Minute reported that Cyberabad Police Commissioner VC Sajjanar as saying that the three policemen — Sub-Inspector of Police, Shamshabad Police Station M Ravi Kumar, and head-constables at Rajiv Gandhi International Airport Police Station P Venu Gopal Reddy and A Sathyanarayana Goud — for dereliction of duty.
The woman's family has alleged that they wasted precious time by refusing to take action after they approached the police station at 11 pm on last Wednesday. The woman's charred body was found early morning on Thursday.
The woman's mother told The News Minute, "The police spoke to us very rudely, in a disgusting manner. They kept saying she would have gone with someone. I kept saying my daughter is not like that, but they didn't listen. Their apathy cost us our daughter, they didn't do what they should have."
NCW chief Rekha Sharma said a team of the women's panel visited the family who told them that the police played a "negative role" in the case. The family alleged that the police told the family that she must have eloped with someone.
The vet was raped, murdered and her body set ablaze near the Tondupally toll plaza are of Hyderabad. The woman used to part her scooter at the toll plaza and take a cab to her clinic everyday.
The woman had called her sister and told her about the flat tire, and that she was scared, on Wednesday. The parents approached the police when she failed to return home.
Massive protests broke out in Telangana after the incident, with locals even clashing with the police. Meanwhile four suspects — Mohammed Areef, Jollu Shiva, Jollu Naveen and Chintakunta Chennakeshavulu — have been remanded to 14 days judicial custody.
Popular in the Community