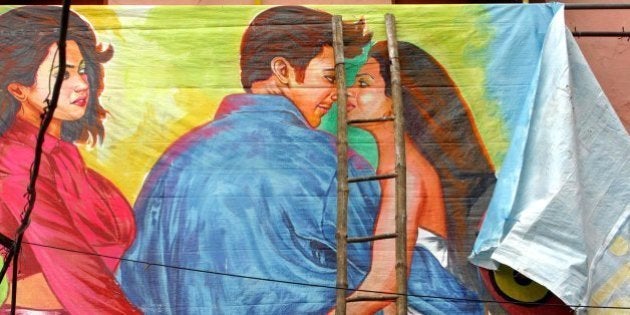 Censor board chief Pahlaj Nihalani defended the banned words list issued by CBFC, saying anyone having a problem with the guidelines should approach the Information and Broadcasting Ministry.
Nihalani, who was appointed as Central Board of Film Certification (CBFC) chief after Leela Samson resigned, was criticised by fellow board member Ashoke Pandit. Pandit had tweeted that board members were not consulted before the list, which was leaked to media, was forwarded to regional offices.
It was bound to happen. Censor Board chief wants cuss words (and Bombay) censored, kicks up tons of dust.

Why have censor board? Scrap it.

— Kanchan Gupta (@KanchanGupta) February 16, 2015
The producer said his office made a list of most commonly used cuss words.
"I have not made up these words. The list was given to me by my office and it was circulated among us. It was not for the media. It was not to be made public. It was given to them to follow the guidelines," Nihalani told Times Now.
"I am just following the guidelines. I am not bringing anything on my own. If the industry people have a problem, they should go to the ministry and get their approval. I will follow it," he added.
The list, which includes some 28 cuss words, has angered filmmakers in Bollywood. They have called it absurd, regressive and against creative freedom. 'Badlapur' director Sriram Raghavan slammed the censor board's list calling it "stupid".
"I have seen that list but I don't know whether any other abuse will be allowed. There can be 50 more expletives. You will ask the people to write down so they will write down. So I think it is quite a stupid list because certain stories need a certain kind of language," he told reporters.
The director said he personally feels that "expletives don't really add to a film".
"We should be a little more cool about it and take every film, every story as what it is all about and judge it on that basis. You can't say a X word can't be used in Hindi cinema from henceforth. That does not make sense," he said.
Meanwhile, Goa's ruling Bharatiya Janata Party denied that it had any plans to set up a censor board for tiatrs (local theatre), even as the opposition attacked the state government for even considering such a move.
Speaking to reporters here, BJP state vice president Wilfred Mesquita said that "neither the government nor the BJP as a party have nothing on our minds about censoring tiatr".
"This is just a figment of imagination used by the opposition to attack the party," he said.
For thousands of Goans, especially Goan Catholics, the tiatr is more than just a play or a theatre outing. With its socially and politically relevant and organic themes, watching a tiatr show on weekends, religious feast days and holidays is like watching their own lives play out under bright lights, mixed with a bit of banter and slapstick fun and a touch of tragedy.
Interestingly, the roots of the tiatr are embedded not in an Indian art form, but owes its inspiration to Italian operettas which were a rage in colonial India, especially erstwhile Bombay.
Censor board chief says board members made the curse list.

Board members say list was made without their approval.

These ppl are hilarious

— Mihir Fadnavis (@mihirfadnavis) February 17, 2015
Pankaj Nihalani levels serious serious allegations against former censor board members,says Sharmila Tagore gave a nod to Omkara #CurseList

— TIMES NOW (@TimesNow) February 17, 2015
The Congress Tuesday however charged the BJP-led government of being dictatorial in its effort to stifle the popular art form.
The allegation came on the heels of media reports which claimed that the government was weighing options over the issue of creating a censor board for tiatr.
"Tiatr are in fact public censors for what is wrong in society. The government will have to face a backlash from the Congress, as well as the tiatrists (tiatr-performers) if they do ahead with this dictatorial decision," Congress spokesperson Agnelo Fernandes said at a press conference.
If you complain anymore on #CurseList, Sakshi Maharaj will be made new Censor Board chief.

— Shirish Kunder (@ShirishKunder) February 17, 2015