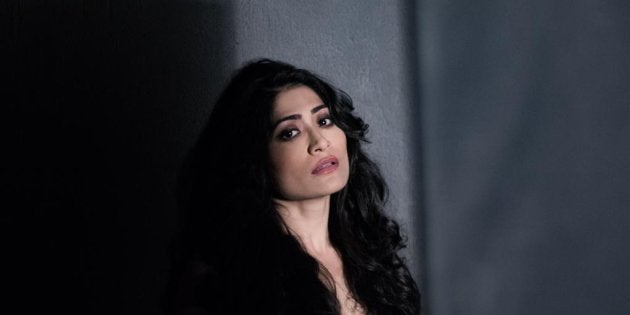 MUMBAI—In the early hours of 28 May 2012, Jolly LLB director Subhash Kapoor allegedly molested actor Geetika Tyagi, a close friend to both him and his wife. The incident, Tyagi said, left her permanently scarred, more so because it was committed by someone she knew well.
After the incident, Tyagi did everything by the rule book: she confronted Kapoor and spoke about it.
She recorded a video where Kapoor confessed to the crime, saying, "I regret causing hurt to all the people."
On 14 February 2014, she filed an FIR at the Versova police station.
On 24 June 2014, Kapoor was arrested by the Versova police on charges of molestation. He is currently out on bail and has made three films since the date of the incident—Jolly LLB, Guddu Rangeela and Jolly LLB 2.
Bollywood superstar Aamir Khan and director Kiran Rao asked Kapoor to direct their home production Mogul. Khan and Rao announced they had stepped away from the film shortly after HuffPost India sent them an email asking them about their association with Kapoor.
Even as Kapoor continued to work and prosper in the Hindi film industry, work started thinning down for Tyagi — suggesting that Bollywood's self-proclaimed zero-tolerance for sexual harassment is, like most things film-related, largely for the cameras.
Tyagi, who had stopped speaking to the media after some portals misreported her story and included unconnected incidents from her past in their reports, is now hopeful again. Over the past few days, hundreds of Indian women have been calling out men who have sexually harassed them. The effects have been varied: some men have lost their jobs or been demoted while others are currently being investigated by committees at their workplaces. Even the Union government is grappling with allegations made against MJ Akbar, the minister of state for external affairs.
Bollywood has not been immune to this collective outpouring of pent-up rage.
Last month, actor Tanushree Dutta accused Nana Patekar of harassing her on the sets of a movie 10 years ago. She had spoken up about it back then, but didn't receive much support. After a long break, where she moved to the US, Dutta is now back in India and fighting her corner.
Director Vikas Bahl and actor Alok Nath have also been accused of sexual assault.
"I used to love partying," Tyagi told HuffPost India over a dinner conversation. "I was the girl who was always bumbling with so much energy that my mother would go crazy trying to contain my antics."
It has been a tough journey since the night of the incident and Tyagi's healing process has involved consciously staying away from the industry, a decision that cost her a once-promising career. "For some time, I couldn't approach anybody. The incident had crushed my will."
She traveled to the mountains and started teaching children, which, she said, has helped her achieve mental peace.
"I've been doing some production gigs and some dubbing work. I make money, which I spend traveling. It's therapeutic."
Tyagi's disappointment isn't just in a system that's slow, tedious, expensive and broken, but also in people she thought were friends. "There was a moment when I realised—most people who I thought were my friends were people involved in work where it'd help them if they were on good terms with him. They were quick to choose sides, making my battle even lonelier."
She said that in a matter of months, a number of friends and colleagues, if not all, who said they believed her, blocked her on social media platforms such as Facebook and the ones who said they would champion the cause stayed silent.
This, says Tyagi, killed her desire to seek work. "It dimmed my will to go out and find work. I recoiled inside a shell. There was hardly any support system so I trained myself to fight this out alone."
Fighting it alone meant meeting lawyers, counsellors, cops and a prejudiced society. "While I was the one who was wronged, I was also the one who was marginalised further."
What kept her afloat was theatre and dubbing work. "And disappearing into the mountains."
The biggest triggers for her, she says, have been Kapoor's movies, which keep popping up on the television while she's surfing channels. "I frantically start looking for the remote. My fingers shake, my eyes shift."
In the past four years, she has done just two assignments, a web-series and a film. "I survive through my other skills, writing, dubbing, and a few ads."
What would she tell other victims of sexual abuse? "I want to tell all survivors, it isn't easy. Speak up, yes, but only if you are prepared to face consequences, because the consequences are severe. Despite doing everything according to the book, I was still mistrusted. What can I do? This is the society we live in."
She also said, "If you love your career, don't come out. This may sound like a cowardly advice but it isn't. It's a practical advice because careers get affected."
Is she still the party girl?
"I rarely step out of my house after 9 pm. I've been tagged as anti-social. It's made me a bit paranoid. Friends keep insisting that I join them for parties, but I just can't get myself to. He took my spunk away."
HuffPost India sent a detailed questionnaire to Khan and Rao, asking if they'd continue to associate with Mogul, their home production, which Kapoor was recruited to direct. On Wednesday night, Khan and Rao sent a joint statement, saying they have disassociated themselves from the film.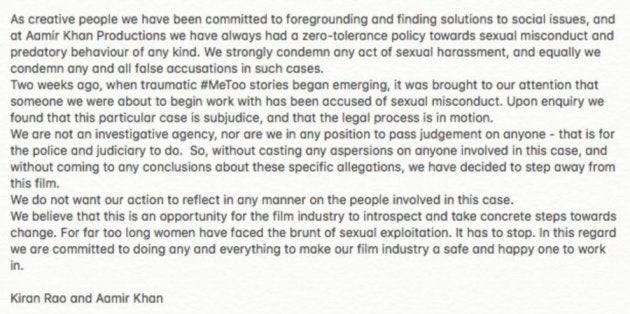 Kapoor said in a statement: "I understand and respect Aamir Khan's and Kiran Rao's decision. Since matter is subjudice, I intend to prove my innocence in the court of law. But I do want to raise a question—is secretly filming a crying woman (Kapoor's wife, in the video recorded by Tyagi) without her consent and knowledge and uploading it on social media not harassment or abuse? Or is it fine if she is related to someone who is "accused" of a misconduct. If your answer is latter then for me it's nothing less than a khaap panchayat mentality."
Moguls producer Bhushan Kumar told The Indian Express that his company would not associate with Kapoor.
After Khan and Rao released their statement, Tyagi tweeted on Wednesday night: