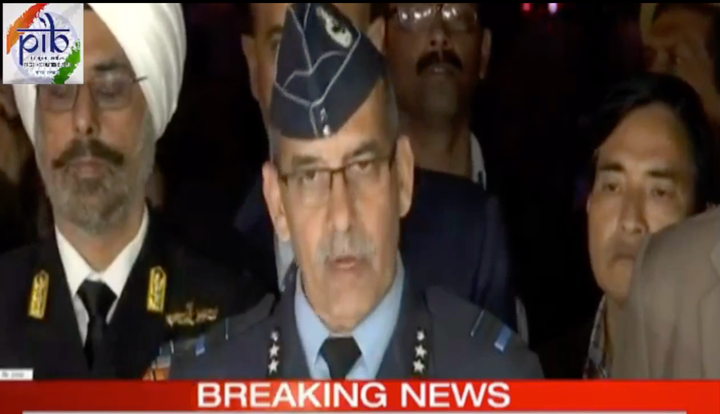 Representatives of the Indian Air Force, the Indian Army and the Indian Navy addressed a press conference from the Rashtrapati Bhavan in New Delhi on Wednesday saying India was in a "heightened state of readiness" to respond to any action by Pakistan. The representatives of the armed forces also said that they were happy that Wing Commander Abhinandan Varthaman was being sent back on on Friday.
Air Vice Marshal RGK Kapoor, Major General Surendra Singh Mahal and Navy Rear Admiral DS Gujral addressed the joint press conference.
Pak F16 was shot down
Air Vice Marshal Kapoor said that the Pakistan Air Force (PAF) had targetted military installations in India on 27 February, but were unable to cause damage. "PAF aircrafts were intercepted, they were unable to cause damage any of our defence installations."
The PAF allegedly targetted a brigade headquarter, a battalion headquarter, and defence and logistic installation.
"One Pakistani F-16 was shot down by an IAF MiG 21 Bison Aircraft, east of Rajouri, parts of which have been recovered inside Indian territory," Kapoor said denying Pakistan allegations that an F-16 was not used.
He said India had proof to back its claims. "F16 is the only aircraft owned by Pakistan that can carry AMRAAM missiles, and parts of AMRAAM missiles were found in Indian territory."
The representatives showed the broken part of the missile as proof.
Both the Navy and the Army also said they were on high alert and prepared to take on Pakistan.
"Escalation of tension was done by Pakistan, India prepared for any contingency if enemy provokes us. As long as Pakistan continues to harbour terrorists, we will continue to target the terror camps," Army Major General Mahal said.
'Achieved what we wanted in Balakot'
Speaking of the "pre-emptive" action in Balakot, Mahal said, "We have been successful in what we intended to destroy."
Without wanting to give details on how many militants were killed inside Pakistan territory by India, he said Air Vice Marshal Kapoor said, "Credible evidence that we destroyed target in strike on JeM camp, premature to give number of casualties.
He said that it was up to political leadership to decide on releasing evidence of the success of the Balakot strike.
Happy to have Abhinandan back
The three chiefs however refused to comment on whether the situation between India and Pakistan would improve after Wing Commander Abhinandan was returned.
"We are happy that our pilot is being released. We want to see him back. Once he is handed over to us, we will think of further steps," Kapoor said.
"Gesture to release Wing Commander Abhinandan in consonance with Geneva Convention," Kapoor said.
Pakistan Prime Minister said that the captured IAF pilot will be freed as a gesture of peace. "As a peace gesture we are releasing Wing Commander Abhinandan tomorrow," Khan said in a press conference in Pakistan.
The announcement came after Pakistan's foreign minister Shah Mahmood Qureshi told a private television channel in Pakistan on Thursday that they were considering returning captured Wing Commander of the Indian Air Force (IAF) only if it leads to de-escalation.
Pakistan's Geo TV quoted Qureshi as saying, "India handed over a dossier to the acting High Commissioner of Pakistan a day earlier and we will examine it. I will evaluate the dossier with an open heart and then see if talks will be held on that. We are willing to return the captured Indian pilot if it leads to de-escalation."
The three service chiefs met had met Prime Minister Narendra Modi on Tuesday and apprised him about the country's preparedness to deal with any possible retaliatory action by Islamabad.
They said Modi congratulated the service chiefs, particularly Chief of Air Staff Air Chief Marshal BS Dhanoa for the successful operation.
Separately, the three chiefs met National Security Adviser Ajit Doval and discussed overall preparation of the forces to deal with any eventualities, the sources said.
The air strike on the JeM terrorist training camp in Balakot, 80 km from the Line of Control, was the first operation inside Pakistan by India since the 1971 war.