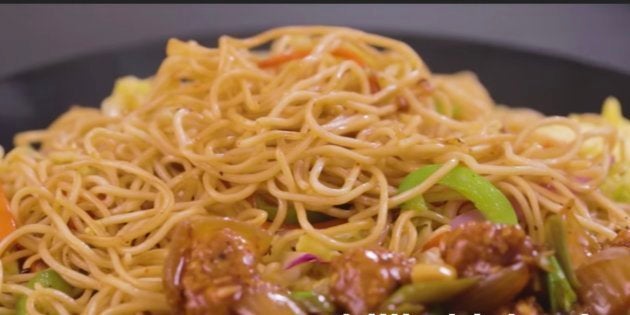 Chowmein, people in Kolkata will tell you, is a not just noodles, but a badge people in the city wear with great honour. Just like the potato in the biryani. No matter how much it has deviated from the original cuisine, it is the version with the most soul, they'd argue.
A typical Kolkata chowmein is served on a steel plate with the noodles drenched in a very orange tomato sauce and heaped with generous portions of raw onions and cucumber. A Durga Puja memory most people hold close to their hearts is wolfing down spoonfuls of oily chowmein, unfazed by the people pushing and shoving past them on a crowded sidewalk.
Chowmein, also ranks fairly high in the hierarchy of Kolkata street food, possibly right after egg roll and puchka, exactly in that order.
People who have left the city and often can't visit during the Pujas, can be often found moping about the fabulous street food on their social media timelines.
But there's hope for them.
Right in time for the Pujas, YouTube creators Bong Eats has come up with just the perfect guide to make the city's famous street-style noodles at home. And it involves adding garam masala to noodles. The video breaks down the process in a way that even the most inexperienced cook would be able to rustle it up, with little effort.
You can watch the video here:
The channel started by Insiya Poonawala and Saptarshi Chakraborty has over 2,50,000 subscribers. Based in the United States at the moment, Poonawala and Chakraborty hail from Kolkata. Their channel offers elaborate and comprehensive recipes of food from Kolkata.
If cooking is not something of a viewer's interest, just watching the recipes make for quite a nostalgia trip.
Besides chowmein, there's also recipes for puchka, egg roll and and momos on the channel. Time to hit the kitchen?