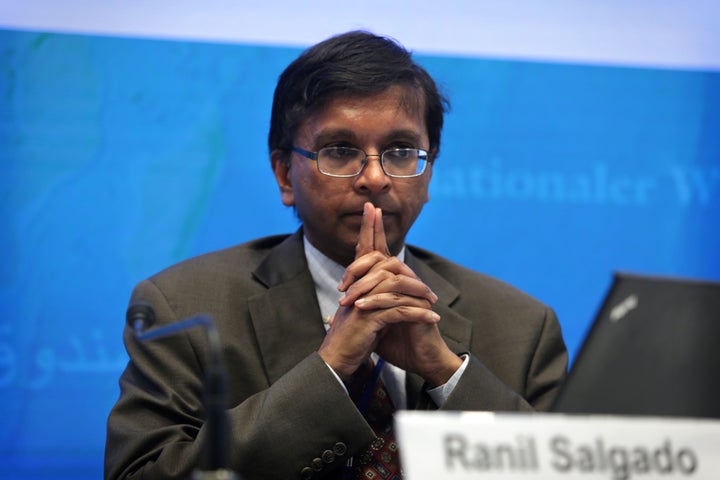 The official GDP growth for the September quarter slumped to a six-year-low of about 4.5 percent, continuing the economic slowdown that has plagued India's economy for more than a year. The Narendra Modi-led government, now in its second term, has faced flak for its measures to check the slowdown, at a time when many experts have said that urgent economic reforms are needed to revive the economy.
Despite the overall shrinking confidence, the International Monetary Fund (IMF), in its World Economic Outlook released in October, forecast a 7 percent growth for India's economy in 2020, primarily on the back of recent government measures such as a cut in the corporate income tax rates.
At a time when many experts have called the slowdown unprecedented and structural in nature, the IMF has argued that the Indian economy is witnessing a primarily cyclical slowdown. But in an exclusive interview to HuffPost India, Ranil Salgado, IMF's Chief of Mission for India, said that IMF is reassessing its position on the nature of the slowdown.
"I'll be frank that we have been characterising the slowdown as primarily cyclical but we're looking into this further," Salgado told HuffPost India. "We are surprised as just about everyone else about the slowdown."
Salgado also said that in August this year, the IMF conveyed to the government that part of the economic slowdown is structural in nature.
The sharp decline in leading economic indicators in the last few months such as electricity demand, rural wage growth, and manufacturing output in India has surprised most experts and multilateral institutions, including the IMF, which said that it would be revising down its growth forecast of 7 percent for India in 2020.
"When we will have a new forecast in January—World Economic Outlook update—we will be giving a revised forecast at that stage. I can tell you that we will be revising down," Salgado said.
Salgado also said he was supportive of some of the measures that the government has recently taken such as corporate tax cuts, which he said would not only broaden the base, but would put India in a competitive position with other countries in the region with similar corporate tax rates. According to Salgado, this move would be good for the economy in the long run.
In order to revive growth, he suggested broad based structural reforms in the economy such as land and labour reforms, and increased investments into health and education to raise human capital.
"We have been characterising it as primarily cyclical but we are [in the process of] revisiting that as well"
Edited excerpts from the interview:
GDP growth has plummeted to about 4.5 percent. Many experts have said that the situation has no precedent in India's economic history, and that this is a structural slowdown. Do you agree with this assessment?
We are surprised as just about everyone else about the slowdown. In August last year when we published our annual assessment for India [IMF forecast economic growth to pick up to about 7.3 percent for fiscal year 2018-19] we already saw signs of a slowdown, but it has been a worse slowdown than we expected. And it seems to be longer than we were expecting back in August 2018. I think there are a number of factors behind it.
We're still trying to assess it but what we think so far is we've had a few years of weak income growth, especially in rural India, and if you look at what you saw in the first quarter of the fiscal year, essentially the June quarter, it was when consumption—that had been holding up growth for some time—fell sharply. I think that partly it is attributable to what's happening in the auto sector, which is not necessarily underlying demand but rather it is about specific concerns related to changing environmental standards in the sector; but still you can see that in the second quarter—although consumption grew a bit—it was still lower than hat it had been earlier.
A second factor—and this is I think an element of why we see the slowdown lasting longer that we had anticipated—is the problems in the non-banking financial sector which started with IL&FS defaulting on debt repayments in September 2018, and this was a fairly big shock to the sector. When we discussed it at IMF in December last year, things seemed to be improving at the time, but the stress has continued in the housing finance companies such as Dewan Housing Finance Corporation (DHFL), and this seemed to lead to a secondary shock. There is also a little bit of regulatory uncertainty on efforts by the government such as formalizing the economy, which is good in the long term but it can put stress in the short term.
But do you think that the economic slowdown is structural?
This is something that we're still trying to assess. We have been characterising it as primarily cyclical but we are [in the process of] revisiting that as well.
Former CEA Arvind Subramanian [and ex-IMF India head Josh Felman] have called it a "Great Slowdown", former RBI governor Raghuram Rajan recently said that India is going through a "growth recession", and Rathin Roy, former advisor to Prime Minister Narendra Modi, has said that from a developing economy's perspective, India is in recession. All agree that the economy is plagued by structural factors. Why isn't the IMF convinced?
There are many developing countries for which about 4.5 percent of growth is high as well. But for a developing country like India—I think this is what Rathin [Roy] was trying to indicate—growth should be more.
I'll be frank that we have been characterising the slowdown as primarily cyclical but we're looking into this further.
The reason we've said so is if you go back six or seven quarters, growth was still about 7 percent. So it has been a relatively quick slowdown - We've had now six quarters of growth slowing down. But when economists look at—what we call—potential growth or what is the underlying trend in growth, one should necessarily chase the recent data and start re-assessing. This is what we are looking into now. And if you look at our estimates of potential growth, they have been coming down
Last week, the Reserve Bank of India (RBI) notified public sector banks to be ready for any emerging and new challenges because of the economic slowdown. Could we be looking at a long road to recovery?
We think the pace of getting back to growth will be slower than expected - this tends to be true when you have substantial stress in the financial sector.
If you go back six months, we still didn't expect this slowdown. And if India wants to achieve its goal of becoming a $5 trillion dollar economy in five years, it needs to have supply side policies, which could also boost demand, which in turn, would also boost investment, for instance. Or these policies can improve agricultural productivity and boost rural income and therefore it can boost demand again. There is always a need for supply side policies in a developing country.
In India, we have seen the government getting re-elected with a very strong mandate so there is an opportunity to go ahead with structural, supply side policies that will help boost the economy in the long run.
If it is a structural slowdown, then these are the measures that the government has to take, I think. And Raghuram Rajan recently provided his 10 measures to fix the economy, and almost all of those were structural.
And that's consistent with his view that it is primarily a structural slowdown.
Is Raghuram Rajan correct?
I think in terms of what he wrote on the structural policies, I think I would agree. But we are still not fully convinced that this is a structural slowdown.
There are some elements of a structural slowdown, but the fall in growth all the way to about 4.5 percent: Is it because of a structural slowdown? I will be surprised if that is so.
Have you conveyed this to the government that there is a chance this might be a structural slowdown?
We have conveyed it to the government. In August this year, we told the government that part of the slowdown is structural in nature.
Do you think India would get into a stagflation mode? [Stagflation is a condition of low economic growth accompanied by high inflation. Rising food prices pushed retail inflation in November to a three-year-high of 5.54 and factory output contracted for three consecutive months by 3.8 percent in October]
The RBI did target headline inflation partly because it has low inflation expectations. One of the difficulties in the context of RBI is that 47% of the Consumer Price Index (CPI) basket is food. So what has happened is the sharp rise in food prices of vegetables, and in particular price of onion. This at the moment is driving headline inflation.
But if we look at what we call core inflation and strip out the food and petrol prices, the core inflation has actually come down fairly substantially in the last six months. Of course RBI has a headline target but core inflation is below the RBI's targets. The food price rise is a temporary issue, I think, because the indicators―unseasonal rains and an early drought― are so far indicating that it is a temporary issue.
So food prices should start coming off that should bring inflation back towards the target. And right now our view is that while this trend has to be monitored closely, we expect inflation to go up a little further (because of food prices) and then start coming down.
So we won't call this stagflation. No.
In the World Economic Outlook released in October, IMF has projected that growth would be back to 7 percent by 2020. What's the basis for this projection?
It was a few months ago when we made that projection and at the time we did not realize how much the economy was slowing down. At that stage our assessment was based on some of the measures the government had already taken including to reverse some of the uncertainty, for example to clarify the environmental standards for cars.
It was also based on the fact that the RBI had reduced the policy rate by 135 basis points and it was taking steps to improve monetary policy transmission. And the third big factor was the corporate income tax cut, which we did not think would have an immediate impact, but would have an impact over the medium term. What we mean is that we're supportive of measures that broaden the tax base, but at the same time, it also reduces tax rates. We think it is a good structural policy that brings Indian corporate income tax rates similar to other countries in the region, which helps the economy in the long run, but we don't necessarily think it provides a boost in the short term when there is weak demand.
What are the risks that you attach to this economic outlook? - Moody's has recently changed the outlook on India from 'stable' to 'negative'.
There are several risks. One of it is that we made that forecast during the ongoing stress in the financial sector. And I think that's the key difference in why we think that if we're to do the forecast today, it would be lower. So that was a big risk, and then there are issues related to—and partly linked to the slowdown—in terms of government revenue shortfalls. This is putting constrains on the ability of the government to finance things that need to be financed. This is the second issue.
Third, I would add to it the general delay in structural reforms. So there are three domestic risks to our outlook for the economy. Then there would be a number of external risks as well, but so far those haven't occurred. For instance, short tightening of global financial conditions, which, fortunately hasn't happened; higher oil prices; and the ongoing concerns about rising global protectionism.
But if we ignore the threat of external shocks for a moment and look at leading domestic economic indicators such as industrial production, exports and electricity demand, all of these are in decline. Rural wage growth has fallen to 3.8 percent and there has been muted tax revenue growth in the first half of this year. Do you think a 7 percent growth forecast for 2020 is too optimistic, signalling an overconfidence in the economy?
So, as I have mentioned, if we were doing the forecast today, the growth outlook would not be as high. Let me give some context: when we will have a new forecast in January― what we call the world economic outlook update―we will be giving a revised forecast at that stage - I can tell you that we will be revising down.
"The reforms that India needs—although it has to be done in the context of the current slowdown—is [to begin with] labor market reforms"
What, according to you, has been the biggest driver of this slowdown in the last one and a half years?
I think the biggest driver [of the slowdown] is the overall reduction in household and business confidence linked to some of the issues I already mentioned. The problems in the financial sector, which seem to be more broader than we had previously thought - The stress in the non-banking financial companies and even the the housing finance companies.
That's part of it. Weak income growth in the rural sector over the last few years has also contributed to the slowdown. So these two factors are reinforcing each other to an extent that we are seeing a sharp drop in measures of household and business confidence.
You have said that governance reform in public sector banks could be one element of reform to help fix the financial sector. But public sector banks' boards are still not functioning independently.
We have seen a lot of steps being taken by the government, primarily to address what we call the stock of non-performing assets and there have been multiple rounds when the government has re-capitalized the public sector banks. We also believe that the insolvency and bankruptcy code will help resolve some of these assets.
But we think more needs to be done. And the public sector bank boards is a good first step, including reforms in terms of improving the governance, risk management processes of the public sector banks and making sure that incentives are in line with a bank run on a commercial basis.
The fiscal situation is tight, and there is more cause for concern: there has been stagnant tax collection in the first half of this year due to the slowdown. Can the government increase spending to revive demand?
We do see fiscal space for the government is limited because if you look at general government debt, which is around 70 percent of GDP—that is fairly high—and that means the interest bill on this will be high as well. We have seen reports from the Comptroller and Auditor General (CAG) indicating that the public sector borrowing requirement is relatively high, and at the moment it appears to be larger than net financial savings. So even if overall household savings is higher, the amount of savings that the household puts into the financial system is less than the amount that the government uses.
And this is partly constraining the ability of the government to spend more, because the more the government spends, the more it needs to borrow, which then makes it harder to borrow for private sector investments.
Would you suggest a fiscal stimulus?
We would not suggest a fiscal stimulus. I think there are multiple reasons for that. One, if the broader measures undertaken by the government has led to the fiscal deficit increasing—what I mean is the public sector borrowing requirement has already been increasing. Two, with the limited fiscal space, more the government borrows, the less space is available for [other spending measures]; in a downturn this may be okay, but once the economy picks up it is going to put strains on the economy again. What we would suggest is for the government to make sure that it doesn't go strongly in the other way at the moment. We think rather than trying to necessarily cut government expenditures—especially capital expenditures—it needs to come up with a credible medium term strategy to reduce deficits, and more importantly to reduce debt.
The RBI surprised many recently by keeping the key lending rate unchanged. How do you read this?
We were expecting that it would cut the lending rate. Our understanding is that the RBI seems to have picked up the headline inflation better than we did or anyone else.
They do have a headline inflation target, and there is a challenge to it—as I mentioned already—with food and fuel prices more than half of the Consumer Price Index (CPI) basket—and then RBI's interest rate policy can't affect too much either the food or fuel prices. So, I think the main concern that they have is that at least for the next few months headline inflation will be above their target.
Also, they seem to be somewhat worried about rising inflation and expectations - that is again relating to the food prices.
Many experts have pointed out that even if we go back to growth rates of 8-9 percent, there will always be a threat of another slowdown unless the structural flaws of the economy are corrected, which IMF classifies as the" broad-based structural reforms" that the government needs to go ahead with.
I agree with this analysis. If you go back six months—when we didn't expect this slowdown—this was what we were arguing about.
India essentially has what we call a demographic dividend for the next two and a half decades - a time when the working age population will continue to rise. This is the opportunity for India to have a period of what we would call "catch up"—meaning close the gap with—the wealthier countries globally. This is the opportunity. East Asia and Southeast Asia have been taking advantage of their own demographic dividends, and it is important for India to do the same and go ahead with the structural reforms that will make it possible.
We want growth to be 8-9 percent on a sustainable basis for—we would hope—a decade, which would enable India to take advantage of its demographic dividend and catch up with wealthier economies.
The reforms that India needs—although it has to be done in the context of the current slowdown—is [to begin with] labor market reforms—because unlike other countries that have grown fast, India has not done as well in terms of labor-based manufacturing. We believe that the current labor laws—and I think the economic survey also did some analysis on this—tend to keep Indian manufacturing firms relatively small. So as China moves up the value chain the jobs are not necessarily moving to India, they're moving elsewhere, to countries such as Bangladesh and Vietnam.
In terms of land reforms, I think improving registration of land is important so that companies can come in and buy land to do their facilities, and this also helps the services sector too. India also has to deal with issues related to education and health, which have to be pursued to raise what economists call human capital.
Data from Center For Monitoring Indian Economy (CMIE) suggests that in the first half of November, there was an exodus of labor from the labor market. CMIE said it is a more pressing issue than even unemployment. This trend is a clear risk to the demographic dividend.
Even in the Periodic Labor Force Survey (PLFS), it appears that labour force participation has been coming down. The government has said that it is not comparable to previous labor force surveys, but I think there is a concern that there isn't sufficient labor force participation, especially of women.
But if you look across developing countries—as education levels rise, there are people who don't enter the labor force as quickly as others, because they're opting for higher education.This is a good trend. But our concern is beyond this—Clearly the government needs to take steps to boost labor force participation. One part of this effort is to create good formal sector jobs—but I won't limit it to formal sector jobs, so let's say a good job—which would attract people into the labor force.
Raghuram Rajan recently said that "extreme centralisation under the present government, coupled with the absence of empowered ministers and the lack of a coherent guiding vision" is a cause for concern. Do you think centralised decision-making could affect efforts to revive growth?
I saw his comments. I'm not saying he's wrong, but I don't have enough information to answer this question.
Do you think that the growth model since liberalisation in 1991 has been centered on the demands of the top 100-150 million Indians—while keeping the rest of the population rationed, as Dr. Rathin Roy has argued—which, in turn, has led to widening income inequality? And can we say that income inequality is one factor that has affected demand in the economy today?
I'm not fully sure of [the growth model being centered on the demands of the top 100-150 million Indian consumers]. Part of the problem is we that we do not have a household survey since 2011-12. But till 2011, what we saw was poverty levels were falling, although there was some increase in inequality. And part of this trend—of increase in inequality—is not bad - it means that certain parts of the economy are growing really fast and people who work in those sectors are doing well. The Kuznets curve [in economics, a Kuznets curve is a hypothesis that as an economy develops, market forces first increase and then decrease economic inequality] says that inequality can rise initially and then it will fall later on. This trend is not inconsistent with global experience.
The initial increase in inequality [in India] is in some sense good because it sets up incentives to draw people into the faster growing parts of the economy. We don't have a good household survey in the last eight-to-nine years, so it is hard to address what is happening with inequality in India.
I think we agree that inequality can lead—this is the bad part about inequality—to a reduction in consumption - I'm not sure that this is the case in India, but it is a possibility. This is because the poorer households tend to consume more but at a certain stage most of their money goes into savings, but it has to be channeled back into investment. This is another way inequality can be bad—and there are many ways—which is that poorer households can't invest in themselves, including in education.