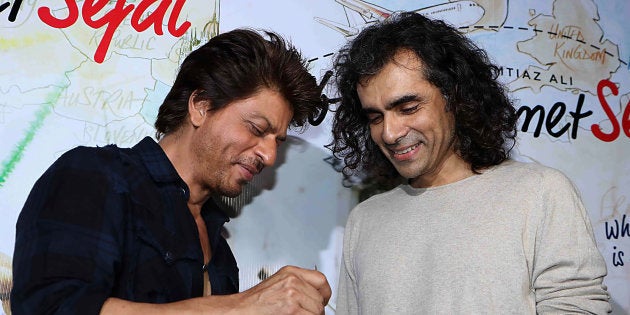 On Tuesday afternoon, filmmaker Imtiaz Ali did a Facebook Live to interact with fans and movie-lovers to discuss and dissect his latest release, the Shah Rukh Khan-Anushka Sharma-starrer Jab Harry Met Sejal.
The film, a romantic drama between a tour guide in Europe and a tourist he meets en route, tanked miserably at the box-office and was met with almost universal hostility from the critics.
One of the bigger problems of the film (besides the lack of characters worth rooting for) was the dated worldview that Imtiaz gave Anushka's character. Anushka's Sejal was shown as a woman who's constantly seeking validation from Harry, a serial womanizer.
So much that the word 'laayak' (which roughly translates to 'worthy') was used over 5 times in conversations between Sejal and Harry. Sejal's sense of self-worth is determined by how aroused (specifically in this case) Harry is by her physicality.
One expects Imtiaz Ali to write his female characters with more depth and sensitivity.
When this writer asked this question to Imtiaz, the filmmaker responded by saying, "That's a question Anushka has asked me often. I feel that when girls grow up, they, through some ways that are not even nice, get to know about their worth in terms of a physical being – whether they are attractive, beautiful, sexy and so on. And even now, there aren't any ways where a girl can know if she is attractive to a man. Even now we find all of that (probably referring to a woman's sexuality) as a taboo in Indian society and perhaps rightly so (?). For Anushka's character, she meets a man who she doesn't know and is not going to spend a lifetime with, or so she thinks. And he's honest about talking about himself and so she decides to ask him about her latent insecurities – which are about the way she appears."
When this writer asked him about another problematic scene in the film – the part where Harry tells Sejal if she's prepared to become a 'ghatiya aurat' (a disgraceful woman) who calls off her marriage to run away with a tour guide, Imtiaz said that it came from a place of reality. "Harry means it in a different way. He means to ask Sejal if she's ready to step away from the person she is and take a position where she will be criticized for her choices. A girl, if she decides to call of her marriage, for right or for the wrong reasons, will face criticism. If you play from your heart, very often, you do face criticism. And the criticism is usually about you not being a good person. For a woman, in any society, and especially Indian, if there's some reflection of being a bad woman, it becomes problematic. So Harry is asking Sejal if she's prepared to face the wrath for her desire to be with Harry. As Rumi says, you have to keep your hands clean but you have to keep your feet dirty, to reach where you have to."
After the film's debacle, theories that Shah Rukh Khan overpowered the narrative (and whether Imtiaz tailored the writing to suit SRK's larger-than-life persona) also did the rounds. Imtiaz explained, "Shah Rukh is a very easy person to work with since he's a theatre actor. I don't have to change anything because of his persona but I do change a lot of things as I go along. There were things that changed but not because Shah Rukh imposed it on me."
About the harsh criticism that the film generally received, Imtiaz said, "I have never received an overwhelmingly positive review of any. I am old enough to not take criticism negatively even if the criticism is negative. I believe a lot is achieved by constructive criticism than say, dishonest praise. I do stand by Jab Harry Met Sejal. This is the movie I wanted to make. Don't worry too much about critics. Sometimes they say valuable things which we must acknowledge. I am sure it'll help me make better films as I always find a way of benefitting from criticism. "
Asked if pain is necessary to become an artist (the underlying philosophy of Rockstar was that great music comes from a broken heart), Imtiaz said that he doesn't know. "I don't know yet. I grew up with these notions too but I don't know the extent of how true it is. As Shah Rukh says, some people are just born with dimples."
When pointed out that the usual 'Imtiaz-ness' was missing from JHMS and that Harry's character was half-baked, Imtiaz said, "It was a very on-the-go kind of a film. Didn't want to plague it with flashbacks of Harry's past. Had this been a series, I'd have been able to give it more depth but since it was a feature film, we obviously had limitations."
The director also spoke about the reasons for male characters in his film being vulnerable.
"Most men that I meet are very vulnerable, especially the ones who act all tough. I have always met vulnerable men. Isn't everyone vulnerable, in any case? I think that's why my male protagonists appear the way they do."
Watch the entire clip here.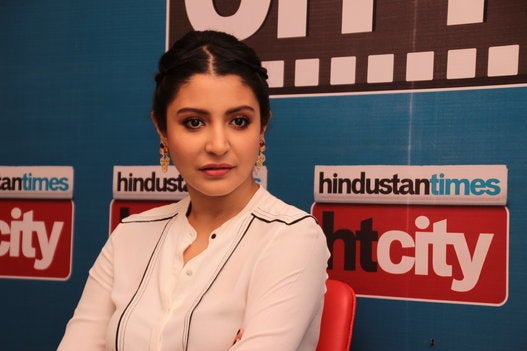 6 Times Anushka Sharma Nailed It While Speaking About Censorship