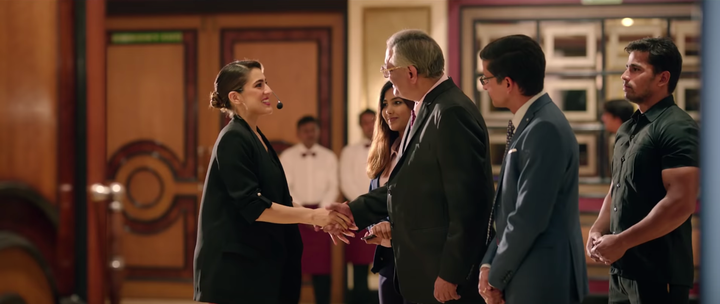 SPOILERS BELOW FOR 'LOVE AAJ KAL'
In a pivotal scene in Imtiaz Ali's Love Aaj Kal, Zoe, a 22-year-old event manager played by Sara Ali Khan, is having an argument with her mother. How could her daughter turn down a well-paying job that she had dreamed of all her life, the woman asks, trembling with anger. Zoe bristles at her indignation and shouts back at her. She then packs a duffel bag and storms out of her Delhi house, which has just the perfect little garden lined with summer flowers. Her boyfriend—the man she is choosing over the job—is waiting outside on a bike, looking confused by the melodrama. They ride off to a new life in his barsati, a generic yellow-walled room on the terrace of a house.
All very filmi, all very Ali, and just ripe for a dreamy duet, except for one brief exchange that leapt out at me from the scene.
"If I could still have a career, if I had a job, do you think we would be here? I have to beg for money from your father to even pay the maali," Zoe's mother shrieks at her daughter, who screams back: "Why do you keep giving me this maali example, Maa?"
"Because it is the truth," her mother whimpers.
Outside the world of Bollywood films, why indeed do our mothers keep telling us what they would have done, if they had what we have?
The new version of Love Aaj Kal could have been one of the more interesting movies in Imtiaz Ali's ouevre. It gives more screen space and perhaps, thought, to the woman's character than any of Ali's more successful films.
Unfortunately, the result is an exasperating, infuriating movie that, unsurprisingly, does its female lead a massive disservice. Looking back, it is now clear that every movie Ali has made till now had been building up to culminate in this mess of a narrative which, finds it hard to give women any agency outside being the love interest of a confused man with a 'good heart'. Ali's Zoe diminishes into a caricature at such an alarming speed, that it is impossible not to take her disintegration as a comment on what the director feels about women having employment.
And while Ali probably intended privileged Zoe to speak to millennial women viewers, it was the the character of her mother, played by Simone Singh, and her desperation, that stayed with me even after I left the theatre.
'Nothing more important than a job'
So who is Zoe's mother? An unthinking, unforgiving burden on Zoe's fragile, young heart?
Zoe's mother's anxiety and the girl's impatience, took me back a couple of decades.
I was 16. I sat across from my mother, leafing through a physics textbook on an old creaky bed, as she quietly secured slim bundles of Rs 100 notes with rubber bands, sticking in small white pieces of paper with the amount written on it. My grandfather had suffered a brain stroke a week ago, and was wheeled out of this very room in the dead of the night, groaning in pain and muttering incoherently. Five days later, he was still on a ventilator, the dues in the private hospital were leaping to astronomical numbers that my parents barely recognised.
So my mother did the one thing she never thought she would. For a throwaway price, she sold off the tiny piece of land that my grandfather — a poor, first-generation migrant to Kolkata from a remote village in Bengal — had bought after scraping together every penny he could save working a small job at a shipping company for 40 years. For a man who lived his entire adult life in this rented, damp two-room house, that land had been the fruition of an impossible dream—of claiming a little bit of a city he toiled all his life in, as home, as his own.
"If I could have a career, a job at the right time, we would not be here," my mother said, looking up from the money.
"Playing with that book won't get you a job. And there is nothing more important than having a job, and no one will give it to you on a plate because you are a girl," she said sternly, before storming out of the room.
Her anger, which I couldn't understand then, made me sad, and then furious. 'Why do you keep giving me this job example, Maa?' I shouted in my head.
My mother had a job. She worked 10 long hours every day at a privately owned school as a teacher for a pittance. She had had the privilege of education— one of the top students of her school, was one of the top graduates in geography from a well-regarded college and got a first class in her Masters course from Calcutta University. Yet, in the mid and late '90s, once my father's music business began to falter, she barely had money to buy herself a trinket or lipstick after paying for the household expenses with her meagre salary.
She began working at 37, when she was past the eligible age for government jobs, and entered a teaching market teeming with men and women over a decade younger than her. They were smartly dressed, fluent in English and had prior experience. She had to make do with what came her way.
One of her job 'stories' that I was tired of listening to as a teen was how, when young, she had cleared a bunch of banking and government job exams in the first go. Then my grandparents told her, "Aren't you happy that you're no less and that you cleared the exams? But you cannot work. What if people say we sent a girl to work in an office because we can't pay for her?"
And that was the end of her job hunt for then.
Really, why do they tell us these maali and naukri stories, yaaa?
From Geet to Zoe, a problematic pattern
For a couple of years, I had a neon pink sticker with 'main apni favourite hoon' scribbled on it, stuck on my workstation. Ali's Jab We Met was released in 2007, and Geet (played by Kareena Kapoor) spoke a language of self-love that was heady and seemed like such fun. Thirteen years and many episodes of unlearning stereotypes ago, Geet seemed like the kind of self-validating machine I yearned to be.
For many women, Kareena's unapologetically self-obsessed 'Poo' in Kabhi Khushi Kabhi Gham and Geet in Jab We Met seemed to give us permission to be proud of being sexy—you didn't need to care if a few eyes were rolled here and there; in fact, you could revel in the outrage. They seemed to speak against the sanctions I was chafing against, in what I only later realised was a fairly privileged life. Don't show skin, don't be sexy, don't let people see you as sexy—Geet and Poo seemed like pleasant antidotes to middle-class moralities.
But who was Geet? A girl in love. And who was Aditya (played by Shahid Kapoor)? An unwilling heir to a telecom company who nearly fails at his job before he runs into Geet, gets super-inspired and then turns his life around. Aditya's job in Imtiaz Ali's landmark film is the symbol of his successful life, the triumphant marker of how he managed to emerge a winner. And Geet's brief stint as a teacher is depicted as the traumatic, sad result of a heartbreak that left her crushed. Aditya's job is his pride, Geet's job is her misfortune. Ali doesn't give Geet anything except a manic pixie spirit, while Aditya gets a soul, a job, a backstory and basically all the markers of a flesh-and-blood human being.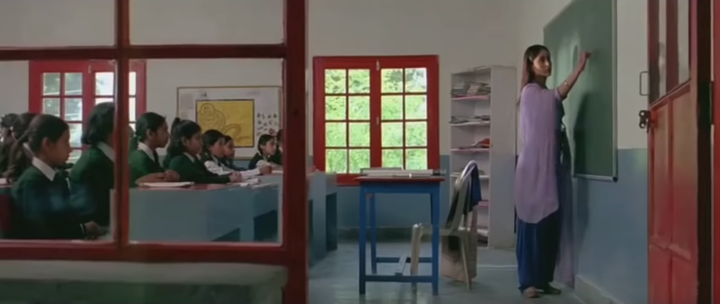 Now, you may argue, it's not Ali's responsibility to make 'Beti Padhao, Usko Naukri Dilao' ads and these are love stories and like, eat some avocado biryani and grow a heart, will ya? I hear you. In fact, I was you.
When Love Aaj Kal was released in 2009, I queued up to interview Ali at a swanky Kolkata multiplex with three dozen other journalists. Ali was polite, attentive and articulate. "So glad you write such strong women characters," I remember blurting out.
Words like 'spunky', 'assured', 'confident', 'fun', caught my ear now and then as others heaped praises on the director.
I liked the older Love Aaj Kal the first time I watched it. Meera, played by Deepika Padukone, had an actual job, as a restoration artist. She radically breaks up with her husband when she realises she is still in love with Jai, played by Saif Ali Khan. Her job becomes a refuge, a distraction of sorts. While Meera languishes, Jai takes a white woman on the same dates he took her, only to realise it's just not as much fun.
Jai is understandably upset. Why would two creatures, both of whom have a pair of ovaries and boobs each, not enjoy doing the same thing with him? Then it strikes him that Meera was his one true love.
Jai goes back to claim her from her site of work, where she is leading a team to restore a monument in Delhi. In true filmi style, a teary-eyed Meera diminishes and reduces her place of work to a site of weepy melodrama for the man for whom she has waited patiently. Her work is incidental, it is the love of this man that defines her. In what is either a Freudian slip, or a sign that Ali is not unaware that Meera could do much better, she literally lowers her Bosun's Chair a long way to meet Jai on the ground in the climactic reunion.
In fact, the scenes in Jab We Met and Love Aaj Kal, where the women — quiet and unsmiling, walk to their workplaces — are almost similar. Geet sits on the porch of her school and listlessly eats a sandwich as a routine. Meera is shown sulking alone in her apartment, tucking in a piece of bread. Both women cry alone after a day at work.
In Rockstar (2011), this pattern—of reducing women characters to mere vessels who actually bear the growing pains of a boy-man to a slightly more tolerable man-boy—gets too difficult to sit through. Before you ban from using the heart emoji or listening to Arijit Singh, hear me out. Ranbir Kapoor's Janardhan aka Jordan is given a vocation alongside his love story. He falls in love, wanders, sings, turns his pain into music etc. As Jordan becomes a Rockstar, Nargis Fakhri's Heer is just a spectre, sort of a human version of a push notification to remind us that she is the cause of his pain, and hence his art. Again, who is Heer? Apart from being Kapoor's love interest, she literally has no other definition. Does she also feel any pain? Does she want to create some art herself? Who cares?
The plot of one of Ali's most-criticised films, Harry Met Sejal (2017), also hinges around the man's job—Shah Rukh Khan's Harry is a tour guide. Anushka Sharma's Sejal is a rich Gujarati woman about to get married. The film itself, and Harry's character, keep reminding us that Sejal is always jobless and often unreasonable. 'I have a job', 'I have to make a living', 'I have to pay for this car', Harry continuously tells Sejal, while they are on a hunt to recover her lost engagement ring.
In Cocktail, which was written by Ali and directed by Homi Adajania, the woman with a job — Veronica, played by Deepika Padukone, is a photographer — doesn't get the man and is made to change herself drastically and pine for him, whereas the damsel-in-distress whom she helps turns out to be the gentle, desirable alternative. While Veronica is made to go through humiliating situations, Diana Penty's Meera melts both the men and their mothers with her submissiveness.
Love Aaj Kal 2 feels like the logical culmination of this Insta-friendly khap narrative. Ali captures Zoe's conflicts unsubtly, through thought bubbles of her mother screaming and weeping about how she wished she had not given up her job. When Zoe decides abruptly that she must work, she goes into a decline, lashing out at her partner and losing her zest for life. When her mother, pleased at Zoe's professional success, asks her if she is happy, her daughter quips listlessly that she doesn't know what that feels like anymore. It's almost as if she is punishing herself for choosing to work, and her mother for asking her to.
In contrast to her mother's unhinged presence is Randeep Hooda, who is some Hauz Khas-type Osho, mixing drinks and talking in catchphrases that sound like they've been lifted from an Instagram influencer's profile. 'Love is soya chaap, you'll never understand it', said he. Wait, he probably didn't. But he totally could have. In Ali's narrative, this man is the guiding light in Zoe's life, not her spoilsport of a mother.
While in Love Aaj Kal, Zoe's job seems to emerge almost as an unlikely villain, as Sohini Chattopadhyay pointed out in this piece, most on-screen women characters in contemporary Bollywood who revel in their 'personal freedom' somehow don't seem to have jobs.
Jobs, the villain
Years before social media gave many privileged Indians a platform to voice their disdain for the 'mundane', Imtiaz Ali's characters had begun articulating this narrative onscreen. In his films, it's sexy to shrug off the demands of a regular job, to become a 'traveller', tell 'stories', translate your pain into art and basically not have to worry about rent or a monthly paycheck.
By the end of his latest film, Zoe has run off to the hills to join her lover, who has himself rejected several regular jobs to finally follow his heart and change the world. It's the kind of viral video many of us hope to star in someday. Except these characters never acknowledge that their freedom rests on a heady cocktail of privilege.
The villain in Ali's film — a regular job — however, is a dream women across generations have pined for outside social media's filter-emoji-hashtag cocoon. As Love Aaj Kal progresses, Zoe visibly unravels, torn between choosing her lover and heeding her mother's warning against giving up a career. But it's never really clear to the viewer why, exactly, this young woman can't have both. Unlike the systemic challenges that many women still face while trying to 'balance' their jobs and families, the only person who seems to stand in Zoe's way is herself.
Would Zoe, or Ali himself, understand why the woman in her early 50s, whom I met recently on a train from Delhi to Kolkata, took voluntary retirement from her government job when her husband got a transfer with a promotion to Bihar?
"He has never stayed by himself. Who will cook for him, everyone said I should go. Anyway, I had just 7-8 years of work left," she said. Her bigger worry: they had to leave their college-going daughter back in Kolkata, and what if she couldn't manage either? Did she regret giving up on her salary and career? I couldn't tell.
Another woman, a co-passenger I met during another train ride, told me how she feels just a wee bit jealous of me. "I did my master's in Bengali literature. Then I wanted to work as a teacher. But back then, oh god, we couldn't dare bring up working with my father. He would throw me out of the house," the woman, in her 70s, told me while we waited at the NDLS station for her son to come pick her up.
Recently, another co-passenger during a trip, a computer engineer whose family lived in the US, narrated how she was married off immediately after she graduated from college. "In our family, getting a job wasn't a bigger deal than getting a great husband," she laughed. She was in her late 50s. I couldn't help wondering if Ali had ever met women such as these, while watching his treatise of a how woman's pursuit of her career destroying her zeal to love in Love Aaj Kal.
In his review of the new Love Aaj Kal, HuffPost India's entertainment editor Ankur Pathak remarked on the fatuousness of making a film on women who can't handle their careers and love in this century. The truth is, we can't at times. Not because we fall short, but because the odds against us are stacked too high.
My colleague pointed out how, in popular narrative, her mother would probably be considered a superwoman character. Employed with a tech company, she would come back home and cook, feed her daughter, help her with her homework and was solely responsible for her success and failings as an individual and a woman. But, my friend admitted, she often thought about the immense pressure her mother was under to not 'fail' as a mother and a homemaker.
While working on a piece on the gender wage gap in India, a woman HR head of a multinational manufacturing company explained to me how pay gap was partly the result of a vicious cycle. Women and men enter tech jobs in India with similar salaries and almost equal numbers in companies such as Infosys. Then, when women are in their late 20s and 30s, they start dropping out because they have to give birth to and care for children. Often, they rejoin their jobs much later or choose freelancing, while men their age continue progressing in their careers. "Don't blame the corporates alone, blame the society too which let women choose work over or even equally alongside family," she tried to explain.
As Imtiaz Ali's befuddling film comes to a close, Zoe's mother — the one who kept telling her daughter that a job, and economic independence, should top her list of priorities — emerges as an uncomfortable, apologetic disruptor of her daughter's dream of 'living', finding love and being happy. The film's indictment of Zoe's mother for wanting her child to have a career is unequivocal and almost brutal. At best, Love Aaj Kal asks you to feel pity for her frenzied, anxious presence. At worst, it asks you to dismiss her without a second thought.
In a world outside Ali's films, one that I have lived, we hear women like her.