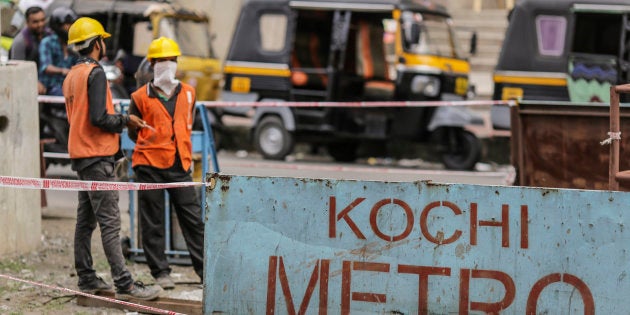 The Kochi metro has appointed 23 transgenders to different positions, ranging from housekeeping to manning the ticket counters, thus becoming the first government-owned company to officially appoint them, according to a report in the Hindu.
Elias George, Managing Director, Kochi Metro Rail, told the Hindu that the Metro wants to give transgenders their rightful share in jobs and that there will be no discrimination between transgenders and women working at the stations.
All candidates were trained in both soft and technical skills, and had to appear for written tests as well as interviews, before they were selected for the posts.
The first service trials of the Kochi Metro began on 10 May, paving the way for commercial operations. The metro train service will commence from June this year, an official said.
The ₹5,180 crore project will eventually cover a distance of 25 km from Alwaye to Petta, though the opening in June will see the train service operating a distance of only 13 km from Alwaye to Palarivattom.
Prime Minister Narendra Modi is expected to officially inaugurate the service.
The ambitious metro projected was mooted by Oommen Chandy and his government began work on it in 2005. Later, when the V.S. Achuthanandan government took over in 2006, the project went into limbo, only to be put back on track by Chandy in 2011.
Work on the Kochi Metro began in 2012 after Chandy's government entrusted the project to the Delhi Metro Rail Corporation with its principal advisor E. Sreedharan overseeing it.
Last week, the Railway Safety Commissioner gave his nod after checking the entire facility for three days.
There are 11 stations in the 13 km stretch that is being pressed into service. Six of these stations have been fully completed and the rest will be ready in a couple of weeks time.