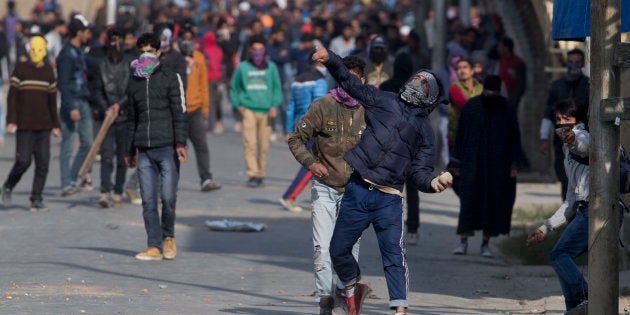 SRINAGAR, Kashmir — After 90 hours in a 6 feet by 3 feet isolation cell, 19-year-old Rehmatullah Padder was dragged to barrack 22 in Block 6 of the Kot Bhalwal jail in Jammu.
It was August 2016, and Padder had been arrested by the police in Doda, beaten and then starved of all human contact for four days in a windowless cell—save for an unseen figure that delivered his meals through a crack under the door—before finally being pushed into a barrack full of strangers.
As Padder lay silent for the next several hours, his fellow inmates kept an eye on him— they were well aware of the devastating effects of Kashmir's infamous isolation cells on adults, let alone a teenager.
Suddenly, Padder rose to his feet, staggered to the centre of the room and sang the Azaan, the Islamic call to prayer. A hush descended across the barracks, as many supposedly hardened inmates were moved to tears.
"It was one of the most heartbreaking Azaans I have ever heard," a fellow former inmate recalled in a conversation with HuffPost India.
"There was so much pain in his voice that it moved many of us to tears," said Khurram Parvez, a noted human rights activist and coordinator of Jammu Kashmir Coalition of Civil Society, (JKCCS), who was arrested during the 2016 summer agitation and sent to the same prison as Padder. "I was told that after his first recitation, a few of the inmates were moved so much that they walked up to him and designated him as the muezzin (who recites the prayer) till his incarceration ended."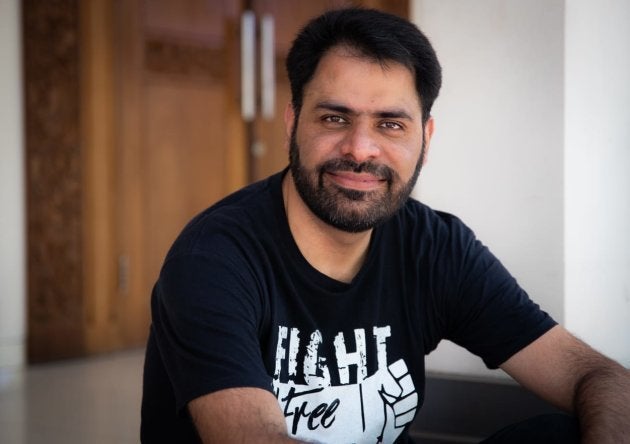 Padder would sing the prison Azaan for 17 months before he returned home to Dessa, his village in Doda. But when he got back home, he wasn't the same.
Prison, Padder said in an interview, is like a shadow. "You may leave prison but it doesn't leave you.
The effects of incarceration
Conversations on Kashmir often focus on the immediacy of the violence, the encounters, the arbitrary arrests and the human rights abuses in the valley. Yet, comparatively little attention is paid to the lingering effects that prolonged detention, incarceration and interrogation have on the thousands of young men who are put through the state's notorious prison system.
Interviews with former detainees like Padder, rights activists, family members of the detained, and policemen paint a bleak picture of life after incarceration in Kashmir. These experiences offer an insight into why the alienation of Kashmiri youth from the Indian state is so complete.
In February this year, Kashmir's home department told the assembly that 14,210 stone-pelters were arrested from 2015 to 2017. 4,173 FIRs were registered and 1,114 people were booked under the controversial Public Security Act (PSA). Of these, 94 were detained in 2015, 660 in 2016 and 360 in 2017, the department said.
Last year, the Union Ministry of Home Affairs and the state government announced an "amnesty" against first-time stone pelters. The state government recommended that cases against 4,961 stone-pelters be closed.
Activists who spoke to HuffPost India said the number of arrests do not reflect the true impact of the carceral system.
"The brutalisation youth suffer at the time of detention or interrogation (police custody) is so bad that being sent to jail ironically comes as a relief," said Parvez of the JKCCS.
Parvez added that the "jail experience" for a youth is multi-layered and so are the ramifications and aftermaths. Parvez believes that while the majority of Kashmir's population might have experienced conflict-related trauma, those who suffer "brutalisation at detention and interrogation centres" are particularly vulnerable.
A survey conducted by Médecins Sans Frontières (MSF) in 2016 found that nearly 45% of Kashmir's adult population suffer from some form of mental distress. A majority—93%—have experienced conflict-related trauma.
"Some are arrested on false, fabricated charges, others for throwing stones and some are arrested for political activity or participating in demonstrations," Parvez said.
The real problem, he said, is not in the jails but in police stations and interrogation centres where the youth are tortured.
"A very small percentage of youth who go to jails become militants. Thousands have been arrested in the valley, yet there are around 200 local militants. In fact, the senior leaders lodged in the jails are responsible for counselling the youth. They tell the youth to complete their studies and contribute to Kashmir through different means. These leaders instill some sanity among these brutalized youth," Parvez said.
'A single day lived free'
Padder, who sang the "heartbreaking" Azaan, was arrested by the Jammu and Kashmir police for allegedly being "a threat to the security of the state and maintenance of public order" and booked twice under the PSA .
This was a month after he had participated in a demonstration held against civilian killings in Kashmir during protests that had erupted after Hizbul Mujahideen commander Burhan Wani was gunned down by government forces on 8 July 2016.
Before he was jailed, Padder was known as an excellent student, a champion of human rights and someone with exceptional oratory skills. He intended to pursue a career in social sciences.
"The time spent inside the prison was extremely bad, especially the first few weeks. I was thrashed brutally when I was arrested for participating in a peaceful demonstration. I will never forget how I was made to strip in front of a dozen policemen before entering the jail. But my time in the isolation cell is something that will haunt me the most. I was numb and when I was finally introduced into the local jail population, I knew something had changed in me. Faith is what brought me back to whatever some people refer to as normalcy," Padder said.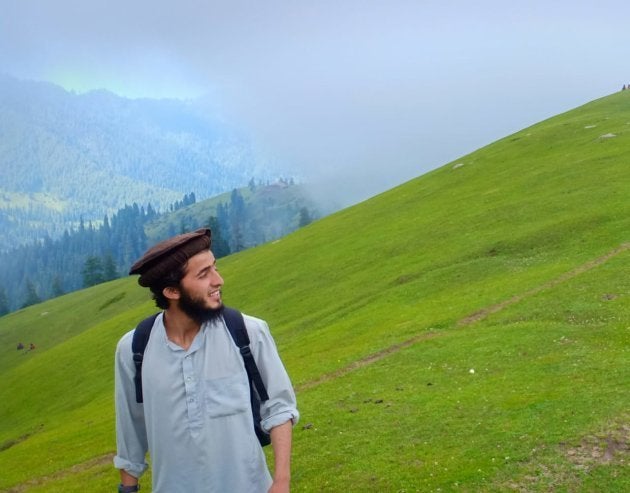 After his release from prison, he hasn't been able to get back to his studies, due to the never-ending court hearings and constant summons from local authorities whenever there is any "trouble" in the region.
"I remember how the younger inmates including me were forced to do menial work. I don't believe any work is below me but the way they ordered us around was humiliating. Hurling abuses, pushing around, shoving were the least of our troubles," said the Doda resident.
Now 21, Padder says he lives by the motto "a single day lived free is better than a lifetime under slavery".
"Enduring oppression graciously is a quality but to accept slavery as a way of life is a sin," said Padder, who has now been out of jail for nine months.
There is no clear link to suggest that those brutalised by the prison system join the militancy—the number of active militants in Kashmir pale in comparison to those arrested every month.
Yet, Kashmir's new-age militancy, which has erupted in the past five years, does have examples of studious young men whose positions on the militancy hardened after a spell in prison—sometimes on trumped-up charges.
Among the most prominent is Hizbul Mujahideen's current operational commander Riyaz Naikoo, who was a maths teacher at a private school until he was arrested in the unrest that broke out after teenager Tufail Ahmad Mattoo was killed by a tear gas shell. Then there is Mehraj-ud-Din Bangroo, who was killed in a gun battle last week in Srinagar. There is also Zubair Turray from South Kashmir's Shopian region, who was an activist with a separatist group before joining the Hizbul Mujahideen in May 2017. He had been arrested on multiple occasions. Turray was finally gunned down in April this year.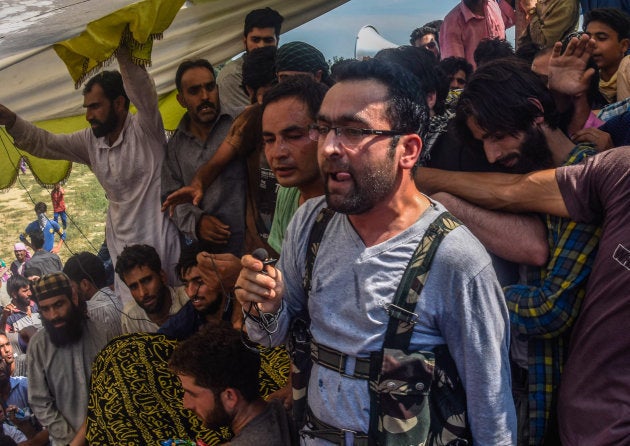 Sajad Gilkar, of Nowhatta, Srinagar, who was involved in multiple incidents of stone-pelting, had also been arrested many times before his final detention in the summer of 2016. He was released in January 2017. Six months later, he joined the Hizbul Mujahideen. He was killed within two weeks of becoming a militant
Dr Arshad Hussain, a leading psychiatrist in the Valley, told HuffPost India that some people who spend time in jail pathologise their behaviour and build coping mechanisms accordingly.
"Some turn to faith, some repress their memories, some turn to social media while others turn towards altruism," he said. Many of his patients, he added, preferred to discuss their day-to-day challenges instead of their experiences in prison.
Senior advocate Mir Shafqat Hussain, who has fought many cases related to the PSA, said the experience of jail can "silence the youth forever" or make them "battle-hardened".
"Let's take the example of Mehraj (Bangroo). He was an ex-militant who was arrested in early 2000s and served his time in prison, following which he resumed normal life. In 2006-07, he was arrested again on charges of hurling a grenade in Srinagar that resulted in killing of two CRPF men. The police showed seven CRPF men as witnesses to the case and produced their statements to the judge, in which it was claimed that they saw Mehraj throw a grenade at a CRPF bunker in Safakadal area. This is when I took over the case and it took me three years to get all the CRPF men back to Kashmir in front of the concerned judge to give their statements. All of them said they had no idea who Mehraj was,"said Hussain.
Bangroo was released soon after that, but Hussain said he continued to face harassment until he finally joined the Lashkar-e-Toiba
"There are numerous cases of young boys, even minors, being booked under PSA repeatedly till they become battle-hardened. Their story does not end with them being released from jails. The life after is full of harassment," said Hussain.
The impact on many
In Kashmir's close-knit society, arresting one person could have ramifications on families and sometimes even entire villages
"I am handling cases of Ghulam Mohammad Khan and Mohammad Subhan of Sopore who are in their mid-70s and have been repeatedly booked under PSA. Can you imagine the impact of their continued detention on their families? The younger lot in the family, how will they rationalise what is being done to their elders?," Hussain asked.
HuffPost India spoke to 70-year-old separatist leader Ghulam Mohammad Hubi, who has been jailed 11 times since 1984. The longest stretch was from 2001-2004 and the most recent one was in 2016, during the burhan Wani protests.
What did the crackdown of political activists in late '80s yield? An insurgency that refuses to die down.
Cracking down on protesters, said Hubi, would just end up making them "hardcore".
The elderly leader spent a lot of his time in jail interacting with young men who would end up there on charges of stone-pelting and holding demonstrations.
"What did the crackdown of political activists in late '80s yield? An insurgency that refuses to die down. Yet, the government of India thinks they can deploy same policies that have failed to make a mark here since 1947. The youth are coming to the streets more than ever before and if this doesn't concern all the parties in the Kashmir dispute, than what will?" asked Hubi.
The behaviour of the jail staff has changed for the worse over the decades, he said.
"Today a policeman believes they are the law. This is only pushing today's youth into a corner," Hubi said.
However, three senior police officers, who spoke on condition of anonymity, dismissed allegations of brutality.
"We live in an information age. Do people really believe that these so-called crimes by policemen against civilians can remain hidden? The answer is 'no'. This idea of brutalisation of protestors is nothing but exaggeration," said one of the officers
Another officer, posted in Srinagar, defended the PSA and termed it as a preventive tool.
"If you check the records of these youth who are detained, you will come to know they are repeat offenders. We only invoke PSA because we are assured that the concerned individual will engage in anti-social activities once out of jail," the officer said.
Legal experts and activists, however, argue that PSA and detention, besides "destroying families", also ensure that the youth have an uncertain future ahead of them.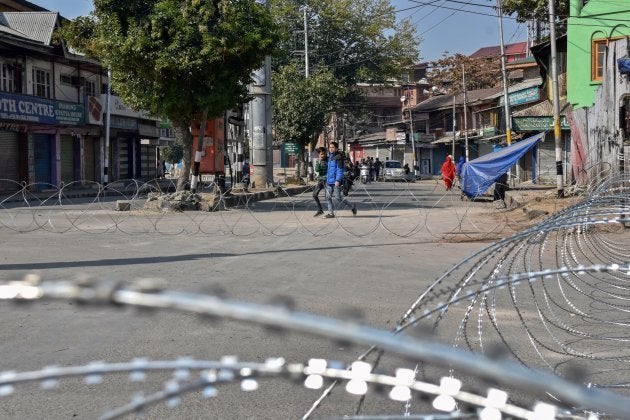 Bashir Ahmed Mir, 46, and his son Raees, who live in North Kashmir's Baramulla district, are still living under the weight of a double trauma—that of having been imprisoned, and in the same barrack.
Mir says that Raees was 16 when he was arrested on charges of stone-pelting in August 2016. Twenty days later, as Mir was knocking on all doors to get his son out of jail, he too was arrested and sent to Kot Bhalwal jail.
"As soon as I entered the prison, I was led towards the isolation cells. Someone saw me and informed Raees that I was also in the prison and being taken into the cell. He was in the barracks at that point of time and started weeping and yelling and begged the authorities not to take me to the isolation cell. Jail staffers inquired how he was related to me and when he said that he was my son, they left me and him alone. They later lodged us together in the same barrack. Barrack No. 10," Mir told HuffPost India.
While Raees spent eight months in prison, his father was released after 19 months.
Mir used to run a small provisional store, which he says was raided by government forces along with his home. Now he drives children to school, and hopes to repay the money he owes his former suppliers someday. His sons, including Raees, work as labourers with a private company which is installing mobile phone towers in north Kashmir. Apart from Raees, the others are doing well for themselves.
Mir said besides the mental trauma, Raees' "case history" and constant summons by authorities make it difficult for him to work.
Raees was unwilling to talk to HuffPost India. The reason, said his father, was "trauma".
"I don't know how to put it, but we have kind of developed a special relationship after our time in jail. I won't say it's a happy one but it's definitely something which I don't share with other members of my family. Maybe it's the ordeal we faced together. He weeps occasionally, there are days when I break down too. But there are also days when I see anger in his eyes. I hope every day that things will return to normal but deep down, I know that both of us have changed," said Mir.