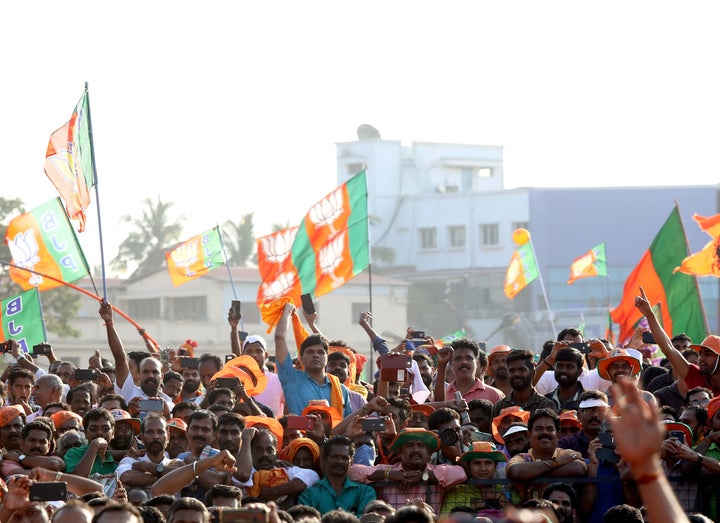 THIRUVANANTHAPURAM, Kerala — When Congress leader Shashi Tharoor injured his head during a ritual at a temple in his constituency Trivandrum, his rivals immediately sprung into action. Many social media pages, mainly those supporting the BJP, made "Temple Run tragedy" memes, with Tharoor as the protagonist of the popular online game who is on the run from unknown assailants.
Janam TV, the right-wing channel which shot up the ratings chart with its shrill defence of "devotees' sentiments" during the protests over women entering Sabarimala, said that Tharoor had suffered "God's wrath" for hurting the beliefs of faithful Hindus. The BJP's mouthpiece Janmabhumi claimed that the former diplomat was visiting temples to make up for irreverent references to Hindu gods and goddesses in his novels.
Tharoor has regularly been pilloried by his Leftist opponents for invoking his upper-caste identity in tweets and statements, but the BJP is playing a different game altogether. By forcing both the Left and Congress to follow the narrative it is setting in key constituencies, the BJP is not just polarising voters, it is also helping to erode the secular and progressive values Kerala has long been proud of.
Both the Nadar and Nair electorate will be deciding factors in the high-profile Trivandrum constituency, where Tharoor is aiming for a third consecutive victory and the BJP smells a chance to open its Kerala Lok Sabha account.
Tharoor, who has considerable clout among Nair voters, is now facing stiff resistance from BJP's Kummanam Rajasekharan, who resigned from the post of Mizoram governor to fight the election. Among the three major candidates in the fray, the only one who refuses to invoke caste and communal sentiments is C Divakaran, a veteran CPI leader fighting from the Left Democratic Front (LDF). But even he has been forced to make a show of visiting temples this time in a bid to appeal to the Hindu vote.
Political observers point out that the obsession over which candidate visited which temple is a new phenomenon in Kerala. But the emergence of the BJP as a serious threat, at least in some seats, seems to have left the Congress-led United Democratic Front and CPI(M)-led LDF fighting to convince upper-caste Hindu voters polarised over Sabarimala that they are not anti-religion.
Apart from Trivandrum, this tendency is highly visible in seats such as Pathanamthitta, where the Sabarimala temple is located, and Thrissur. K Surendran and Suresh Gopi, the BJP candidates from Pathanamthitta and Thrissur respectively, have been openly invoking communal passions to ask for votes.
"I have never seen such a kind of hate campaigning in Kerala. Even during the Babri Masjid demolition days, there was no overdose of communal propaganda from BJP that resulted in polarization. Now, the secular parties are turning defensive when BJP and its candidates talk communalism, ignoring all rules against mixing politics with religion,'' said scholar and writer Sunil P. Ilayidom.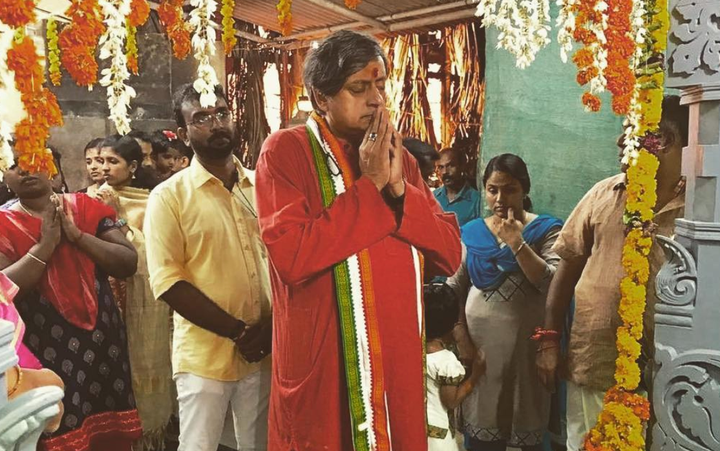 Tharoor has been fending off right-wing misinformation campaigns for some time now. Three days ago, he received a legal notice for "picturising Hindu women in a bad light by saying that they used to have sexual encounters outside of their marriage". The complainant, a Sandhya Sreekumar from Trivandrum, cites parts of his The Great Indian Novel, written in 1989, to back her case.
Tharoor says the quotes cited by the complainant have been taken out of context.
"The Great Indian Novel is now being misinterpreted and falsely propagated against me vehemently," he said.
As Kerala enters the final phase of campaigning before it votes on 23 April, the poisonous statements have also been increasing.
BJP's Kerala unit president P.S. Sreedharan Pillai has been condemned for his objectionable comment on Muslims in the context of the Balakot air strikes.
When the remarks sparked outrage, Pillai claimed his speech had been "heavily edited" in the video that is now being circulated.
"The BJP is now poisoning Kerala, only to open an account in this last citadel of secular politics. The party drew a blank in the 2014 general elections. Now it is eager to win at least one by invoking religion,'' said writer Paul Zacharia.
Ilayidom points out that Kerala's BJP leaders are taking their cues right from the top.
"Look at the unwarranted remarks of Narendra Modi during his election campaign in Mangalore in Southern Karnataka recently that people of Kerala are being sent to jail for invoking the names of Sabarimala and Ayyappa. It is a display of sheer irresponsibility from a prime minister who is treading a dangerous path to polarise voters on communal lines to grab power at any cost,'' he said.
The Kerala police arrested thousands of men during the peak of protests, but that was for impeding the implementation of the Supreme Court order and attacking women, not for being Ayyappa devotees.
Dalit leader KK Kochu said that the election is seeing a large-scale rise of revivalism.
"Now, WhatsApp forwards targeting family groups are creating communal polarisation even in households. People are frequently getting messages saying that their faith is in danger and their centres of worship are under attack. These lies with communal overtones are creating a dangerous political agenda. Kerala has witnessed several instances of politicians whipping up caste and communal sentiments to get votes. But this kind of build-up is something new and dangerous to the fragile social fabric,'' he said.