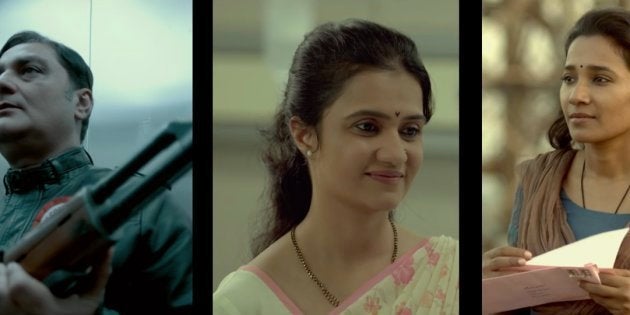 One of this week's releases is Ruchika Oberoi's Island City, a drama that revels in the absurdities of life in Mumbai. A fascinating and unusual film, it premiered last year at the 72nd Venice International Film Festival, under its Venice Days sidebar, and walked away with the FEDEORA (Federation of Critics of Europe and Mediterranean) award for Best Director Of a Debut Film.
The film is a collection of three stories that are largely disconnected from each other, but each presenting a somewhat dystopian view of contemporary Mumbai. There's an element of science-fiction in a couple of the stories, referencing technologies and practices that aren't exactly commonplace but not outside the realm of possibility. With a cast that includes Vinay Pathak, Tannishtha Chatterjee, Amruta Subhash, Ashwin Mushran, and Chandan Roy Sanyal, Oberoi creates an other-worldly, atypical tribute to India's Maximum City via a triptych that takes a fresh look at its absurdities and contradictions.
Upon viewing the film, HuffPost India had a phone conversation with her recently. Here are excerpts from that conversation:
Loneliness and alienation lie at the heart of your film. Does this align with your personal experience of living in Mumbai, ever since you've been here? Is it specifically about Mumbai or about any Indian city?
I've been in Bombay for a number of years, but still that initial experience I had was so striking and completely alien to whatever I had experienced so far that it still stays with me. It's my home now but I remember about being rootless. My initial childhood was in Dhanbad, Bihar, and later schooling and college happened in Delhi. I came to Bombay in '94, studied in XIC [Xavier's Institute of Communications] for a year, worked for a little while, then gave the FTII [Film and Television Institute of India] exam, and then spent 3 years there before coming back to Bombay in 1999.
As we see with Tannishtha's character in the film, I once stayed in one of those Slum Rehabilitation Authority buildings. I used to travel like her — y'know, walk for a while, then take a bus to the station, then travel by train... and then the same journey back. So, for a long time, I'd keep thinking about my situation and loneliness and alienation and I'd think about films we'd seen, like how, say, [Michelangelo] Antonioni would deal with such themes. But the difference between those films and here was that here there are a lot of people, unlike in Europe; yet, there is a lack of communication. You feel alone in a crowd. There are cramped spaces in which everyone lives together, but people can still feel lonely. People are sharing space but not lives or emotions.
The film also portrays Mumbai in a way that is rare in Indian cinema. There's deliberately muted sound design (in the first two stories, at least), futuristic glass-and-steel buildings as well as middle-class housing, but somehow very different from the usual 'posh apartment' or 'Dharavi' settings we're usually shown...
Yes, and the idea was to show the 'other' side of the city — the one that's not just the 'city that never sleeps' cliche. It's also about this experience that is a combination of the East and the West — very much an Indian city, but in so many ways as modern as any other city in the world — and the absurdities that arise from it.
You wrote the script in 2009 and finished the film in 2015, when it premiered at Venice. Is this a testament to how difficult it is to raise funds for such films?
It is quite difficult, at least in my experience. This is the third script I've written — I have another that's a children's film and, well, a third one. According to me, they're all commercial. But then you go and meet producers, you see that they just don't agree because they have another idea of what is commercial. Like if it's comedy, they want a certain kind of comedy. I've had meetings at studios... they aren't willing to take risks with a certain kind of movie, whether they can get stars, because you're a first-time director. And not that they'll ever say this to your face, but the fact that you're a female director also works against you.
Yes, there has been a notion that it's a macho job. You need to be on set, yelling at people. And I feel like that idea is changing and just not true — we had none of that on our set and we managed just fine, I think. But I think that perspective is changing now.
What were the most disparaging (perhaps hilariously so) remarks you heard about the film from would-be financiers or producers?
Well, one of the reasons I have three scripts is because I wasn't getting funds to make my film, so the result was that I'd just keep writing. Sometimes I'd pitch just one but if, say, you're going to a studio, you try and pitch all three. Very often they'd say, "Leave these two but take this [the Island City script] with you." They would say this isn't for family audiences. Or they would disapprove of the depiction of the family in the second story. Which is why it's a great thing that something like NFDC [National Film Development Corporation, which produced the film] exists, and they should continue doing this, especially for first-time filmmakers.
Who were the toughest actors to cast?
Vinay and Tannishtha had been approached and locked quite early on. For Amruta's role, we auditioned extensively and considered lots of amazing actors before finally zeroing in on her. The smaller roles were actually more challenging. Like the role played by Chandan [Roy Sanyal]... we auditioned so many people for Jignesh and it was really difficult to get someone who could be that real. Even for Sameer Kochhar; that was again quite difficult because to get that balance between larger than life and still getting a bit of that hammy acting. He's pulled off an amazing performance. The thing is that the first story is a little stylised, but the others are kinda real, and even if one performance doesn't ring true, the entire facade of reality you've built will crumble. So correct casting was crucial. Unfortunately, in our country there aren't enough actors who know their craft.
Yeah, that's true. What do you think is the solution?
There are places like NSD [National School of Drama] but we need more such institutes and fewer of those that teach Bollywood style acting. Because that style of acting demands something else — Bollywood needs that projection, that style of delivery and movement. I think I was very lucky to find the actors I did.
I've read that you're influenced majorly by Aki Kaurismaki and Luis Bunuel. The kind of absurdism we see in Island City hasn't been seen in Hindi language cinema at least in quite a while. Is this something you'd like to be part of your filmmaking identity, a motif we'll see perhaps in future works as well?
It's certainly something I like and gravitate towards, but I like other kinds of cinema too. But when I sit down to write, and think about stories that excite me, they have this tinge of blackness and dark humour. So, yes, I'd like to work within this meter, but it's not easy to get right. For Island City, I also thought a lot about [French filmmaker] Jacques Tati's work.
Do you believe that Indian filmmakers should strive to find a cinematic language that is truer to their 'roots' as opposed to influences from, say, European or American filmmakers?
No, I don't think you should consciously stay away from any style and say, "I'm Indian so I should only be influenced by [Satyajit] Ray and [Mani] Kaul". You're watching all kinds of cinema; you can't just compartmentalise styles. Plus, the line between the East and the West has blurred, I believe. I don't think you can ever say something is clearly Eastern or clearly Western anymore.
It's a reflection of how we live today. Some aspects of Western culture are there in our cities. Now, as a person living in urban India, I don't know how Indian or Western I am. I've watched a lot of Hollywood, yes, but I've watched a whole lot of Bollywood, including all the trashy films we all love. To compartmentalise like this would be killing a part of us, because I believe something very original and interesting can come out of this mixture — a pidgin cinematic language of sorts.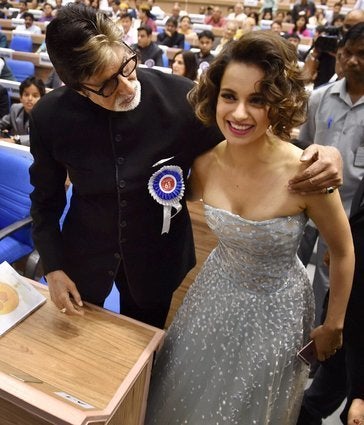 Bollywood Dominates 63rd National Awards Ceremony