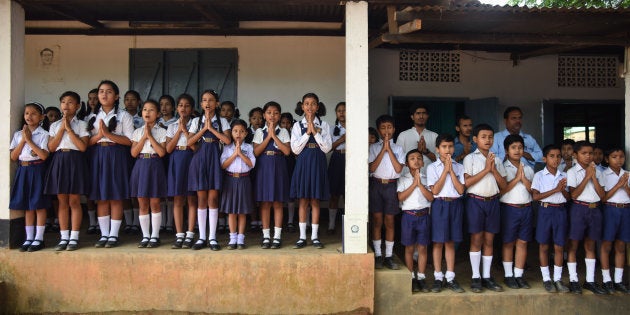 AGRA, Uttar Pradesh -- Rabul Hussain, Mohammed Adil and Shoaib Khan do their morning prayers differently from most Muslims. The three teenagers don't sit on the floor and bow westwards in the direction of Mecca. Instead of praying to Allah, they pray before the images of Saraswati and Durga, Hindu godesses of knowledge and power.
They recite hymns devoted to Hindu gods and goddesses, chanting Sanskrit shlokas like Karaagre Vasate Lakshmi and Deep Jyoti, followed by patriotic songs.
One "patriotic" song in Hindi that appears in their "moral science" textbook starts thus: "The one culture and the blood that flows through our veins is Hindu."
On a Monday, along with a thousand other schoolmates, they recited verses of the Gayatri Mantra and performed yoga. Dressed in grey and white uniforms, the students sat in straight lines, mirroring each other's movements like competitive rowers at a regatta.
With the school band pitching in the next day, the school hall resonated with a spirited rendition of the Hanuman Chalisa, an ode to the Hindu god Hanuman. As one student pounded on the cymbal of the drum kit and the others let loose on their tablas and dholaks, the performance reached a crescendo.
Muslim students in RSS schools have to reconcile their personal faith with the prayers they perform every morning.
It wasn't easy to spot Hussain, Adil and Khan in the sea of grey and white uniforms. The three Muslim students could have got away with doing the yoga exercises and avoided saying the actual words of the hymns and shlokas. Later in the day, they told HuffPost India that they recited as much as they can remember in the morning assembly.
The one culture and the blood that flows through our veins is Hindu.
Hussain, who is in class 12, went on to recite several verses of the Hanuman Chalisa. The 17-year-old remembered a school play in which he had played the role of the multi-hooded serpent tamed by Krishna in a legendary story.
"I don't feel any less Muslim doing so many things Hindu," he said.
Adil, who is in class 11, is tired of people asking him how he could recite Hindu prayers and still consider himself to be Muslim. "As a science student, I don't believe in any religion. At home, I believe in my religion. If one is studying in a Hindu school or a Christian school, one needs to respect their beliefs," he said.
The 16-year-old then recited Karaagre Vasate Lakshmi. As he explained the meaning of the Sanskrit shloka, Adil moved his fingers over his palm to show the spots that Hindus believe to be the resting place of Lakshmi, Saraswati and Govind. "I say these prayers from my memory, not from my heart," he said.
I say these prayers from my memory not from my heart.
Khan, the 15-year-old, rattled off the Deep Jyoti without pausing for breath. Not only had he learnt the shloka in school, he had also heard it now and again from his mother, who is Hindu.
A news buff, Khan was more interested in talking about current affairs than the morning assembly. When we got around to discussing American politics, the class 10 student shared some surprising views on the "travel ban" imposed by US President Donald Trump on people from several Muslim countries.
"I can understand why he is doing it. He is doing what he believes is needed to keep his country safe," he said.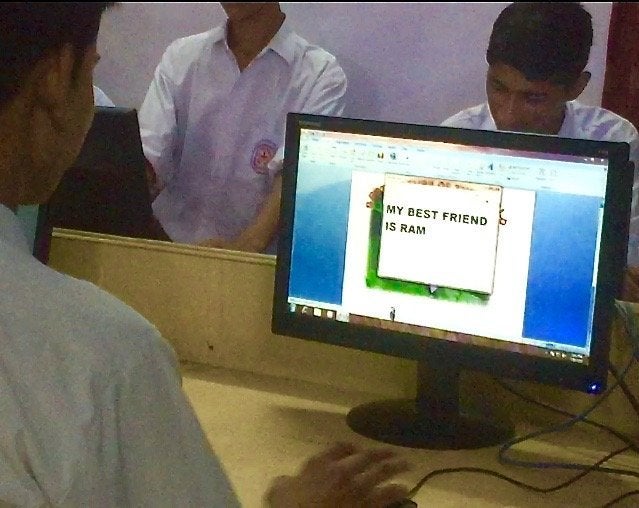 'Nationalist Muslim'
Hussain, Rabul and Khan are among the 16 Muslim students presently enrolled in the Saraswati Vidya Mandir Senior Secondary School, an English-medium school in Agra. It is one among 13,000 such schools run by Vidya Bharti, a non-profit organisation headquartered in Lucknow.
Vidya Bharti, which is now the largest education provider in the country after the government, advances the RSS or Rashtriya Swayamsevak Sangh's ideology of Hindu supremacy.
HuffPost India spoke to several Muslim students about why they choose to study at the schools run by Vidya Bharti, better known as "RSS schools". The "moral science" textbooks that are especially prepared for these schools say the goal is to create a "generation of youth who believe in Hindutva and are highly nationalistic".
Does it bother them to learn about the "Putraroop Hindu Samaj" that must serve "Bharat Mata"? Is it irksome to cram up answers for a multitude of questions that go like this: Name the animal that is everyone's mother? Name the god who threw away a necklace because he couldn't spot the image of Ram and Sita in each bead? Which ideal woman sets an example for virtuous women?
HuffPost India also spoke to RSS officials about why their organization had taken to publicising the presence of Muslim students in its schools, even claiming that the number of Muslim students has been increasing since the Bharatiya Janata Party came to power in India under the leadership of the Narendra Modi in May 2014.
This is what Shiv Kumar, the national secretary of Vidya Bharti, said, "Muslims come to us because they want good education. Religion can be an individual choice but there can be no compromise in nationalism. We teach all our students to be nationalists."
We teach all our students to be nationalists.
When pressed about the questions in the moral science textbooks, Kumar said, "The entire history of this country depends on Hindus, so everyone must learn about it. Hinduism is not a religion but a way of life. You see, Hindus have never been rigid and that is why so many religions have flourished here. We are not against any religion, but conflict happens only when they (Muslims) are rigid. If they become more tolerant and less rigid, what's wrong with that?"
What this reporter gathered after several interviews is that a "tolerant" and "nationalist" Muslim is someone who accepts that India is first and foremost a Hindu nation.
One must believe that a Ram Temple should be built in Ayodhya, and respect how precious the cow is to Hindus. The right kind of Muslim should understand why "gau rakshaks" are driven to violent vigilantism, even while mourning as "unfortunate" the deaths of the ironsmith Mohammad Akhlaq and the dairy farmer Pehlu Khan, lynched by cow vigilantes on suspicion of possessing cow meat.
A "nationalist" Muslim is someone who accepts India is first and foremost a Hindu nation.
Counting the Muslims
The propagation of the idea of the "nationalist Muslim" is part of the RSS' tweaking of its narrative about India's largest religious minority. Stepping beyond the exclusion of Muslims from public life and social welfare, the RSS now wants to define how a Muslim should be to thrive in a Hindutva society.
By projecting the "nationalist Muslim," the RSS also hopes to counter those Muslims who say that they don't feel safe under the rule of the BJP. Not only do the RSS and the BJP want to improve the image of the Hindu right worldwide, they also want to appeal to the secular Hindus who continue to be offended by their treatment of minorities.
"Why does the RSS even need to claim they have Muslim support? It's not because they want to do justice to Muslim society or get their votes. It is to placate those Hindus who are genuinely secular, liberal and inclusive," said Nadeem Hasnain, professor of anthropology at Lucknow University.
It is to placate those Hindus who are genuinely secular, liberal and inclusive.
In May, the RSS claimed Muslims has begun to join its ranks in large numbers since Yogi Adityanath, a Hindutva firebrand, had become the chief minister of Uttar Pradesh in March. Last year, the RSS had claimed the number of Muslim students in their schools had gone up by 30 percent in UP since 2014.
Why is the RSS counting Muslims students in its schools?
Kumar said, "People did not even know that we have so many Muslims in our schools. We have noticed that there is a lot of curiosity about it in the public. The media was constantly asking us about the Muslim students."
People did not even know that we have so many Muslims in our schools.
Kumar also claimed that 70 percent of the Muslims seeking admission in the RSS schools were girls. "Parents knows that their girls will be safe in our schools," he said.
Referring to the RSS' co-ed schools, Kumar said, "We use the words bhaiya (brother) and behen (sister) to address each other. As soon as we say the words, bhaiya and behen, the enzymes we have motivate us in a different direction. The chances of bad thoughts coming into our mind are greatly reduced."
On why such a study was undertaken in UP, Kumar said, "Well, UP is a special state for us. Our first school was started in Gorakhpur, inaugurated by the early leaders of the RSS including sarsanghchalak Golwalkar. We have a long history here," he said.
MS Golwalkar, the second chief of the RSS, had described Muslims as an "internal threat" to India. "We are sitting as if on a volcano, feeling that all is well with our 'secular world'," he wrote.
With 2,600 schools in UP, Kumar estimated that there is now one RSS school in every block of India's most populous and politically significant state.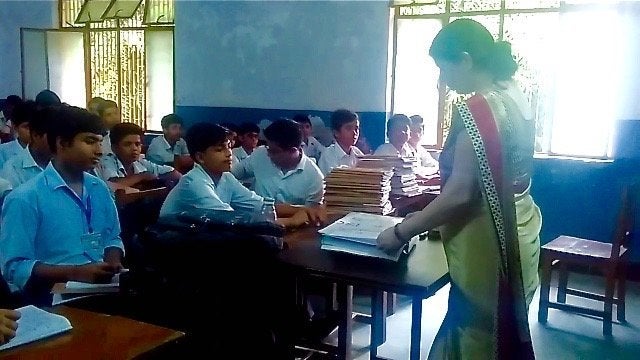 'My best friend is Ram'
The school that HuffPost India visited in Agra is famous for conducting examinations without invigilators to monitor the students. Teachers proudly narrated how they drill their students in the value of honesty and trust them not to cheat.
Located in a middle-income neighborhood, the English-medium school is among the best that the Vidya Bharti has to offer. In addition to a chemistry laboratory and a computer room, and several shelves piled high with trophies for everything from sports to science, there are teachers who appear to take a genuine interest in the students.
Religion is built into the school's soul and psyche. As one enters the campus, one is welcomed by an image of goddess Saraswati looming large over a basketball court. A photo of students making a human Swastika stands out among the many displayed near the porch.
On a Wednesday, a mathematics teacher wrote down a series of numbers on the blackboard and asked his class, "Is this arithmetic progression?" In another classroom, a student stood at the front of the room, reciting an essay on female infanticide in the country.
In the corridor, drawings of Hindu gods including Ram and Sita were pinned onto notice boards among the more mundane announcements. In the computer room, one student typed out, "My best friend is Ram" as a practice sentence. During the break, the students recited a bhojan mantra before eating tiffin.
Between their classes, Hussain, Adil and Khan spoke with HuffPost India about how they navigate the minefield of Hindu nationalism. There were no easy answers from the boys who straddle two religions.
This is how Hussain put it: "I'm probably too young to know what the world considers to be right and wrong. If I say something, one religion gets offended. If I say something else, then another religion gets offended. I do know what feels right, and being here feels right."
If I say something, one religion gets offended. If I say something else, then another religion gets offended.
Gateway to the world
Hussain, Adil and Khan had four things in common. They were intelligent, articulate, ambitious, and knew what they wanted to become.
Hussain, whose father is a building contractor, wants to be a chartered accountant. Adil, son of a shopkeeper, wants to be a civil engineer. Khan's father sells clothes in a shop, but he wants to be an astro-biologist.
Hussain had spent five years at the school because he was satisfied with the quality of education. "My father only studied till class six but we are now a highly educated family. My sisters have all been in the commerce field. One has just got a job in State Bank of India as a clerk," he said.
Hussain preferred the RSS school to another English-medium school called Holy Angel from which he had transferred. The teenager said he did not like the "English" prayers that he had to recite at Holy Angel. "This is also an English medium school, but teachers here explain things in Hindi as well. Here, I feel free to ask teachers to explain me something again and again."
For Adil, the RSS school promises a way out of his low-income neighborhood that has a significant Muslim population, most of whom are shopkeepers and tailors.
"The choices in the Muslim community are limited. Madrassas won't help you in your career. There are a few Muslim-run private schools but those are not very good. The government schools are bad. The fancy private schools, we can't afford them," he said matter-of-factly.
The choices in the Muslim community are limited.
Adil already feels the distance between him and the other Muslim children in his locality who either attend madrassas or the public schools. "I know more about how the world works and I want more from the world," he said. "In the end, what really matters are our careers."
Leaning back in his chair, Adil asked why we had so many questions about the prayers he recited. As long as the Muslim students sat in the morning assembly and kept their head down, he said, no one who forced them to recite any words.
"Isn't prayer just a medium to calm one's heart and mind? There are students coming from different places. Who knows what is happening in their homes or the troubles they are dealing with. Prayer just gives us a moment to ready ourselves for the day," he said.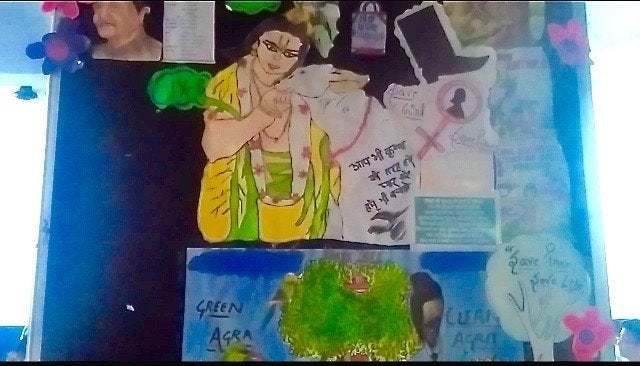 Who wants to eat beef anyway?
Adil appeared exasperated with questions about religion. His relatives asked him similar questions all the time: Are you now a Hindu? Do you believe in Hindu gods? Do they tell you to not eat meat?
His replies to the first two questions: No and no.
The answer to the third question, however, is more complicated. Students cannot eat meat inside the school. While the virtues of vegetarianism are exhorted, the Muslim students said their teachers have never asked them what they eat at home.
It just so happens that Hussain, Adil and Khan have chosen to not eat beef (buffalo meat) at home.
It was Khan who was the least apologetic about what his relatives have described as his "Hindu ways". The 15-year-old attributed his loathing of beef to his Hindu mother's influence. His family is almost completely vegetarian.
"My mother is non-vegetarian. One of my aunts is vegetarian, another eats meat. When my dad wants chicken, my mom makes it, but that isn't often," he said.
Hussain said what he hears at the school does influence his thinking. His parents have questioned him about why he doesn't like to eat meat at home. "They say 'is this something that they are telling you at school?' But that isn't the only reason. It is bad for your health. You see, the new generation of Muslims, people who are educated and have money, they don't want to eat beef (buffalo meat). Only the poor and uneducated eat beef, even among the Hindus," he said.
Hussain, however, said that he has often felt the Hindu right feigned concern for the cow but didn't really mean it. He pointed out how little was done to ensure the health and safety of the animals.
The 17-year-old then told me this story: "I went to get milk the other day and it broke my heart to see our milkman beating his cow. The old cow can't give milk anymore. I told him 'you are a Hindu and this is how you mistreat your cow'. We don't use that milkman any more," he said.
Contested histories
The hypocrisy around the cow isn't the only thing that has troubled Hussain in the recent past. In a rare criticism of his school, the teenager said it bothered him when a teacher repeated a story about how the Mughal Emperor Akbar would fall at the feet of the renowned poet Tulsidas.
Hussain was so unsettled by the story that he even mentioned it to his father. "This is not about being Hindu or Muslim. It is about whether it happened. I don't think a great ruler would have fallen at the feet of the poet, even a great one," he said.
The controversy around Tulsidas and Akbar had started earlier this year after UP chief minister Yogi Adityanath said the poet had never regarded Akbar to be his king. And while people do tell stories about Akbar falling at Tulsidas' feet, these are not backed by historical evidence.
It is common for teachers at RSS schools to express deep animosity towards Muslim "invaders" of medieval India. They make little or no distinction between ruthless raiders like Mohammad Ghori and the Mughal emperor Akbar, a skilled administrator who ended the jizya tax imposed on non-Muslims and tried to float a new religion Din-i-Ilahi based on the teachings of different religions.
Hussain wasn't the only one troubled by recent attempts to rewrite history by the Hindu right. Khan, the news buff, has been following the controversial changes that the BJP-ruled Rajasthan government has introduced in the school textbooks.
Khan believes it is fair to debate whether Akbar defeated Maharana Pratap or the other way around at the Battle of Haldighati in 1576. "We should be open to new ideas. But changes to textbooks should only be made if there is enough evidence and the majority of experts agree," he said.
The 15-year-old fell silent for a few seconds after he was told that textbooks in Rajasthan had already been altered to say that Akbar did not defeat Maharana Pratap.
"But how is that possible?" he asked. "They have not collected enough proof yet. How can they teach children something that may never have happened?"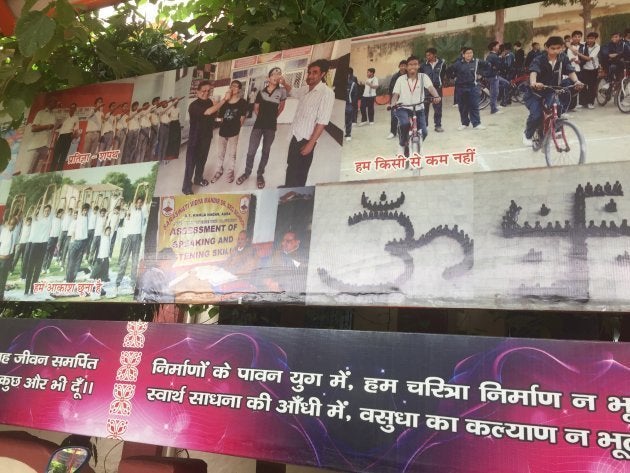 Demand and Supply
While RSS officials make no attempt to conceal that their schools promote Hindu supremacy, they have been accused of promoting religious intolerance too.
In West Bengal, for instance, the ruling Trinamool Congress (TMC) has alleged that over 100 RSS-affiliated schools have been spreading hate and ordered for them to be shutdown.
"It is all politics. They are afraid because the BJP won Assam and now they it might win West Bengal too," said Kumar, the national secretary of Vidya Bharti.
There are times when the connection between the RSS schools and the political agenda of the Hindu right is as clear as daylight.
Take the example of Sarfaraz Hussain who topped the class X board in Assam in 2015. While students from the RSS schools often make it to merit lists of state administered examinations, the BJP latched onto Hussain as if his achievement vindicated their objectives.
The state education minister Himanta Biswas quickly declared that Hussain's achievement was "a matter of pride for our ideological family." He also declared that every panchayat in Assam should have a RSS school.
Why do some Muslims send their children to RSS schools, despite knowing they promote Hindu supremacy and even religious intolerance?
Education activists within the Muslim community do not entirely discount the RSS' claims about the rise of Muslim students in its schools. Rather than endorsing the RSS' worldview, they attribute such increase to a problem of demand and supply of schools.
In the ten years since the Sacchar Committee Report found Muslims to be the least literate religious minority in the country, education activists say change has been gradual. There are an unprecedented number of Muslim families trying to get their children into good schools. Even underprivileged and low-income families want to do better than public schools, which charge a minimal fee, but are plagued by apathetic teachers and poor infrastructure.
By contrast, RSS schools charge a moderate fee that ranges from Rs.1000 to Rs.5000, depending on the location and the economic background of the people in the area.
Vidya Bharti is known to set up schools in remote and destitute areas where even public schools are scarce. By and large, these schools maintain discipline and provide a decent standard of education.
RSS-run schools follow either the curriculum set by the Central Board of Senior Education (CBSE) or state boards. In addition to regular coursework, all students have to learn Sanskrit and take "moral science" classes for which Vidya Bharti provides specially designed books and organises competitions at the state and national levels.
As Athar Hussain, director of the Centre for Objective Research and Development in Lucknow, put it, "I think many Muslims have come to accept that the RSS has the prevailing ideology at the moment. It is a compromise that they are willing to make for a good education. You have to understand both students and their parents are able to cope with the situation in the schools. Yes, students have to sit in the morning assembly but it is not that they are being punished or beaten for not performing the prayers. It's not like that."
From a governance point of view it was impossible for the BJP and its ideological parent to exclude Muslims from their calculations both political and electoral. As Hussain puts it, "What can they do? They cannot just throw 17 percent of the population into the ocean. This is not America. Here the lives of Hindus and Muslims are intertwined which makes it more complicated."
"I think many Muslims have come to accept that the RSS has the prevailing ideology at the moment. It is a compromise that they are willing to make for a good education.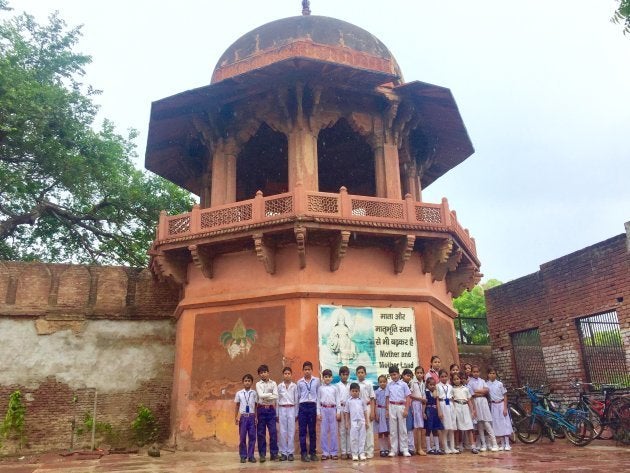 The Hafiz Who Does Not Mind
Hussain's observation quite literally played out in a poor neighborhood on the right bank of the Yamuna river in Agra, where a significant Muslim population lives side-by-side with Hindus. Most of them are manual labourers, tailors and employees of the shoe factories in the area.
The RSS school in this locality shares its boundary wall with the Itmad-ud-Daula, a mausoleum of the Mughal era, which looks like a miniature version of the Taj Mahal. One dome of the monument rises above the school wall on which a large image of the goddess Durga is plastered.
There was no band at the morning assembly of this less-than-affluent primary school. The school principal here spent the better part of one morning looking for light bulbs to replace the ones that had conked off in the heavy downpour. He then sat with a parent who cried out that she could not afford to pay the increase in the school fees and pleaded to be excused.
Given its location in an area populated by Muslims, the RSS school had a significantly higher Muslim presence than its counterpart in the middle-income neighborhood where Hussain, Adil and Khan study. School records showed that the number of Muslims who were taking admission had increased almost every year since 2014-2015.
"Muslim students are coming to us from the madrassas and the Muslim school next door because we provide better quality education," he said. This assertion is the common refrain one hears from principals of all RSS schools.
The RSS would have one believe that "sensible" Muslims are pulling their children out of madrassas and sending them to RSS schools. They also claim that local religious leaders resent the change and actively dissuade Muslim parents from sending them to join RSS schools.
Education activists say that situation is not as black-and-white as the RSS make it out to be. There is indeed anger at the Muslim clergy for having done little to promote education. Yet, as the Sachhar Committee report had found, only three percent of Muslims attend madrassas. The majority of them attend public schools followed by private schools.
Instead of madrassas where students also live while pursuing religious studies, there are more Muslims who attend maktabs. These are places where children go to learn the Quran while also attending regular school. One such maktab runs two streets away from the RSS primary school, inside an imposing green mosque with two large domes.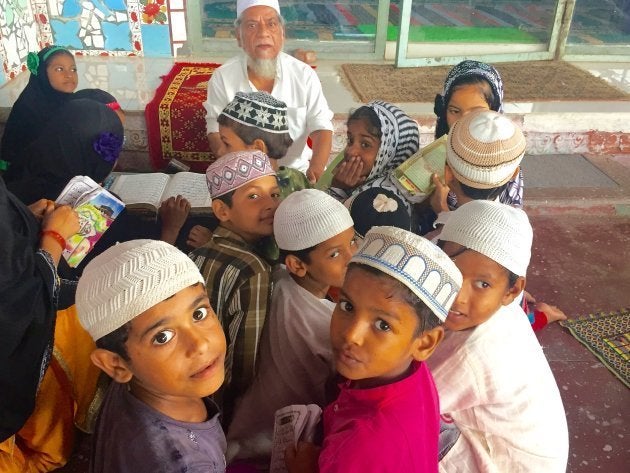 At the maktab, Maulana Hafiz Abdul Kadir, who teaches the Quran to hundreds of children, told HuffPost India that he has never discouraged them from joining the RSS schools. "I tell them that they should go to any school that gives one a good education. If the RSS school is a good one then go there," he said. "If they have to say some prayers that is okay. True prayer comes from the heart not from the mouth."
Even as he criticized the RSS for relentlessly pushing its Hindutva agenda on the country, Kadir sounded helpless when talking about Muslims joining its schools. "What choice do we have?" he said. "We are so behind in education and we don't have good schools of our own. I don't blame parents for taking that option."
We are so behind in education and we don't have good schools of our own. I don't blame parents for taking that option.
On the humid afternoon that we talked, Kadir sat in an open courtyard surrounded by children between the ages of four and fourteen. A humming noise emanated from the gathering of boys in skullcaps and girls in headscarves, who rocked backward and forward as they recited the Koran.
When the more inquisitive children crowded around us, Kadir waved his swatter at them and yelled, "Go back to your studies." After descending into giggles and scattering for a few moments, the children pushed closer to hear their hafiz explain why the Muslim community had fallen so far behind in education.
"I believe that it goes back to the partition. Most Muslims who stayed back were poor and powerless. Many felt that they would lose their religious identity by learning Hindi. This kind of thinking was encouraged by religious leaders," Kadir said.
"We were wrong. It was a mistake," he added.
The Koran instructor, who himself dropped out of a public school after class VI, believes he is now doing his bit in sending children to school. "I run two shifts, one in the morning and one in afternoon, but hardly anyone comes in the morning. I have told my students that they should go to school in the morning and come here in the afternoon," he said.
Many felt that they would lose their religious identity by learning Hindi.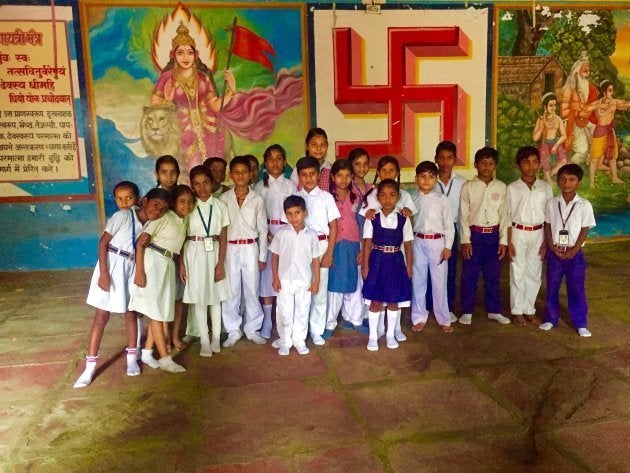 Speaking Truth To Power
Simran, dressed in a colorful salwaar-kameez and a headscarf, was among the inquisitive children flitting around the hafiz, darting back and forth, just out of the reach of his swatter.
The next day, this reporter spotted Simran at the RSS school two lanes away from the green domed mosque, wearing the same mischievous smile but dressed in a crisp white tunic.
Simran, whose father is a tailor, attends the RSS school along with her two brothers and three cousins. The nine-year-old wants to be a beautician when she grows up.
Like Hussain, Adil and Khan, Simran is intelligent and articulate. Unlike her senior counterparts, however, the class IV student makes it clear she enjoys no part of the morning prayers.
Although teachers tell them to remember and recite the words, Simran described how she manages to sit in the line, avoid eye contact and mouth a few words. "I like the school because it is clean and the studies are good. But the prayers are really long," she said. "Sometimes, I tell the teachers that I have a stomachache just to get out."
As much as she disliked the prayers, Simran was the only one who cried out when her classmates, both Hindu and Muslims, were about to step into the brightly painted prayer room with their shoes on. "Wait, we have to take off our shoes," she said.
On our way out, I asked Simran why she had cried out. Her classmate, Kum Kum, immediately replied, "Because God lives here," but Simran stayed silent for several second.
The nine-year-old replied, "I don't believe in the gods, but the room is important for other people. I know that it is a place that should stay clean."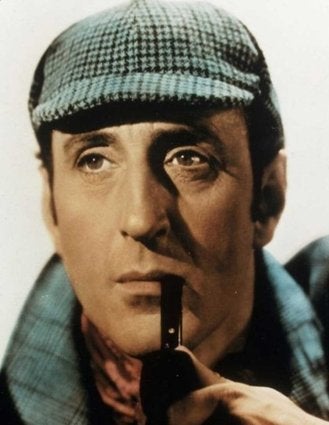 The Best Sherlock Holmes Of All Time
Popular in the Community