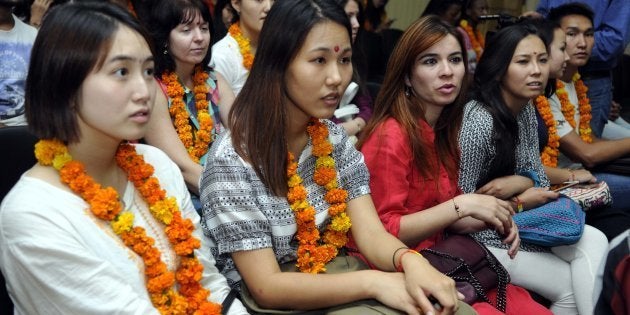 Foreign students in India are rarely in the news except in the context of racial attacks, like the assault on Nigerian students in Greater Noida last week. Indian students overseas, on the other hand, tend to be in our thoughts much more.
India sends the most students overseas, after China. And the number of students who come to study in India each year is only a fourth of the number of Indian students who go overseas. Nonetheless, India is a major hub for students from developing countries.
The composition of India's overseas student body has changed drastically over the last 15 years. Nigeria is still the fourth biggest source country for foreign students in India, even though the share of African students coming to India has been declining.
There were officially 45,424 foreign students enrolled in India in 2015-16, the latest year for which data is available from the All India Survey on Higher Education conducted by the Ministry of Human Resource Development.
These students come from 165 different countries, but the top 10 countries--which are geographically proximate to India--contribute three out of every five foreign students.
Nearly 80% of all foreign students are enrolled in undergraduate courses, and another 14% in postgraduate courses. Male foreign students outnumber their female counterparts in nearly all categories.
The most popular courses for foreign students are Bachelor of Technology and Bachelor of Business Administration, followed by Bachelor of Arts, Science and Commerce degrees. There are also over 2,000 foreign students studying engineering and medicine each.
Karnataka is by far India's biggest hub for foreign students, accounting for one-third of all foreign students. Karnataka alone has more foreign students than the next three top states--Tamil Nadu, Maharashtra and Uttar Pradesh--put together
The number of foreign students in India has steadily increased through the last decade, growing to over five times its size in 2000. These numbers differ slightly from India's official statistics because they come from UNESCO's International Student Mobility data.
However, the share of African students in India has declined over time; in 2000, students from sub-Saharan Africa in India outnumbered those from south and West Asia. In 2014, the most recent year for which geographically broken up data was available from UNESCO, students from south Asia outnumbered those from the Arab states and Africa put together.
Globally, the biggest destinations for foreign students is the United States, with the UK and Australia following at a considerable distance. India is however a stand-out among developing countries; it is the top non-African developing country destination among African students, for instance.
Meanwhile India had roughly 2.3 lakh students overseas as of 2015 according to UNESCO's International Student Mobility data, a distant second to China at 7.9 lakh overseas students. Over 70% of all Indian students overseas are in North America and Western Europe.