The narrow road that leads to Alakhpura, in Haryana's Bhiwani district, is mostly empty on this sultry August afternoon. The clouds above portend heavy showers. The farmers are returning from the fields, leading cows back into their shelters. And just as the village's day is drawing to a close, you can see some two dozen young girls kicking a ball around in a big field, right next to the village's only government school.
This non-descript Haryana village, with a sex ratio worse than the state average (Haryana has the ignominy of the worst sex ratio in the country) is the ground zero of an incredible and heartwarming footballing success story scripted by its women. More than 300 women train regularly in this village, and among them are 11 who have represented India and several others who have represented the state across age groups.
Footballing success here means a ticket to a better livelihood for their families. A move from a mud home to a concrete one. And as such stories have played out repeatedly, the status of young women in this village have transformed--they are now seen as being just as capable of changing a family's fortunes as a male child.
Trickle Becomes A Flood
Even as it begins to rain heavily, and the field turns in parts into muddy slush, the girls don't stop playing. The roads from their houses to the field are now flooded. But the field keeps getting more crowded.
"We practice everyday, Storms and rains can't stop us from playing," says Poonam Sharma. The 18-year old started playing about seven years ago. Last year, she went to Vietnam to represent India at the Asian Football Confederation Under-19 qualifiers.
The girls from Haryana shot into the limelight when the players of the Alakhpura government school won the U-17 Subroto Cup--a national tournament--in 2014. The girls managed to the reach the finals in 2015, and win it back in 2016. The Alakhpura girls have also been a part of the Haryana U-14, U-19 and the national teams for over a decade now.
It all started in the year 2002. The school's physical education teacher Gordhan Dass, 49, used to train the boys to play kabaddi. One day, the girls went to him and said they wanted to play too. Gordhan, a qualified kabaddi coach, decided to give the girls a football that was lying around in the school premises. During recess, these girls simply kicked the football around.
"There was a time when the girls would sit with a punctured football. We didn't have money to get a new one. Those girls are now playing for India," a beaming Dass told HuffPost India.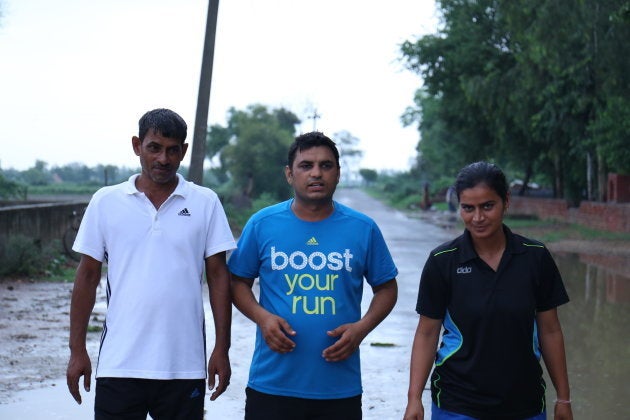 Within two years after the girls started playing football, the villagers got together to turn a road into a field. "They put in their money and got sand and mud to cover the place," he said.
A decade later, there are around 300 girls from the village who train in the school's adjoining field every day. From this cohort, champions emerge routinely.
There was a time when the girls would sit with a punctured football. We didn't have money to get a new one. Those girls are now playing for India.
Last year, the girls formed Alakhpura FC in their effort to participate in the first Indian Women's League (IWL), initiated by the AIFF (All India Football Federation). The team won the regional qualifiers in Haryana to be one of the 10 teams to qualify for the second round of the IWL. They lost to Manipur's Eastern Sporting Union in the semi-finals. But they had made a mark. Alakhpura FC's 6-2 victory against Aizawl FC in the group stage was one of the most talked about matches in the league.
"At least one girl plays football from every household in Alakhpura," said Sonika Bijarnia, the head coach of Alakhpura FC.
Bijarnia, who has represented Haryana at the senior nationals, started training these girls in 2014 when she was deputed by the government. "There were so many difficulties. We didn't have proper training facilities. But these girls are extremely talented," she said.
Home to about 2,000 people, the village mostly has farmers and daily wage labourers. The census data shows that the average sex ratio in the village is 849, lower than Haryana's state average of 879. But the women's football team is making sure that their village is known for something else.
"Now people know the village because of our football. Game is our life," said 19-year-old Jyoti Yadav, who has played the Subroto Cup and in the IWL.
Bend It Like The Alakhpura Girls
Sanju Yadav, 19, was named as the AIFF Emerging Player of the Year in 2016 for her performance in the National Women's Football team. What started as just another game in her school recess became her career.
"I don't think I would be anything but a football player," she said. Sanju, daughter of a farm labourer, has just returned from Malyasia after India won the friendly championship against the host country.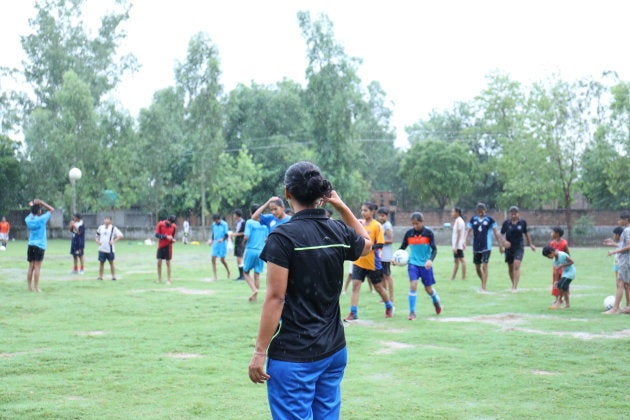 Sanju has been playing for the last 8 years. She first played for the U-14 Indian team in 2011 against Sri Lanka. But she shot to fame in a match against Bangladesh in February 2016. Playing for the senior team, she scored in the 74th minute as India won 5–1 and moved into the finals. India then went on to defeat Bangladesh 3-1 to win their fourth consecutive SAFF Women's Football Championship title.
Eldest among three siblings, Sanju started playing football at the age of 10 when their school's physical education teacher just handed them a football. "We would run to the other village, some of us bare-feet because we couldn't afford shoes," she said. This was a practice method to build stamina.
Till last year, all they had was a set of bricks in place of goalposts. The pitch was barren.
"Once the girls started winning tournaments, the government came forward to help," said Bijarnia, Alakhpura FC's coach. The pitch now has grass, and the girls have shoes. In the next six months, the girls will have another field to train. "We have been allotted Rs 2 crore by the Haryana government to develop this field," she said.
Sanju's family has only one acre of land and her father works as a labourer in the fields of others to make ends meet. They lived in a house made of mud bricks. Every day, Sanju would wake up at 5 am to train and then she would help her father in the fields. She would then go to school and return to training in the evening.
Once Sanju started playing, she realized that the game could help her get scholarships and prize money that could help her parents run the family.
"For the last four-five years, she got around Rs 2 lakh scholarship per year and with that (money) we have constructed a two-bedroom house," said Sanju's mother Nirmala Devi. It's been three months since the 19-year-old got a job with the Railways, thanks to football.
"My parents have never discouraged me from playing. At my age, most girls usually get married, but they have never asked me to. They want me to win matches, and not wear a ghunghat (a traditional veil)," she said.
This year, along with Sanju, 20-year-old Ritu Bagaria from the same village had gone to Malyasia for a national camp. "I learnt a lot there," she said. "I will now teach the girls in the village learn some of the tactics I learned there. I hope more and more women from Alakhpura play international," she said.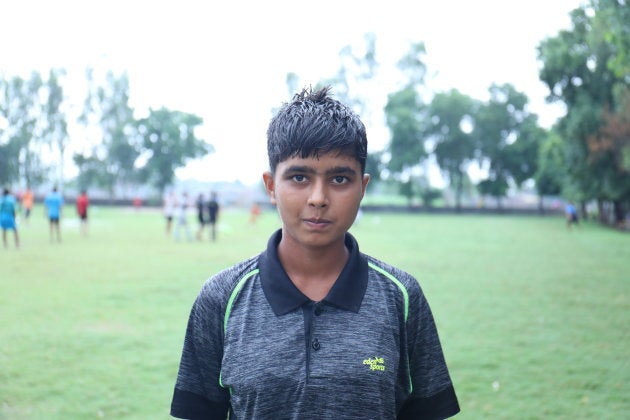 15-year-old Aneybai has helped her family in a way her mother had never dreamt of. Aneybai lived in a mud house with her mother and two brothers. Her mother Maya is a safai karmachari (cleaner), and her brothers are in school. Her father passed away when she was four years old. "With the scholarship money that she got from playing football, we have built a brick house and a toilet," Aneybai's mother said.
Inspired by the girls, the boys from the village who hadn't taken much interest in the game till recently, have now started training. "The boys have just started training, they want to achieve what the girls have. They have a long way to go," Bijaria said.
It Takes A Village...
Prakash Singh Jakhar, a member of the village's Panchayat Committee, recounted how the villagers got together to ensure lack of facilities doesn't come in between these girls and their dreams. "There was no ground at the village for girls to play and so we requested the government to help us out, but no one helped," he said.
So, the villagers decided to dry out a nearby pond by filling it with sand, to create a place for girls to play and train.
Last year, the girls didn't get any league sponsors and that's when 2,000 villagers of Alakhpura came together to donate Rs1.5 lakh so they could take part in the IWL.
Dass, the PE teacher who had initiated this football revolution in the village, said that the girls' success in football has won around Rs50-60 lakhs in scholarships this year. "Whenever Haryana's women team plays a game, there are mostly girls from this village," he said.
"The girls' parents try and fund whatever little they can. Some give Rs100, and some Rs5,000. They don't want the girls to stop playing because of lack of funds," Bijarnia points out.
All of this might sound like scenes from an idyllic village movie where everyone just gets along. But that wasn't always so.
Like in most Haryana villages, the girls here used to be married off before they turned 16. Dass would often have to visit the girls' homes, to try and convince the parents to let their daughters come to the field.
Often, the villagers would refuse to listen to Dass. So, he came up with an idea and decided to pose a question to the unwilling villagers. "My daughter used to play football. I would train her too. Every time there was difficulty from a girl's house, I would visit the parents with my daughter. I would tell them that I have a daughter the same age. If it isn't disrespectful for the school teacher's daughter to play, how is it disrespectful for anyone?"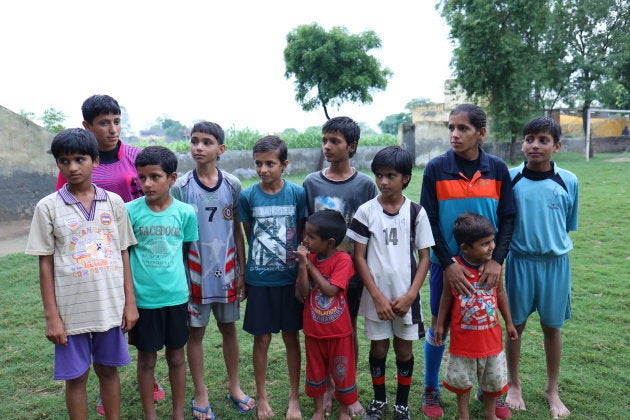 That wasn't all. Before Bijarnia, the club's only female coach, came on board, Dass wasn't sure how to travel with the teenage girls for tournaments. "The villagers wouldn't be happy about this," he said. So he would leave his cows to his brother's care and take his wife along with him. "My wife took care of their personal needs, while I continued with the training," he said.
Dass believes that the game has changed these girls' lives. "Now the girls' parents want them to play, not get married," he said. He said that if this change could come in a small village like Alakhpura, it can happen in every village of the country.
The Hurdles In Women's Football
Alakhpura might have a success story to tell, but the wider state of women's football in the country has been a sorry one in recent years.
The Indian women's football team has seen a steep decline from a period of glory in the 1980s. At the 1980 Asian Women's Championships, held in Calicut (now Kozhikode), India had entered not one but two teams. One of these teams returned home with silver.

But since then--the FIFA ranking of the women's national team has gone down every year. Now, India is ranked at 60 while China, a country that established a women's team a couple of years after India, has left India far behind, ranking at 11.
"Now people know the village because of our football. Game is our life."
There are very few friendlies that are organised. In fact, the women's team have played so little, that in 2009 it was dropped from the FIFA rankings. It was only last year that the first league tournament was played.
Aditi Chauhan is something of an outlier in this bleak landscape. She became the first Indian woman footballer to play overseas professionally when she was picked by England's West Ham United Ladies in 2015. She also plays for India's national team. In a telephone interview, she told HuffPost India that Indian women's football had a long way to go. "There are definitely a lot of things that still need to be improved--the league needs to be longer, running at least a couple of months in the year. All Indian Super League (the national league organised by AIFF) clubs should actively get involved and set up a women's team as well."
The goalkeeper says that there's no lack of talent in the country, but women's football has suffered because "we don't have a professional set-up and a proper channel for the youngsters to progress". Chauhan feels there's just one solution. "Someone needs to step up and take the responsibility, get the corporates involved to invest in women's football at the grassroots and also in a longer-duration league," she said.
Meanwhile, AIFF has begun the pre-qualifiers for the next IWL. The qualifiers are planned sometime in November this year and the finals are likely to take place in March 2018. Kishore Taid, COO for AIFF told HuffPost India that the federation has a lot of focus on women's football in the next couple of years. "From organising grassroots tournaments for girls to education of women coaches and referees to improving our international performances, we have a well-defined strategy to improve women's football in India," Taid said.
"But we have to take one step at a time as our resources are limited and the road is long," he added.
The head coach of the Alakhpura team, however, feels that the government also needs to push a little more. Bijarnia believes that if their village gets more facilities and adequate support from the government, it can become the hub for football in India. "They put money in wrestling and other sports, but football is still not given importance," she said.
Popular in the Community