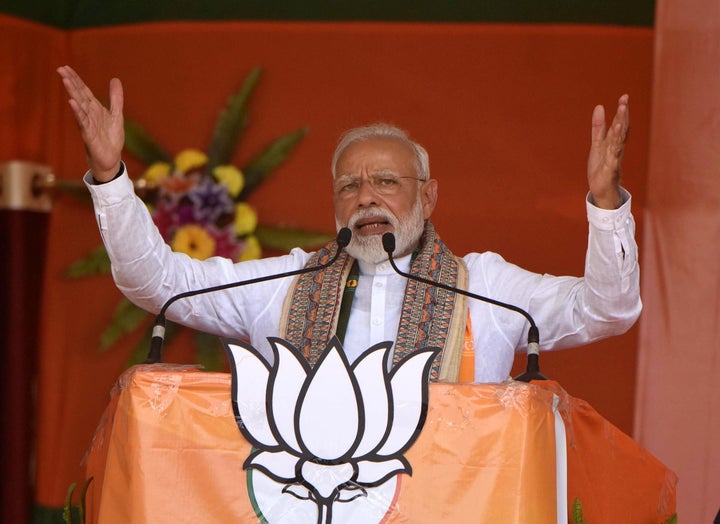 The battle for Uttar Pradesh, India's largest state, was a contest between the formidable caste combine of the Samajwadi Party (SP) and the Bahujan Samaj Party (BSP) versus Hindu consolidation under the Bharatiya Janata Party (BJP).
The Akhilesh Yadav-led SP and Mayawati-led BSP put 30 years of bad blood behind them to form an alliance to take on the BJP, which swept UP in the 2014 Lok Sabha election and the 2017 Assembly election.
The alliance, Ashutosh Mishra, a political science professor at Lucknow University, said "has no chemistry, but the arithmetic is unbeatable."
In 2014, the BJP and its ally Apna Dal won 72 out of 80 seats, BSP finished second in 34 seats, followed by SP in 31 seats and Congress in six seats.
In 2019, the SP and BSP contested 37 and 38 seats, respectively, while their partner, the Rashtriya Lok Dal (RLD), fought three seats in western UP.
The caste combine is banking on Mayawati's core vote, the Dalits, especially her own community of Jatav Dalits, and SP's core vote of the Other Backward Classes (OBCs), especially the Yadav community.
The SP and BSP's mutually exclusive and loyal voters account for 21% of the voting population, and present a significant challenge to the BJP. In 2014, when BJP pulled in 42.63% of the votes, SP (22.36%) and BSP (20%) together were a close second (42.36%).
The BJP is banking on upper castes as well as non-Jatav Dalits and the non-Yadav OBCs.
It is the non-Jatav Dalits and non-Yadav OBCs who had moved from the BSP and SP respectively to vote for the BJP in 2014.
The success of the caste combine hinges on transferring of votes. In other words, Yadavs and OBCs voting for the BSP and the Dalits voting for the SP.
Furthermore, Shivpal Yadav's exit from the SP could also weaken Akhilesh Yadav in a few seats.
Exit polls suggest the BJP withstood the SP-BSP caste consolidation, which some had said would drastically reduce the BJP to 20-30 seats.
The poll of polls, an average of all the polls put out by NDTV, gives 46 seats to the BJP and its ally Apna Dal and 32 seats to the alliance. The Congress has been forecast to win just two seats, presumably Sonia Gandhi in Raebareli and Congress president Rahul Gandhi in Amethi.
The Congress
The Congress, meanwhile, has been reduced to a bit player in India's most politically significant state.
In the 2009 general election, the Congress won 22 seats, its highest tally since 1989. In 2014, when the Modi wave swept northern India, the Congress won just two seats in UP.
Despite months of negotiations, the Congress was left out of the SP-BSP alliance.
In 1996, when the BSP and Congress allied for the Assembly election, the BSP ended up with 67 seats and the Congress with 33 seats, while the BJP had the largest chunk with 174 seats of 403 seats. After the election, BJP and BSP came together to form the government.
Priyanka Gandhi
The entry of Priyanka Gandhi as a Congress general secretary in charge of eastern UP has done little to improve her party's chances in UP.
The Congress had hoped that her charismatic personality would make up for the shortage of party workers and the lack of a clear election plan in the state. It was also expecting to draw Brahmin, Dalit and Muslim votes, but after a promising start, Priyanka Gandhi's campaign fizzled out.
Congress insiders say that Priyanka Gandhi has been sent to build up the party in time for the UP Assembly election in 2022.
Rahul Gandhi versus Smriti Irani
While Rahul Gandhi and Sonia Gandhi are expected to retain their bastions of Amethi and RaeBareli respectively, the Congress is not likely to win more than three to four seats in the state.
In Amethi, the Congress President is contesting against Union Minister and Smriti Irani who, in 2014, put up a credible fight, reducing his margin of victory from 3.70 lakh votes in 2009 to 1.07 lakh votes.
In 2004, when Rahul Gandhi contested Amethi for the first time, he received 66% of the votes. In 2014, his vote share was reduced to 46.71% while the BJP shot up to 34.48%.
Irani, who has mounted a vigorous campaign in 2019, has accused Rahul Gandhi of not spending enough time in Amethi.
Rahul Gandhi is also contesting from Wayanad in Kerala, which is expected to be an easier contest for him than Amethi.
His decision to run from Wayanad ticked off the Left Parties, which said that he was fighting the Left Democractic Front coalition instead of the BJP.
BJP president Amit Shah said that Gandhi was contesting a relatively safe second seat because he was afraid of losing from Amethi.
Congress insiders say that if Rahul Gandhi wins both seats, he might pull out of Amethi, which would lead to a by-poll that his sister, Priyanka Gandhi, is likely to contest.
The other Gandhis
In addition to Rae Bareili and Amethi, which the Gandhi family has retained since 1999, other interesting contests include Maneka Gandhi and Varun Gandhi for the BJP from Sultanpur and Pilibhit.
Maneka Gandhi, Union Minister for Women and Child Development, and the daughter-in-law of Indira Gandhi, and her son, Varun, have swapped seats for the 2019 election.
Maneka Gandhi is in a three-way contest against Sanjay Singh of the Congress and Chandra Bhadra Singh of the alliance. Varun Gandhi is going up against Hemraj Verma from the alliance.
Last month, Maneka Gandhi appeared to threaten the Muslim community if they don't vote for her. "I am winning.... But if my victory is without support from Muslims, I won't feel that good. Dil khatta ho jayega (heart will become sour). Then, when a Muslim comes to me for work, I will think let it be, how does it matter," she said.
Other seats
In Rampur, SP veteran Azam Khan is contesting against former actor and BJP candidate Jaya Prada. Khan, who has been elected nine times from the Rampur Assembly constituency, is contesting his first Lok Sabha election. He and Jaya Prada, who was previously with the Samajwadi Party, have a long running rivalry. Rampur is presently held by BJP's Nepal Singh.
In this election, Khan was booked for making obscene remarks about his opponent. She responded by saying, "He shouldn't be allowed to contest elections. Because if this man wins, what will happen to democracy? There'll be no place for women in society."
PM's constituency
Prime Minister Narendra Modi is widely expected to retain his seat in Varanasi. In 2014, Modi secured over five lakh votes, defeating Aam Aadmi Party (AAP) chief Arvind Kejriwal by more than three lakh votes.
This time around, he is facing virtually no competition.
After hinting that she may contest against Modi, Priyanka Gandhi eventually did not run.
Tej Bahadur Singh, the former Border Security Force (BSF) jawan who exposed the poor quality of food served to Indian soldiers, was disqualified from running by the Election Commission (EC).
Shalini Yadav, the SP-BSP candidate, was formerly with the Congress Party. Her father-in-law Shyam Lal Yadav, a Congress Party leader, won the Lok Sabha election from Varanasi in 1984.
Earlier this month, Yadav told HuffPost India that with the powerful caste-combine and Modi's diminished popularity, she was in a position to "give him a tough fight."