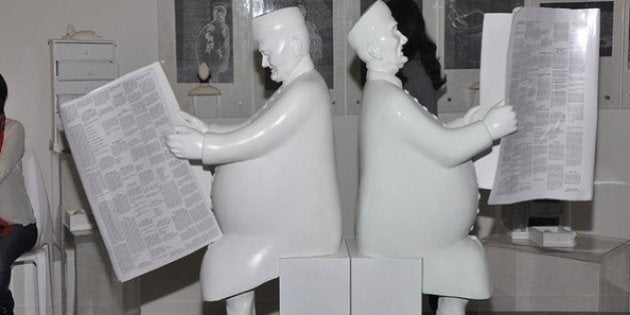 Navigating the mela that is the India Art Fair can be an intimidating experience even for those in the know. It's difficult to focus on the visually significant when so many distractions abound, for fairs are commercial, democratic spectacles that encompass a wide spectrum of work, from paintings to installations, from the gaudy and nightmarish to the utterly exquisite, and poetically relevant to the contemporary moment, the now. To make the most of your visit, we've identified 12 booths that are an absolute must-see because they encapsulate a range of fairly stellar artworks by some of the most important artists in India and abroad.
Strategically located at the mouth of the main hall of the fair, the Bengaluru and Delhi-based gallery's sprawling booth has quite a few treats to offer the avid art enthusiast. Don't miss Bharti Kher's disturbingly sexual sculptural assemblage, "Mother and Child," a piece consisting of three figures, a male child whose mannequin form contains the parallel mother figure's missing left breast, or as Kher puts it, the breast closest to the heart, and a harrowing shadow figure that augments the mystique and ambiguity of the work. The gallery also has new work by Sudarshan Shetty and Astha Butail.
The New York-based gallery more than compensates for the dearth of photography at the fair, with three big names on their roster, Pablo Bartholomew, Gauri Gill, and by Yamini Nayar. Excerpts from Bartholomew's teenage diary, Outside In line the outer wall of the smallish booth while colour plates and images from Gill's Balika Mela series hug the inner shelves and are offset by Nayar's photographs of her photographic assemblages.
The real treat at the Mumbai-based gallery's booth is Shilpa Gupta's new series that investigates the issue of name as identity, and the political undertones that govern the conversion of names. Excerpts from Atul Dodiya's whimsical series imagining vernacular museums is another delight, both reflective of his skill with the medium of watercolor as well as his humorous take on cultural politics. Anant Joshi's spectacular series Happy New Year, a series of mini television-sized boxes that are saturated with dramatic and quirky narratives.
The New Delhi-based gallery has always been attentive to detail in the conception and design of their art fair booths. This year, its director, Renu Modi has curated a solo presentation of Nilima Sheikh's immersive and transcendent new work that is undeniably a must-see. Look out for Akshay Rathore Singh's very quirky and political play on language, Translation of Gavar, the drawing wall that has some pieces from the gallery's recent monumental show celebrating its 25th anniversary, and stunning work by the New York-based artist, Zarina.
Visit the Kolkata-based gallery's booth for a unique opportunity to view a kind of mini retrospective of artist Ganesh Haloi's work, and definitely look for a painting he did back in the 60s documenting one of the walls at Ajanta for the Archaeological Survey of India.
It's rarely ever a surprise that this Kolkata-based gallery should be on a list of best booths. Besides clever curating, their corner space poignantly reflects their cutting-edge programming and their relationships with some of the most exciting young artists in the world, including Bangladeshi artists Ayesha Sultana and Naeem Mohaiemen, the Kolkata-based Rathin Barman, and the Pakistani artist Bani Abidi. The showstopper for us was a new suite of drawings by Adip Dutta, which we recommend as a definite don't-miss.
For us, the lure of this booth, besides Mrinalini Mukherjee's bronze Palmscape, L.N. Tallur's ominous bell, and Subodh Gupta's grazed Teflon galaxy reflected at the bottom of an overused frying pan, is a suite of drawings by Seher Shah and a few excerpts of a photographic series by Gauri Gill and Warli painter Rajesh Vangad.
Within the confines of the Vadehra Art Gallery booth is a treasure trove the size of a little room populated with some wonderful paintings by the legendary late painter, Husain. Look for the cloth canvas work that is stretched across the length and breadth of one of the walls of this room. We also highly recommend Sujith S.N.'s paintings and work by Atul Dodiya, Anju Dodiya, Arpita Singh, and Gulammohammed Sheikh's new accordion book.
This year Delhi Art Gallery has upped its own ante, with an enormous booth in the hall adjacent to the Speaker's Forum, and a show that is museum-scale in its intent and designed to serve as a visual history of Modern Indian art. You could easily spend an hour or so working your way through the "Erotic" section and the other mini retrospectives contained within the space.
Few Indian galleries do clean and minimalist like Jhaveri Contemporary. Their booth daringly reflects the artists they represent. Look for a clever work by Prem Sahib that you could so easily miss if you don't look closely enough, and of course the Rana Begum sculptures.
Still the only gallery in the country dedicated exclusively to photography, PHOTOINK's booth has a great spread that offers visitors a sneak preview of its 2015 programming at its new space, slated to open in February. There's new work by artist duo Madhuban Mitra and Manas Bhattacharya, the young and emerging photographer Chandan Gomes, the established Ketaki Sheth, and camera-less photograms by Srinath Iswaran.