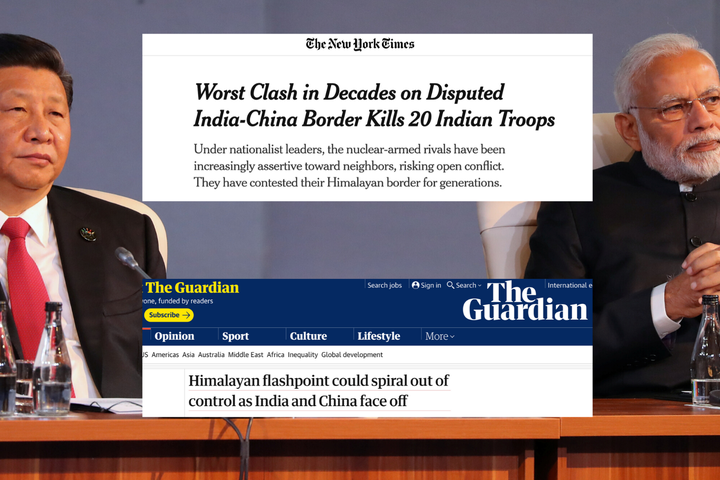 The Indian army on Tuesday night said 20 soldiers had been killed in clashes with Chinese troops at Galwan Valley in Ladakh, in a major escalation of a five week-long standoff between the two countries.
Both China and India have traded accusations over who was to blame for Monday's clashes in Ladakh, with each saying the other had violated the consensus on the Line of Actual Control.
"Both sides suffered casualties that could have been avoided had the agreement at the higher level been scrupulously followed by the Chinese side," India's external affairs ministry spokesman Anurag Srivastava said in a statement.
China's foreign ministry spokesman Zhao Lijian said, "What's shocking is that on June 15, the Indian side severely violated our consensus and twice crossed the border line and provoked and attacked the Chinese forces, causing a violent physical confrontation between the two border forces."
The deaths were the first since the last major border clash between the two countries in 1967.
Here is what foreign media reported on the clash:
The New York Times said Indian officials had told the newspaper that dozens of soldiers were believed to have been captured.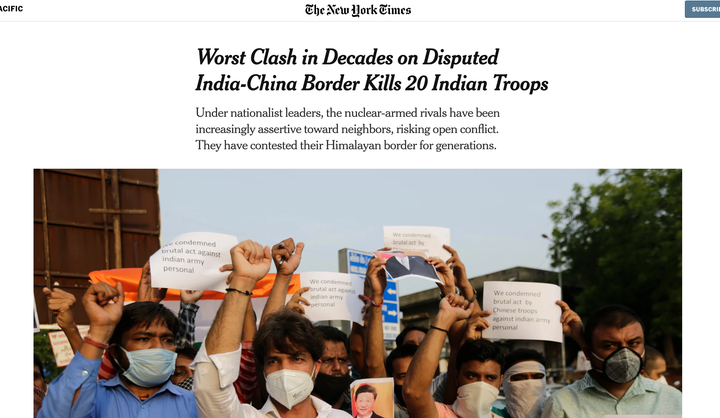 "Also, if brawls in May were any indication, the casualties from Monday may end up higher than reported. The clashes in May, which erupted at several border points, were first reported as minor. Only weeks later was it revealed that Chinese and Indian soldiers had been briefly captured and some beaten so badly they required airlifting to hospitals hundreds of miles away."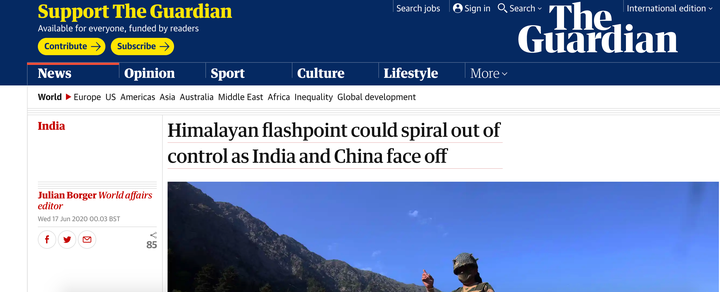 In The Guardian, World affairs editor Julian Borger wrote, "What distinguishes the current confrontation from previous incidents is not just the death toll but the fact that there have been standoffs in multiple locations."
"What is clear is that there will be more of these clashes without a clear change of direction and an attempt to agree on where the LAC should be, and how both sides should behave around it.

In the broadest terms the deadly brawl in the Galwan valley was the latest symptom of an increasingly aggressive Chinese policy on territory and borders, of the sort that has been playing out among the rocks and reefs of the South China Sea."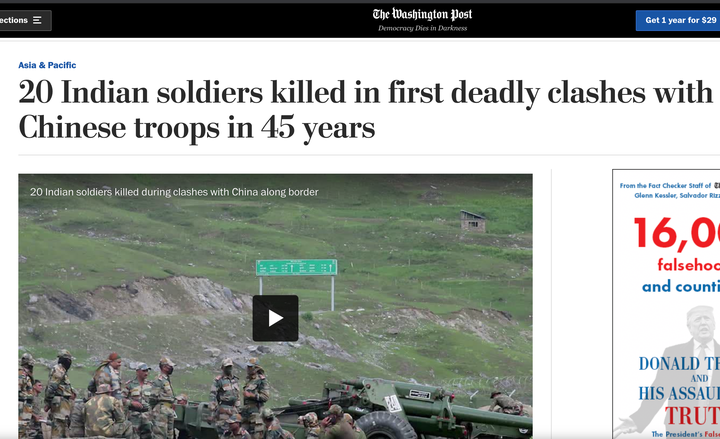 Former Indian ambassador to China Nirupama Rao told The Washington Post "This assertiveness, this readiness to throw [away] internationally accepted behavior to advance their claims and interests, it's worrisome for so many countries."
"What occurred last month is qualitatively different, analysts say. Instead of expanding patrol arcs deeper into Indian-claimed areas as they have done in the past, Chinese troops have 'taken physical possession by occupying territory,' said Ashley Tellis, a former senior George W. Bush administration official and longtime India expert."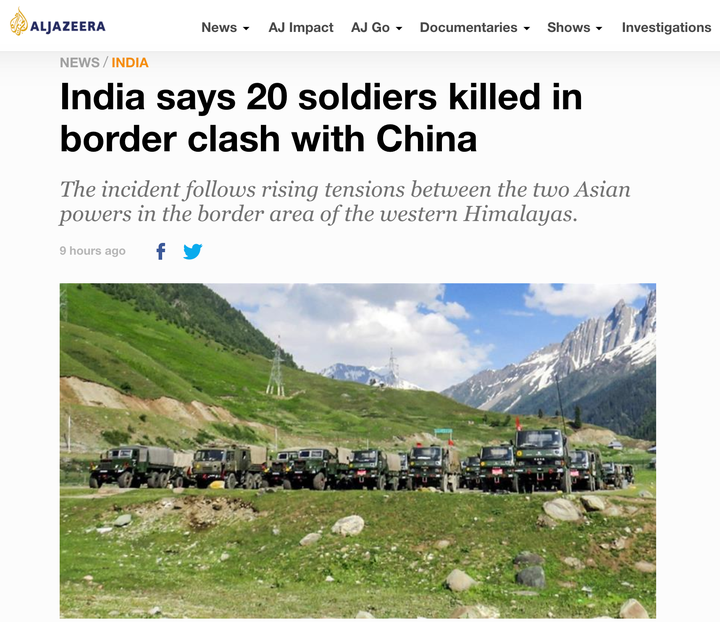 Reporting from Doha, Al Jazeera's Sohail Rahman said the developments were a "worrying scenario" and that Indian Prime Minister Narendra Modi could seek support from the United States for any potential response.

"At the moment, China and the US are not getting on very well. Modi has a very strong ally in President Trump. I would not be surprised if there are telephone calls between New Delhi and Washington about what the next move could be, what sort of support the US could give morally, politically to New Delhi," he said.

"When it comes to being attacked either physically on land or politically in the international arena, Indians will unify around the prime minister. So anything that the government does will be wholeheartedly supported by the public and the media. If they have been given a bloody nose, I suspect that India will be planning some kind of retaliation. They are not going to let this lie."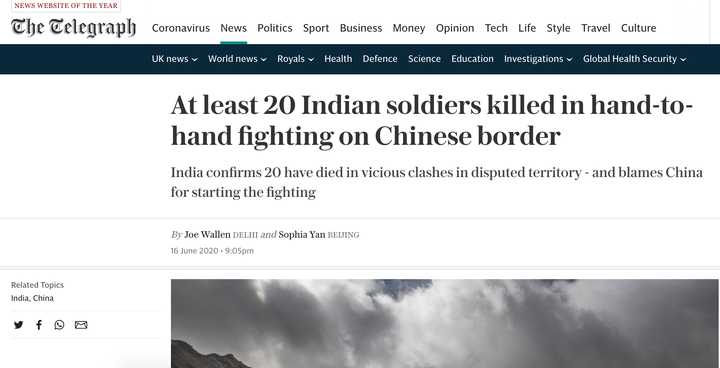 A former Indian Army officer told the Telegraph that contrasting statements from either side meant it was difficult to establish who was to blame at this stage.

"The Chinese side is issuing aggressive statements and the Indian side has taken a defensive position," he said.

"How these soldiers have been killed we have no idea because there are contradicting statements coming out. However, we can say the aggressive tone suggests China won't retreat and defensive tune means India doesn't want any escalation. They [People's Liberation Army] are aggressive, they won't retreat."