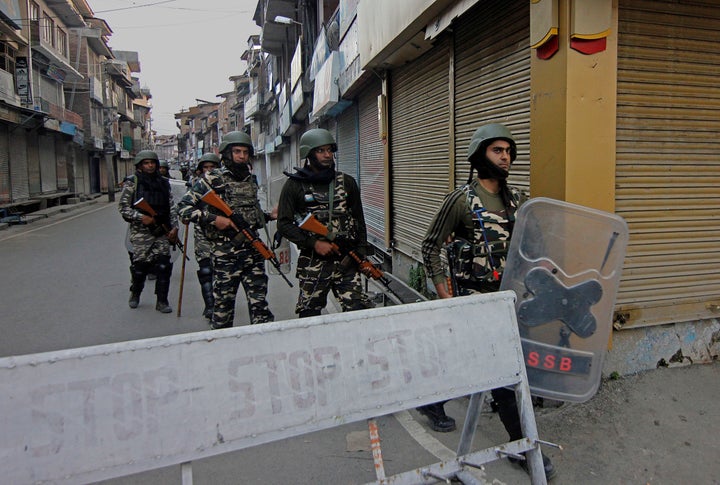 External Affairs Minister S Jaishankar told his Chinese counterpart Wang Yi that India's decisions on Jammu and Kashmir were the country's "internal" matter.
Jaishankar, who is on a three-day visit to China, was responding to Wang who said China was "very closely" following the India-Pakistan tensions over Kashmir and its "ramifications".
The Chinese media, however, has warned New Delhi of repercussions regarding the Centre's decision to abrogate Article 370, which gave special status to Jammu and Kashmir.
Hu Xijin, editor-in-chief of China's state-run Global Times, said, "We don't know how India dares to flatly scrap Kashmir's autonomy."
"India needs a friendly neighbourhood, but it is too reckless and arrogant. This will make the country suffer losses," he added.
India keeps taking unilateral actions and breaking the status quo with impact on the regional situation, the op-ed said. "Its actions challenge surrounding countries' interests, but it wants these countries to swallow the provocation and accept the new facts made by India."
The US and the West, it went on to add, also connive with India, which thinks that it is a good time to act on border issues because "China is busy at the trade war and the Belt and Road Initiative".
However, this is not a proper strategy, Global Times op-ed said. "India needs a friendly neighbourhood to rise. Even if India succeeds with its geopolitical trickery and unilateralism, it will amass new hatreds."
What China said
Jaishankar told Wang Yi on Monday that the decisions on Jammu and Kashmir would have no implication for either the external boundaries of India or the LAC with China
Beijing's has objected to the formation of Ladakh as Union Territory.
Wang brought up developments pertaining to legislation passed on Jammu and Kashmir, and asked New Delhi to play a "constructive role" for regional peace and stability.
During his visit, Jaishankar also called on Chinese Vice President Wang Qishan, considered a confidant of President Xi Jinping.
China had objected to the formation of Ladakh as a Union Territory a day after a bill to that effect was passed by the Indian Parliament, saying it undermined its territorial sovereignty. China's comment evoked sharp reaction from New Delhi, which asked Beijing to refrain from commenting on its "internal affairs".