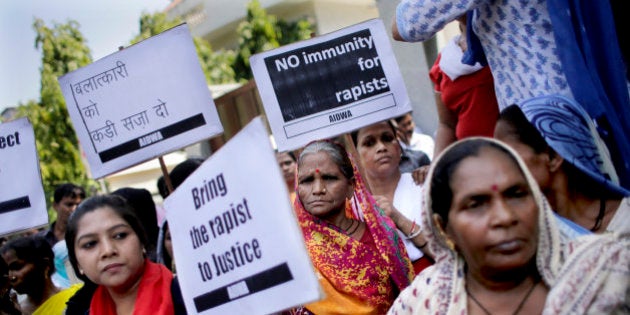 NEW DELHI -- It seems bizarre that the Indian government is helpless to prosecute the diplomat from Saudi Arabia, who allegedly enslaved and sexually abused two women from Nepal at his home in Gurgaon. While the Ministry of External Affairs is under pressure to act, the diplomat has sought sanctuary at the embassy of Saudi Arabia in Delhi, which is deemed Saudi territory where Indian law and its agents can't act.
The Vienna Convention, an international treaty, offers blanket immunity to the embassy staff in a receiving state. Under the Convention, this Saudi diplomat, who allegedly allowed his friends to rape the two Nepalese women,
is a "diplomatic agent," who is not subject to India's criminal and civil jurisdiction. His family and private residence cannot be touched by the host government either.
"The person of a diplomatic agent shall be inviolable. He shall not be liable to any form of arrest or detention," says Article 21 of the Convention.
While women group's justifiably protest outside the embassy of Saudi Arabia in the national capital, former diplomats told HuffPost India that India government's hands are tied by international norms and New Delhi cannot proceed beyond a point on the legal front. The only recourse left to the government is to persuade the Saudi Arabia government to waive its diplomat's immunity given the seriousness of the alleged crime or get them to prosecute their own national.
The Vienna Convention explains that blanket immunity is "is not to benefit individuals but to ensure the efficient performance of the functions of diplomatic missions as representing States."
"The fact of the matter is that diplomatic immunity is widely accepted," G. Parthasarathy, India's former High Commissioner to Pakistan, told HuffPost India on Thursday.
On Thursday, the External Affairs Ministry requested Saudi Arabian Embassy to cooperate in connection with the Saudi diplomat's case, PTI reported.
To make a strong case, Parthasarathy explained that the Indian government will need to present evidence to Saudi Arabia, and if Saudi Arabia does not agree then it can make a decision to expel its diplomat. "This is not just from one country to another. It is from two--India and Nepal," he said. "If they don't, then they will be shamed internationally."
The Saudi diplomat has been booked under several Indian Penal Code sections including 376 D (gangrape), 376 (rape), 377 and (unnatural offence).
But countries rarely leave their diplomats to be prosecuted in a foreign country. In 2004, the British police accused the then Saudi ambassador to Britain, Prince Turki al-Faisal, of blocking an investigation into claims that a diplomat molested an 11-year-old girl. The Saudis refused to waive the diplomat's immunity, saying embassy staff were conducting an internal enquiry.
In 2013, India threw its muscle behind Devyani Khobragade, a consular official, who was arrested by the United States government for allegedly submitting false documents to obtain a work visa for her female housekeeper, and paying her less than minimum wages in the U.S.
The Vienna Convention on Consular Relations, makes an exception on immunity for "consular officers" in cases of "grave crime grave crime and pursuant to a decision by the competent judicial authority."
Relations between the two nations soured considerably after Khobragade was arrested and strip-searched in New York. Following hard negotiations, Khobragade was granted diplomatic immunity from visa fraud charges, and allowed to return to India, but not before an American official of similar rank was expelled from India.
So far, the chances of Saudi Arabia "cooperation" seems slim. Its embassy has already protested against the raid of its diplomat, and refuted the allegations against him.
Handling this case requires the Indian government to tactfully balance its relations with Nepal and Saudi Arabia. Former diplomat Arundhati Ghose, who headed the Comprehensive Nuclear Test Ban Treaty, said that the Modi government needed to take this case seriously, but handle it without damaging relations Saudi Arabia, an oil partner, which has the highest number of Indians living outside the country.
"If we value our international relations with Nepal then the Indian government will have to act, but without damaging relations with Saudi Arabia," she said. "You cannot condemn an entire nation because of what one man does. Frankly to me, it is more important that we maintain our extremely good relations with Saudi Arabia than seeing this man being tried here, which he cannot."
Given the heightened sensitivity towards crimes against women in India, and the this case involving its neighbour, the government is in a tight spot. But diplomats say that it isn't likely to go out of its way to shame Saudi Arabia, especially since Prime Minister Narendra Modi is expected to visit the country later this year, and India's treatment of other nations has never been brash.
But shaming, Parthasarthy pointed out, can always been done tactfully. "Get the opposition to demand a resolution in parliament," he said.



Popular in the Community