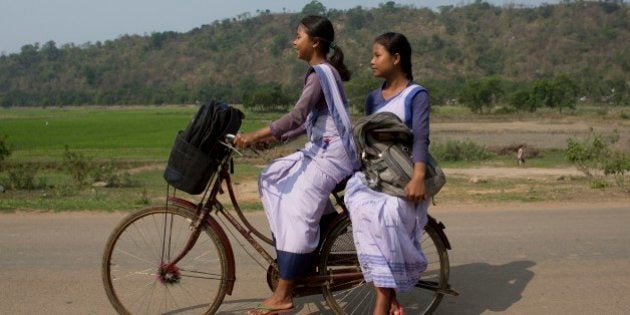 OXFORD — Boys campaigning for girls' education is not common in most parts of the world but in Rajasthan they are at the heart of a drive to get more girls into schools.
Educate Girls trains young people to go into villages to find girls that are not in the classroom in a country where more than three million girls are out of school.
Some 60 percent of Educate Girls' 4,500 volunteers are boys, founder and executive director Safeena Husain told the Thomson Reuters Foundation.
"Having these boys as champions for the girls is absolutely at the core of what we're trying to achieve," Husain said in an interview as she was awarded the $1.25 million Skoll Award for Social Entrepreneurship, the largest prize of its kind.
India has made great strides in education, a United Nations report said last week by reducing the number of children not attending school by more than 90 percent and getting all children into primary schools.
But despite success in enrolling girls, many drop out of school.
In Rajasthan, 40 percent of girls leave school before reaching fifth grade, often because their parents do not see education as necessary for their daughter because she is going to get married or stay at home to do housework, Husain said.
"The problem is that we have this belief that a goat is an asset and a girl is a liability and therefore (parents) don't want to send her to school and spend the money," she said.
Research has shown the benefits of educating girls: they are less likely to get married at an early age or to die in childbirth, they are likely to have healthier children and more likely to find work and earn more money.
Founded in 2007, Educate Girls has grown from a 500-school project to serving nearly a million children in areas of Rajasthan with the worst indicators for girls' education.
It has brought more than 80,000 girls back into school.
"Not one girl has said to me I don't want education, I want to sit at home and look after the cattle," said Husain. "Every single girl I meet wants to go to school - and that for me is my biggest, biggest source of hope."
Educate Girls' approach to is to define hotspots where many girls are out of school, often in remote rural or tribal areas, and then deploy its volunteers to bring them back into the classroom, said Husain.
The organisation broke new ground in financing its activities when in 2014 it was part of a consortium launching the world's first Development Impact Bond, raising $238,000 from investors who want to make a social impact with their money.



Popular in the Community