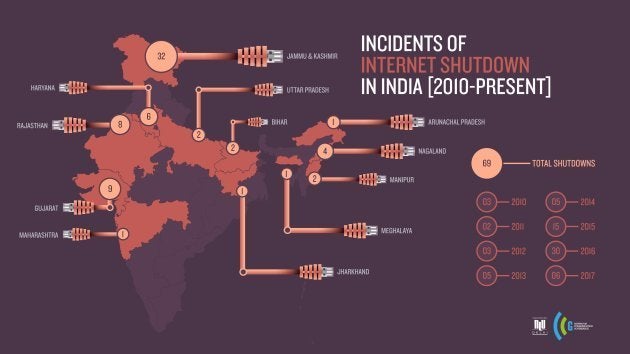 The petition, titled 'Don't Shut India Down', was started by the Internet Freedom Foundation India which also led the Net Neutrality movement. Addressed to Prime Minister Narendra Modi, it states that the Internet shutdown only prevents credible information from being communicated.
"When governments shut down the Internet, very often the real objective is to prevent journalists and citizens sharing evidence of the misconduct or failure of government representatives. To add insult to injury, consumers are even forced to pay telcos for Internet access even during the shutdowns.

Internet shutdowns are unnecessary, harmful, and have no place in a democracy."
While Keepusonline.in and SLFC's Internetshutdowns.in state that there were 30 shutdowns last year in India, according to a report brought out by Washington DC based Brooking Institute, the number was 22. The report states that India lost almost ₹6,000 crores as a result of various Internet bans.
"We have explained this in our petition in terms of the three asks. These are a mix of policy announcements such as a statement by the Prime Minister's office, administrative instructions from the Central Government to State Goverments and more longer term measures to reform laws that enable network shutdowns," Apar Gupta from IFF told HuffPost India in an email.
Even going by the Brooking numbers, India still tops the shutdown chart. Among the shutdowns in 2016, were the mobile Internet service denial in Gujarat and Haryana during the Patel and Jat reservation rallies respectively. All the 62 shutdowns in India have been complied by SFLC in a list.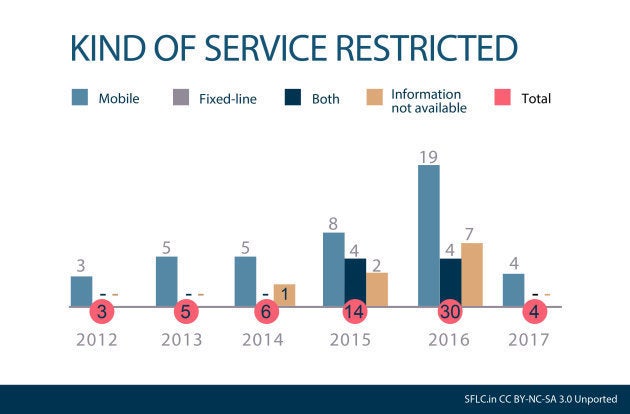 "In Digital India, every policy decision about the Internet affects the rights of citizens," said Mishi Choudhary, Technology Lawyer and President at SFLC.in, " A routine assertion of urgency in the form of shutdowns is not a sufficient justification for limiting all communications across the economic, educational, and private lives of millions of citizens.SFLC. We are glad other organizations are supporting the cause. We will continue to work with everyone to stop this trend."
The campaign, being run by Keepusoline, will send the petition to Prime Minister Narendra Modi, Communication and IT minister Manoj Sinha, Electronics and IT minister Ravi Shankar Prasad, Home Minister Rajnath Singh and TRAI chairman Ram Sevak Sharma. It has received the support of 7700 people and 66 organizations.
Popular in the Community