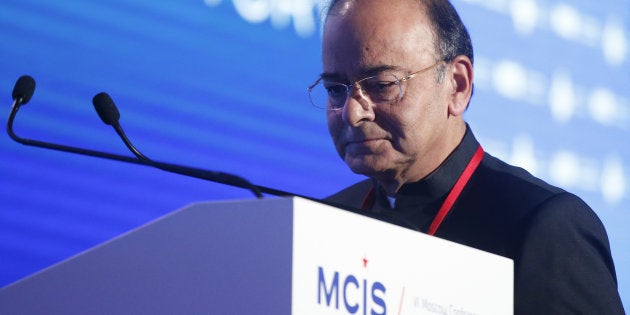 Finance Minister Arun Jaitley today said the number of persons under tax net has increased by 91 lakh post note ban and warned tax non-compliant persons to refrain from dealing in excessive cash and evaded money.
Launching a website on 'Operation Clean Money', a programme to bring illegal wealth on books, he said the fallout of the November 8 decision to demonetise higher denomination currency has increased digitisation of economy, brought more people under tax net and instilled "huge fear of dealing in cash".
Stating that an additional 91 lakh people have filed the I-T returns post demonetisation, Jaitley said he expects further increase in tax returns going ahead.
"One message has gone out clearly as per the steps taken by CBDT post demonetisation-- it is no longer safe to deal with excessive cash and tax evaded money ... It is absolutely clear that those who have been indulging in all these are no longer safe," Jaitley said.
CBDT Chairman Sushil Chandra said a data analytics firm and the tax department make profile of people depositing cash post note ban and graded the various cases under Operation Clean Money in three categories-- 'high risk', 'medium risk' and 'low and very low risk'.
There are one lakh persons under the high risk bracket wherein the department has initiated enforcement action through verification, search, survey and scrutiny.
For 7.54 lakh persons in the the medium risk category, the tax department has started targeted campaign communicating with the assessee and explaining the findings in specific cases so that similarly placed persons can forsee the consequences.
For 5.95 lakh persons in low risk and 3.41 lakh persons in very low risk category, the department will monitor tax compliance in due course.
Post demonetisation, there has been a hike in collection of personal income tax, the finance minister said, adding that the new portal will help honest tax payer.
Jaitley said with technology as a great enabler, detection of money trail has become easy and also it has become easy to see if there is an element of disproportionality in any transaction.
"Taxes are collected for public good ... I think this policy of assisting and simplifying the life for a compliant and honest taxpayer will continue, and the detection and many problems for the non-compliant. This message should be clear," Jaitley said.
Under 'Operation Clean Money' launched by the income tax department on January 31, the department sent SMSes and e- mails to 17.92 lakh people who have made suspicious deposits of Rs 5 lakh and above between November 10 and December 30.
Of these, 9.72 lakh person have responded on sources of the cash deposits. The department has decided to close the verification in cases where there was justifiable explanation of source of cash.
Chandra said there was 22 per cent growth in e-filed returns post demonetisation. Total returns filed up to March were 5.28 crore and out of that 98 per cent were e-filed returns.
"We added 91 lakh new tax payers because of demonetisation. And this is the highest growth rate, 17 per cent growth in gross collection that amounts to Rs 1.46 lakh crore more than last year," he said.
The number of PAN allotment has increased from 1 lakh to 2-3 lakh per day, and the tax department has alloted more than 30 crore PANs to various persons, he said.
Chandra said between November 2016 and March 2017, search actions were conducted on 900 groups which revealed undisclosed income of Rs 16,398 crore. Assets seized were to the tune of Rs 900 crore of which Rs 636 crore was in cash.
Surveys were conducted in 8,239 cases which led to detection of undisclosed income of Rs 6,746 crore.
The department referred more than 400 cases to the Enforcement Directorate and the CBI that registered various cases. While the ED has arrested 18 persons, the CBI arrested 38 persons.
"We want to convey a message that if you are doing something wrong, there is not only one department, other departments will also take action simultaneously. And you cannot escape from it. So, that fear should be in the mind of the assessee if they are doing something wrong. There should be no fear in the mind of honest taxpayer," Chandra said.
The tax department has used big data analytics for comparison of deposits made after the November 8 decision to scrap high-value banknotes with information in its database to identify tax-payers whose cash transactions do not appear to be in line with the tax-paying profile.
The department initiated the second phase of the 'Operation Clean Money' on April 14, under which more than 60,000 persons, including 1,300 high risk persons, have been identified for investigation into claims of excessive cash sales during the demonetisation period.
More than 6,000 transactions of high value property purchase and 6,600 cases of outward remittances shall be subjected to detailed investigations under the Operation Clean Money II.
Under this, detailed investigations would be conducted on businesses claiming cash sales as the source of cash deposits, like petrol pumps and other essential services like hospitals, which is found to be excessive compared to their past profile or industry norms during the note ban period.
The operation clean money portal will give details of high risk areas like petrol pumps and jewellers to help increase awareness about tax compliance. A tax payer can also go to the website and take a pledge of paying taxes and this will aid in ensuring voluntary compliance, Chandra said