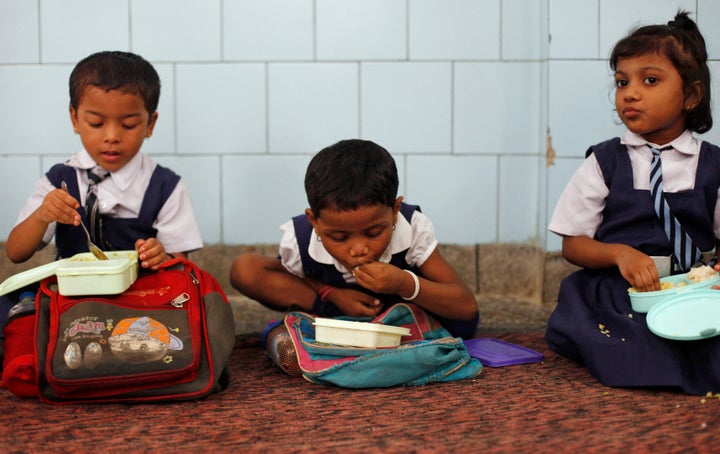 India has ranked 102 on the Global Hunger Index for 2019, eight spots below Pakistan (94) and 14 below Bangladesh (88). China, the only country with a population comparable to India, ranked 25 on the index.
The Global Hunger Index uses indicators of undernourishment, child stunting, child wasting and child mortality to calculate the levels of hunger and undernutrition worldwide. The index included 117 countries for which data was available.
What does India's score mean?
India's score of 30.3 means the country suffers from a level of hunger that is 'serious'.
While a cursory look at the indices across several years shows India fell from 55 in 2014 to 102 in 2019, the number of countries included the index has differed from year to year.
Since 2014, India has steadily remained at the lower end of the index. It ranked 55 out of 76 nations in 2014, 100 out of 119 countries in 2017, and 103 out of 119 countries in 2018.
The report says the rise and fall in ranks cannot be compared directly across different years. However, the 2019 score can be directly compared with scores from reference years—2000, 2005, and 2010.
This comparison shows India's score was 38.8 in 2000 and 38.9 in 2005. But it had fallen to 32 in 2010 and has fallen further to 30.3 in 2019. That's a percentage drop of 21.9% since 2000.
However, in the 2019 index, India has the highest child wasting rate of any country in this report, at 20.8%. According to UNICEF, wasting — which means low weight for height — is a strong predictor of mortality among children under five.
India's child stunting rate — meaning low height for age — at 37.9%, has also been categorized as very high in terms of its public health significance
Stunting is caused by insufficient nutrient intake over long term and frequent infections. It generally occurs before age two. UNICEF says its effects are largely irreversible.
On India, the report also pointed out:
In India, just 9.6 percent of all children between 6 and 23 months of age are fed a minimum acceptable diet. As of 2015–2016, 90 percent of Indian households used an improved drinking water source while 39 percent of households had no sanitation facilities (IIPS and ICF 2017). In 2014 the prime minister instituted the "Clean India" campaign to end open defecation and ensure that all households had latrines. Even with new latrine construction, however, open defecation is still practiced. This situation jeopardizes the population's health and consequently children's growth and development as their ability to absorb nutrients is compromised (Ngure et al. 2014; Caruso et al. 2019).
Prime Minister Narendra Modi had on Gandhi Jayanti declared rural India open defecation free, a claim disputed by many reports.
Since the release of Global Hunger Index, opposition leaders have used the data to target the Modi-led central government.
Global change
Turkey, Ukraine, Kuwait and Cuba were among the 17 countries that shared the top rank on the index this year.
The global score on the hunger index has fallen since 2000, which underlies improvement in reducing undernourishment, child stunting, child wasting, and child mortality across the world. The reduction coincides with a decline in poverty at the global level from 28.6% in 1999 to 9.9% in 2015, the report says.
"Extreme climatic events, violent conflicts, wars, and economic slowdowns and crises continue to drive hunger in many parts of the world," the report highlighted.