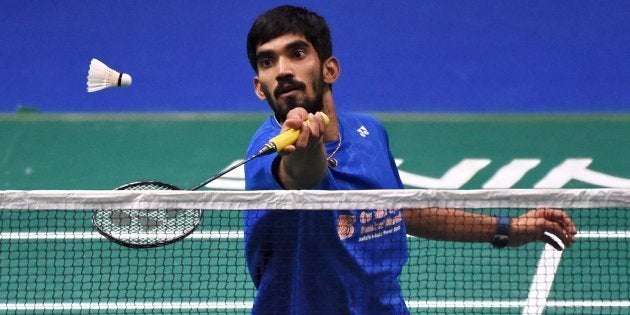 A few months back, discussing badminton, life and food with Sai Praneeth during the lunch break at the Pullela Gopichand Badminton Academy in Hyderabad, the 24-year-old shuttler explained his game to me in one simple sentence.
"I represent India and I want to win.''
That will be his mantra when he will take the court at the Singapore Open on Sunday. It will be a special moment because on the opposite side will be friend, sparring partner, competitor, India mate, Kidambi Srikanth. What's more, both are of the same age and are ranked jointly at world number 28. Given the number of hours the two have spent on adjacent courts in Hyderabad, putting racquet to shuttle, Singapore will feel like home.
"I will just go and play just like I play any other match,'' Praneeth said over WhatsApp from Singapore, when I asked him how he was preparing for the biggest match of his career. In contrast, Srikanth chose to reflect on the semi-final against 26th ranked Anthony Sinisuka Ginting that he won 21-13, 21-14. "It wasn't an easy win but my smashes today were all winners,'' he said. It is obvious Srikanth is backing himself for Sunday.
By grabbing the top two spots on the podium at a big event like the Singapore Open Super Series, India has told the badminton world that it is no pushover in men's singles.
From India's point of view, it could not get better. It will be for the first time that two Indian shuttlers will be competing for the title in a Super Series event. In many ways, it brings to fruition a dream whose seeds were sown in 2001 when Gopichand won the All-England title. When Gopi was taken around different towns and cities of Andhra Pradesh in a motorcade, there were many young boys like Srikkanth and Praneeth who were inspired to take to the sport.
But over the years, women shuttlers -- first Saina Nehwal and then PV Sindhu -- shone on the world stage with male shuttlers like Srikkanth, P Kashyap, HS Prannoy, Ajay Jayaram winning a title here, a title there but not maintaining consistency. By grabbing the top two spots on the podium at a big event like the Singapore Open Super Series, India has told the badminton world that it is no pushover in men's singles.
Every Wednesday and Saturday, matches are held at the Academy. They are called friendlies but are fiercely competitive. What it will mean is that both Srikanth and Praneeth will step on court, aware of each other's game. It promises to be an attractive game because in Indian badminton circles, the two shuttlers are considered to have the best range of strokes compared to their compatriots.
It is an important final for both players. Srikkanth is just getting back after a toe injury. As far as Praneeth is concerned, this is his first Super Series final, his previous best having been the Canada Open Grand Prix title in July 2016. The 2015 National champion will want to show that he belongs in the top league.
Srikanth however, will have the advantage of international experience, of having won the China Open in 2014. His coaches also rate Srikanth better on strategy and speed than Praneeth besides being mentally more tough. But Praneeth will back himself as none of his wins in the championship have come easy and he has displayed character by fighting well on court. At the academy, Praneeth also has the reputation of being a workhorse, who can play the game endlessly. That will help should Srikanth try to engage him in long rallies.
The final in Singapore may not be a gamechanger for the sport in India but will give tremendous self-belief to the boys. Most of them tend to feed off the other's victories and get inspired. Kashyap's Commonwealth gold medal in 2014 for instance, was a big boost. So was the sight of Srikanth defeating Lin Dan at the China Open or Praneeth upsetting Lee Chong Wei of Malaysia at the 2016 All-England.
The Srikanth vs Praneeth final is proof that the conveyer belt of quality talent, which Gopichand wanted Indian badminton to be, is finally taking shape.
Incidentally, Gopi will have three finals to monitor on Sunday. Apart from the Srikkanth vs Praneeth final, he will keep an eye on Jakarta as well where his 13-year-old daughter Gayatri has entered the finals of both the under-15 singles and doubles events at the International Grand Prix. Gopi's wife Lakshmi, who has been India's national champion in the 90s, will put her best foot forward to ensure it is a hat-trick Sunday for India.