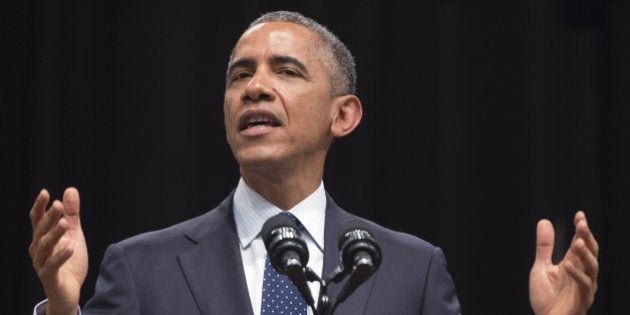 NEW DELHI – India will succeed so long it is not splintered on religious lines, US President Barack Obama said Tuesday, winding up his three-day state visit with a strong pitch for religious tolerance in a country grappling with religious conversions and the emboldening of fringe extreme right groups after the Bharatiya Janata Party came to power.
Addressing mostly young Indians at a Town hall event at the Siri Fort auditorium, Obama said: "every person has the right to practice his faith without any persecution, fear or discrimination".
"Your (Constitution) Article 25 says all people are equally entitled to the freedom of conscience and have right to freely profess and practise and propagate religion. In both our countries, in all countries, upholding this fundamental freedom is the responsibility of government, but it's also the responsibility of every person," Obama said.
Obama also said that around the world we have seen intolerance, violence and terror perpetrated by those who profess to be standing for upholding their faith.
"We have to guard against any efforts to divide us on sectarian lines or any other thing," he said.
He recalled Mahatma Gandhi's words: "For me different religions are beautiful flowers from the same garden."
Early on, Obama's 'namaste' to the audience set the tone for the rest of his speech where he was at his charming best.
Speaking about how America wants to be India's "partner", Obama continued to woo the audience using Hindi words, and even dished out a popular line from Shah Rukh Khan's hit film 'Dilwale Dulhaniya Le Jaayenge', saying "Senorita, bade bade deshon mein, chhotein chotein baatein hote rehta hain" (Madam, in big countries, small incidents keep happening), though he couldn't complete it and trailed off with a "you know what I mean."
He extended his thanks for bringing him back to India; the President had visited the country last in 2010. "Bahut dhanyavaad" (many thanks) he told the audience, and said that the relationship between India and the US can be "one of the defining partnerships of the century."
Calling India a reflection of the US, Obama remarked how India and the US were one of the few nations that had been to both the moon and Mars.
He made comparisons between Gandhi and Martin Luther King, and recalled that Swami Vivekananda brought yoga and Hinduism to the United States more than a 100 years ago. He told the audience that the White House had celebrated Diwali for the first time last year. He said that when MLK came to India, he was introduced as a "fellow untouchable."
Acknowledging that US has the biggest Indian diaspora in the world, he said that Indians in the US make America stronger.
He said that he wanted India and the US - the two largest and oldest democracies - to stand together and make the world a safer place. "America wants to be your partner," he said. "A world without nuclear weapons should be a goal for all of us."
He said that the US would support India to become a permanent member of the UN Security Council, and stressed how developing countries like India need to pursue cleaner growth or no there would be chance of beating climate change.
"We live in a world where the grandson of a cook can become president, even a tea seller can become PM," he said, referring to himself and Indian Prime Minister Narendra Modi. He applauded Indian women who have "succeeded in every field."
"Nations are more successful when women are successful," he said. "Every daughter deserves the same chance as our sons," he said. "And every woman should be able to go about her day — to walk the street, or ride the bus — and be safe and be treated with the respect and dignity. She deserves that."
"Our nations are strongest when we empower young people," he said. "I have grey hair now. I was more youthful when I started office."
Obama ended his speech with a thrust on partnership between the two countries - which has been his common theme through this visit. "We are proud to be your friend and partner as you build the country of your dreams."
Popular in the Community