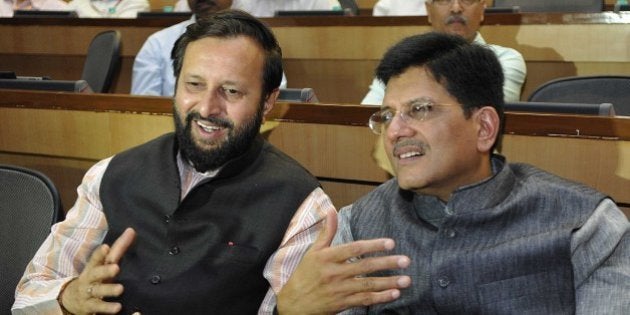 PARIS -- As the climate change negotiations kicked off in Paris on Sunday evening, India made it clear that it won't back down on the "differentiation" between developed and developing nations when it comes to combating climate change, and it won't apologise about its expanding use of coal.
While India's coal production target of 1.5 billion metric tons by 2020 has ruffled feathers, Power Minister Piyush Goyal, who is in Paris along with Environment Minister Prakash Javadekar, said that the Western world had developed by using cheap energy from fossil fuels.
"We are not at all apologetic about using coal. America and the Western world has developed on the back of cheap energy from coal for the last 150 years. And on the back of this low-cost energy, they made their highways, their railroads, factories, manufacturing, suddenly all their people have jobs, everybody there has a home, their per capita GDP income is over $70,000 and their growth is at zero," Goyal said.
"So now, they are finding the virtue of asking the rest of the world that please don't grow. If you will grow as rapidly as India does then what happens to our countries," he said.
Over a decade of negotiations, India insisted that developed countries shoulder burden of combating climate change talks for pumping greenhouse gases into the atmosphere for over a century. But that differentiation has been eroding since the talks in Copenhagen (2009) when the United States and European Union went hammer and tongs on principles like "common but differentiated responsibilities" and "equity."
Far removed from the Kyoto Protocol, which the U.S. opposed because it only imposed legally binding emission reduction targets on developed countries, the new agreement will require all countries to take action.
India is working on an ambitious action plan to reduce its carbon emissions intensity and harness 40 percent of its energy from non-fossil fuels by 2030, but its CO2 emissions will continue to grow to meets its massive developmental challenges. China and the U.S. still have higher CO2 emissions that India in absolute terms, but they plan on reducing over the next decade.
Now that China has agreed to "peak" its emissions by 2030, India sticks out as a lone warrior for "historical responsibility."
While developed nations say that pumping such high levels of CO2 will endanger any plan to combat climate change, India see it as an attack on its economic growth.
Veteran observers of climate change negotiations say that time, tide and international power politics have bulldozed the notion of "historical responsibility."
"We are not responsible for the problem," he said. "Today we are suffering erratic monsoons, untimely rains, drought and floods because of climate change which has happened because of actions of the developed over last 150 years."
Speaking to HuffPost India, last week, former Environment Minister Jairam Ramesh said that India needs to address global concerns about its coal production, which could go from half-a-billion tons to at least about two billion tons by 2030.
"India must be less moralistic, less argumentative, less confrontational and more in an engagement mode," he said.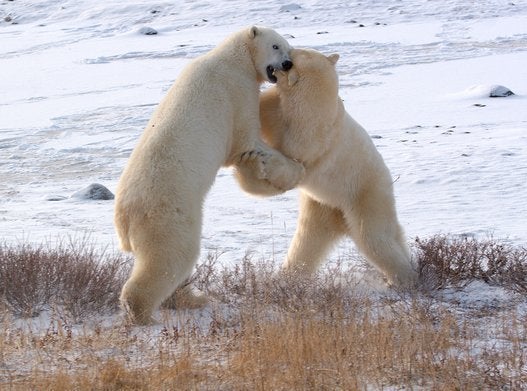 Polar Bears In Churchilll, Man.
Popular in the Community