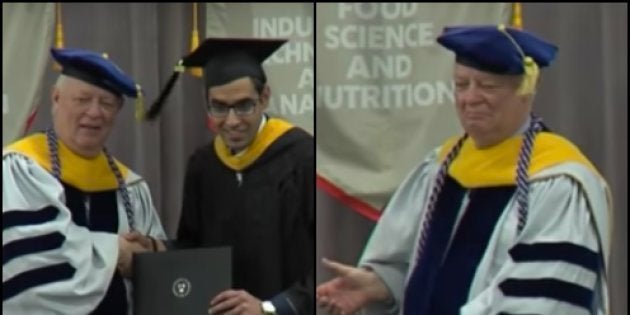 It has become a cliche — you can take an Indian out India, but you can't take India out of an Indian. And, if we need any further proof of the adage, all we have to do is ask Gaurav Jhaveri, a student of Illinois Institute of Technology, whose video has gone viral on the net.
The video shows Jhaveri bending down to touch the feet of the Dean who had just handed him his degree at the graduation ceremony. Needless to say, the Dean is left completely perplexed by the inexplicable gesture.
Although Jhaveri touched his feet as a mark of respect, the Dean's bewilderment suggests that he definitely missed the point. A short clip of the funny interaction was tweeted by @Trollacharya.
Twitter users ROFL'd at the pure desi gesture.