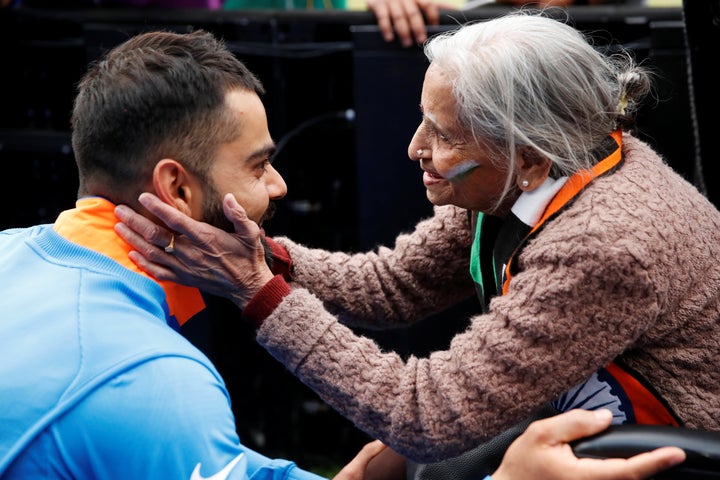 On June 10, the World Press Photo's Instagram feed shared a photo of Zeinab, an Iranian woman in her early 20s, getting a make-up artist to fix a false beard to her chin. Zeinab was in the process of disguising herself as a man so that she could attend a football match in Tehran's (ironically named) 'Azadi Stadium'. The caption said that in Iran, there have been "restrictions on female fans entering football stadiums for more than 40 years".
Last week, photos and videos of 87-year-old Charulata Patel enjoying a World Cup match between India and Bangladesh made headlines. She became an instant phenomenon with Virat Kohli and Rohit Sharma meeting her after the match, reporters crowding around for bytes and even landing an advertisement deal. This may seem as quite a contrast to Iran, but this change was a long time coming in India where, until a few decades ago, men frowned on women rooting for a cricket team from the stands.
In the early 20th century, while there was no official ban on women who wanted to watch a game of cricket, it was almost rare to find them in the stands. Men had monopoly over the grounds, the game and the gusto. Cricket was strictly a 'gentleman's game'. There was no room for any self-respecting Indian woman in the stadium — she was the invisible, the uninvited. Cricket was a sport that promoted and proliferated the ideals of masculinity in Indian society, while simultaneously amplifying the otherness of women.
In its January 2, 1962, issue the Hindustan Standard communicated this effectively by publishing a banal cartoon featuring two women at the Eden Gardens in Kolkata, during the India-Marylebone Cricket Club Test match. As Souvik Naha pointed out in his paper, Adams and Eves at the Eden Gardens, the cartoon that showed the women spectators in the back rows "chatting and knitting sweaters, with visible disregard to the innings in progress", captured the attitude to women spectators in Calcutta that lasted until as late as the 1980s.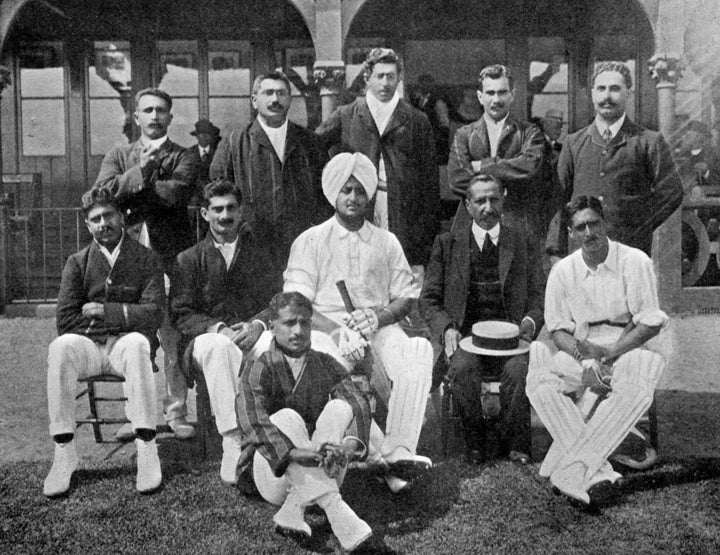 Only for the rich
Cricket was played for the first time in India in 1721. It was a match between British officers and British sailors in Khambhat (then called Cambay), Gujarat. The game slowly spread to other cities, particularly Kolkata (earliest match recorded is in 1792), Mumbai (1797) and Chennai (1846) where the East India Company had established a stronghold. It was, however, a game that was played only between white men in British India. Narottam Puri in Sports versus Cricket wrote in jest, "They did not have a cricket missionary to spread the gospel of the game to the local populace." Back then, "barring the Parsis in Bombay, the Indians showed no inclination towards the game."
The Parsi bourgeoisie – affluent and seemingly having a greater inclination towards Western culture – were the first Indians to whom the English game became accessible. "In the 1830s, Parsi boys began imitating white soldiers, improvising the implements of cricket by using hats as wickets, umbrellas as bats, and old leather, stuffed with rags and sewn up, as balls," historian Ramachandra Guha wrote in Cricket and Politics in Colonial India (Oxford University Press, 1998). "In 1848, these boys (now men) established the Oriental Cricket Club. At least thirty Parsi clubs were formed in the 1850s and 1860s."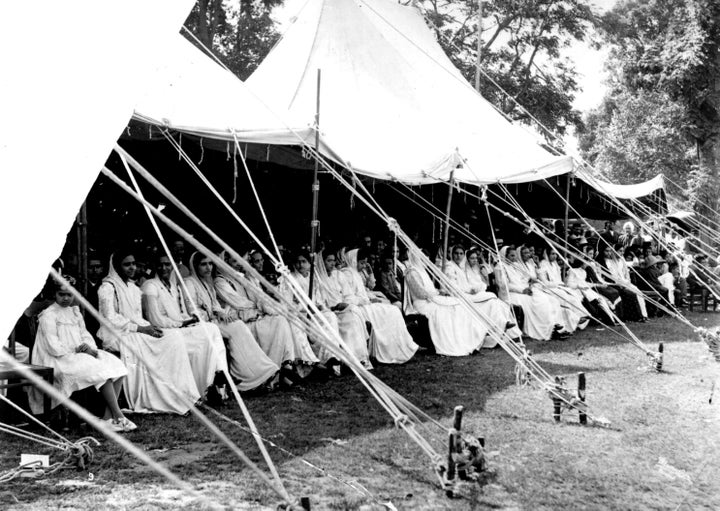 If there were any women spectators to be spotted in the grounds during these matches, it was no surprise that they predominantly belonged to the upper echelons of Parsi society. Of course, only a handful of privileged Parsi women were allowed to attend the games; they were always accompanied by male chaperons and were made to sit in secluded tents. Within this protected bubble, tucked away from the male gaze and machismo, the women coyly sipped on served lemonades and enjoyed the match.
Naha wrote in his paper, "The tent isolated women from the rest of the spectators, standing in for the veil screening the women off as almost an extension of the inner household." Even spectatorship, therefore, was controlled by men, where women's participation had acute surveillance and was intentionally marginalised.
By the 1930s, cricket had become immensely popular in British India, taken up by other sections of society, including the Hindus and the Muslims. Rustom Vakeel, a columnist based in Mumbai who often wrote on cricket, noted that at the time of a public match, "you could hear reactions of [male] spectators in the corridors of Hornby Road, you could feel that great things were happening, that offices were denuded of clerks, especially in the afternoon…" (Bombay Chronicle, 2 December, 1934). Women at the time were still mostly absent from such affairs.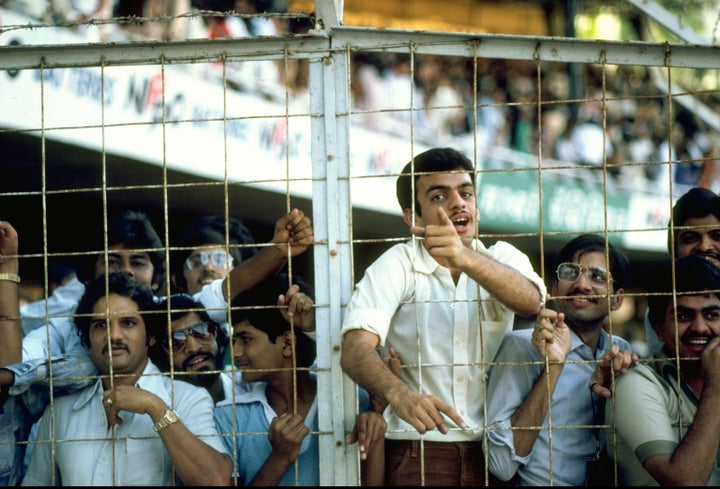 And then, the change
Cricket made its way into Indian homes with the arrival of the radio. Initially, the commentary was in English, popularised by the likes of Bobby Talyarkhan and Berry Sarbadhikari. Soon, the All India Radio noticed a gap and decided to run commentaries in Hindi and other vernacular languages. This led to the greater proliferation as it entered regional and rural homes. The commentary transmitted was simple: it provided a ball-by-ball description of how the game progressed, punctuated by bursts of excitement, creating an animated image in the listeners' (both male and female) minds. Once imagined to be complex, alien and inaccessible to a majority of women, radio commentary turned the game into something more relatable and exciting.
Inevitably, certain women began appreciating the game. By the 1950s, more women began filling in the seats at the stadiums. Sports journalist and author, Ayaz Memon believes that certain women attended games to make a public appearance. "Before the turn of the century, while the number of women spectators had increased, they were largely from the elite class or were actresses, who made it a social occasion to attend the match, rather than having any personal interest in sports," he said.
The women began transgressing a very aggressively demarcated gender boundary, subtly challenging the patriarchal hegemony. It was a transgression that wasn't going to be taken lightly: how could a woman enjoy a game that was quintessentially a man's prerogative? Many took to criticising women, ridiculing and lampooning them, publishing newspaper editorials and other literature to dissuade them from trespassing a territory that traditionally and socially belonged to men.
Often, if a match did not go too well and if a woman was present, she was held responsible for the game's poor outcome. Almost no one came to women's defence – the narrative of their being 'silly' spectators was cleanly etched into the overarching male-authored discourse. Memon points out that the arrogance towards women was something not peculiar to India. "Back then, the overall attitude that cricket was purely a man's domain was even present in England," he says.
By the turn of the century, however, things had changed. There was an interesting development in the way men's cricket matches were going to be viewed on television. During the men's Cricket World Cup in 2003, Sony Entertainment Television acquired exclusive rights to telecast the match live in India. Sony simultaneously decided to introduce Mandira Bedi, an actress, to co-host (alongside Charu Sharma) Set Max's commentary programme titled Extraaa Innings, which would serve as an entertaining filler, where cricket experts could sit and analyse the match. In that very moment, Sony redefined cricket consumption in India. But it wasn't done to establish gender equality, but purely for profit.
Sony wanted to escalate its TRP ratings and open its viewership to an untapped female audience. Bedi was imagined to be the rudder who'd steer women's attention from daily soap operas towards the World Cup. "In single TV homes, men wielded the remote when cricket was on, while women, though passionate about the game, were forced viewers," Set Max's then executive vice president Rajat Jain told The Telegraph in 2004. "We decided to convert more women viewers with our packaging with Mandira at the helm."
Bedi admittedly knew little about cricket and had informed her employer of this, but that didn't deter the channel from its plan. Not only would Bedi go on to be objectified, she would also receive considerable backlash from a predominantly male viewership. "While purists were put off by Mandira's faux pas flowing from her deficient knowledge of the technicalities of the game, patriarchal prudery was excited into indignation by Mandira's noodle-strap dresses, near-invisible blouses and see-through saris," writes Sudeshna Banerjee, a Fulbright scholar and a professor of History at Jadavpur University, Kolkata in Fleshing out Mandira: Hemming in the Women's Constituency in Cricket. Bedi, however, managed to hold her ground – her grit and a charismatic pull that made her leave behind an indelible mark on Indian sports television.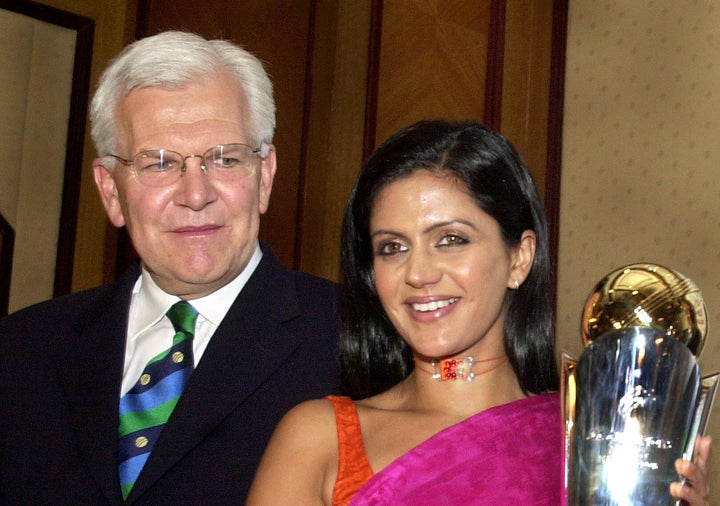 Today, things have progressed dramatically. Women are seen enjoying the matches in equal measure. "The way that barriers have been broken down is phenomenal," says Memon. "We have fabulous women sports journalists, cricketers, presenters, commentators in India now. And all this has happened largely in the last 20-25 years. As women become more and more financially independent, they can make a choice of what they can and cannot do on their own."
Take the 2019 men's cricket World Cup, where a coterie of female commentators has emerged (which includes Isa Guha, Mayanti Langer and Sanjana Ganesan), who are anchoring the cricket coverage from England. Or the recent rise and celebration of the Indian women's cricket team. Although India hosted the women's World Cup back in 1978, it was only in 2017 (when India became the runner-up in the ICC Women's World Cup), that the women's cricket team was considered a force to reckon with. In May, former cricketer, 51-year-old GS Laxmi became the first woman to be appointed to the ICC International Panel of Match Referees.
Women viewership has increased exponentially, and perhaps the internet and social media have a pivotal role to play in that. With digital platforms like Hotstar live streaming women's cricket in India now, to cricketers like Harmanpreet Kaur and Smriti Mandhana engaging on Twitter and gaining a tremendous following — India has warmed up to the idea of women's presence in sports, both on and off the field. But perhaps the most heart-warming change is watching Charulata Patel, who as a young girl would not have been allowed to step foot inside a cricket stadium, being applauded for her sheer passion for the game.