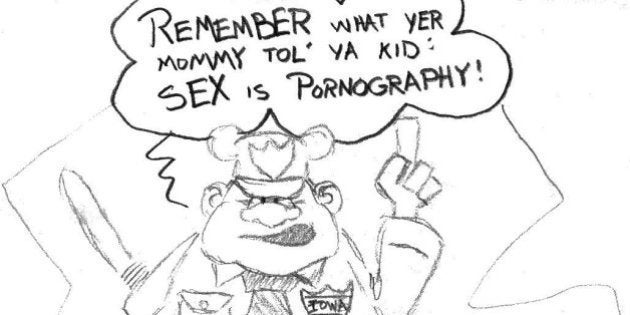 NEW DELHI - Internet service providers have blocked pornography sites in India, according to media reports, and users who are voicing their suspicions about what appears to be a nationwide ban.
In a discussion on the social media platform - Reddit - users said that they landed on blank pages while trying to access porn sites, and some of them came across the message: "The site has been blocked as per the instructions of Competent Authority."
It isn't clear yet whether the Modi government has orchestrated an official ban on porn, but there is growing suspicion that the authorities have sneakily clamped down on such websites over the weekend.
Film director Ram Gopal Verma said that given its popularity, any government which owned up to banning porn would lose the next election.
To deprive consenting adults of the harmless fun they ar having of watching porn is equivalent of what Taliban nd Isis is doing to freedom

— Ram Gopal Varma (@RGVzoomin) August 1, 2015
It is also unclear how many Internet Service Providers have curtailed access to porn sites. Vodafone, MTNL and BSNL are among those blocking access, The Hindustan Times reported, but Airtel, MTS and Tikona users are not facing similar problems as of now.
Legally India reported that on one Delhi broadband connection provided by Spectranet, 11 out of the world's 13 most popular porn sites were not accessible, but two websites were functioning normally.
If the government has actually blocked access to porn sites, this move would contradict a recent Supreme Court observation that it will not interfere with adults who want to watch porn in their rooms.
"Such interim orders cannot be passed by this court. Somebody may come to the court and say look I am above 18 and how can you stop me from watching it within the four walls of my room. It is a violation of Article 21," Chief Justice H.L. Dattu said, The Hindu reported.
Over the weekend, people used Reddit and Twitter to express their frustration and amusement at the blocked sites.
"We can do a hashtag trend like Khajuraho (or Kamasutra) is our true kulcha or something similar. If enough people do this, less people will feel ashamed to defend porn in public," was another observation.
#PornBan was a Twitter trend on Sunday morning.
In a country where a full-blown porn star has got effortlessly mainstreamed, any attempt at #PornBan is laughable

— Abhijit Majumder (@abhijitmajumder) August 1, 2015
Ban homosexuality. Ban porn. Ban certain words in movies. Ban alcohol. Ban beef. Ban everything not in our culture. Hello dark age!

— Vivek Tejuja (@vivekisms) August 1, 2015