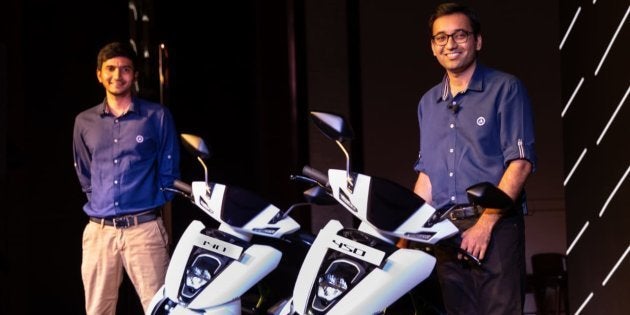 BENGALURU, Karnataka -- The Ather is electric, offers driving assistants, and is controlled by a touchscreen that can show you the nearest fast-charging station, or take you home with just a swipe. Recharging is free for early adopters, but rather than saving the environment, the company wants you to focus on the design, and the ride.
It sounds a lot like Elon Musk's Tesla, but the Ather is an electric smart scooter that is finally available for pre-orders this week after five years in development. It has a range of 75 kilometers on a single charge, and a charging network coupled with a smart navigation system to find the nearest point when you need it.
Much like the Teslas, an Ather doesn't come cheap.
The Ather 340 costs Rs. 1,09,750 (roughly $1,600), while the 450 (with a more powerful engine and greater range) is priced at Rs. 1,24,750 (roughly $1,850), even after a generous government subsidy.
The scooters are only available in Bangalore, with the first deliveries scheduled for August, but with pre-orders are coming in fast, new orders will only be available in later October.
"We are building the scooter here in Whitefield, where we have a factory that is presently building around 40 to 50 units a week," says Ather CEO Tarun Mehta. "The goal is to take this factory to around 250 units a week by the end of this year, the plant has a capacity of 600 scooters per week.
"By year three we should have expanded our capacity, and be making 100,000 units per year."
As of now, the scooter is made in-house, except for except the cells in the battery, and the motor. The goal, Mehta said, is to bring everything in-house except for the cells in the battery, which are imported.
It's easy to see why people are pre-ordering.
The Ather is an eye-catching scooter, taking cues from the lines on motorbikes, and does 0-40kmph in just 3.9 seconds, with a top speed of 80kmph. There's a smart parking assist mode in reverse, which you can toggle with a flick of the touchscreen, or you could tap a button to navigate to home or the office.
The scooter has a built in SIM, which you don't need to recharge, and there's live location tracking and collision detection which you can check with your phone for when your careless cousin borrows your ride. With a built-in accelerometer and gyroscope, the bike can do some cool tricks like automatic turn signals. It also tracks how you drive and learns to tweak the battery management and give you more range over time. The smart dashboard shows you the details you need, from speed to navigation to range, but it also has some extras like digital copies of your registration documents, for when the cops pull you over. Oh, and if you don't want to be tracked, there's also an incognito mode you can access with a simple button right on the home screen of the dashboard.
When you buy an Ather scooter, you'll also subscribe to Ather One, which starts at Rs. 700 per month, but the first year's subscription is free for early adopters. In this, you get free charging, whether at home or via the fast charging points that Ather has set up in Bengaluru. If you have to use the plug adapter to charge from a normal socket, the amount of energy consumed is measured, and reimbursed every three months.
The specifications like torque and transmission ratio and so on are all listed on the Ather website so we won't get into that, but suffice it to say that everyone who tried the bike was quite pleased with how it handles, and found nothing to complain of when compared to a petrol-powered scooter.
Beyond the bike
Although the scooter itself has gotten a lot of attention, the company's plan to build a fast charging grid will make or break the Ather's prospects.
"Phase one in Bengaluru has begun, with a charging point every four kilometers," says Mehta. "We're going to bring that down to three kilometeres, and then two, and the goal is that in every city, we'll first build the grid at least one quarter before we start selling the scooter there."
That said, although the fast charging promises to keep you going without delays, the fact is that an 80 percent recharge still requires 60 minutes for the Ather 450. The scooter recharges at a rate of 1km per minute, and this means that as the number of EV users grows, the pressure on the charging network is going to become a challenge. Ather wants to set up charging points in cafes and other. locations where users can wait while powering up their scooters, but that's not going to appeal to everyone.
ION Energy, a battery specialist in India, has doubts about Ather's model because of the time taken to recharge its battery.
"If you look at the kind of wait times that are involved at a CNG pump, where it takes a minute to fill the tank, then consider one hour filling time, it will become a problem," ION's CEO and co-founder, Akhil Aryan explained.
ION, which is backed by Shell amongst others, has recently launched a product called UDYR in Germany, a modular and portable 48V lithium-ion battery which underpins the company's vision of hot swappable battery packs that can be exchanged quickly at recharging stations across a city. ION also claims that it can increase battery life by up to 200 percent through its proprietary battery management system.
But Ather's Mehta said that having a purpose-built system gives Ather control over design, reliability, and the user experience, which he says are a priority for the company.
Another alternative that some are exploring is the use of graphene batteries. At the Indian Institute of Science in Bengaluru, there is a lot of work on energy storage using graphene, possibly carbon's coolest allotrope . Graphene is nearly transparent, can conduct heat and electricity, and display uncommon strength.
At IISc, Bengaluru-based Log 9 is working with researchers to develop a graphene-based battery with a range of 3,000 km on a single charge.
These batteries will need to be replaced after use, but they will be able to offer price-parity with lithium-ion solutions like the ones being used by Ather and ION, according to Log 9 founder Akshay Singhal, and will also remove the range uncertainty that plagues most electric vehicles.
The Ather team says that since graphene is still an early stage technology, it wasn't feasible to implement at this point in time; the more mature lithium ion technology is getting cheaper and more reliable.
Bumps in the road
The challenges that lie ahead for Ather, ironically enough echo the ones that Tesla is also facing. If the idea works, it's going to be something that the auto industry - including Hero Honda, one of the investors in Ather - could use to muscle the newcomer off the stage.
The second, and bigger challenge, is production.
As of now, Ather is producing a fraction of the bikes it needs to make, a problem that will grow more acute as it opens to orders outside Bengaluru.
Keeping up with demand right now is one problem, but Mehta also says that Ather intends to release more follow-up products over time which will target lower price segments in the market.
This is the same strategy Tesla followed, launching its roadster first, before moving to the more affordable Model 3. However, the Model 3 rollout has been fraught, and wait times and delays have been a defining feature. Mehta's going to have to deal with a similar production challenge as he tries to expand from a niche product to a mass-market one, while at the same time juggling concerns such as the building of the power grid, and software updates for the scooter.