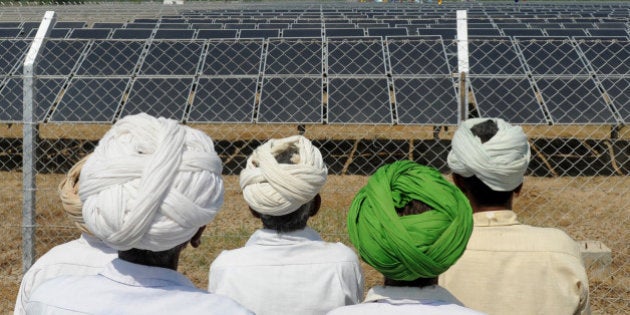 India's commitment do its bit to limit global warming implies an unprecedented fillip to solar power, but also raises key questions about how speedily can the government move to arrange the mammoth amount of land required for such ambitions. Ahead of a major summit in Paris this December, environment minister Prakash Javadekar said that India would reduce its emissions intensity--defined as the greenhouse gas emissions per unit of GDP--by a third of 2005-levels by 2030.
Crucially, India has promised to achieve this by relying on on solar, wind and hydropower which together will constitute 40% of the energy mix.
The Times of India estimates that given India's 10% increase in power demand year on year, this commitment involves double its installed capacity to 550GW by 2030 and among others, increasing solar capacity from 4000 MW to 100,000 MW in the next seven years. Nuclear and wind energy to have their role to play but agitations, such as the one in Kudankulam and Jaitapur, as well as the fate of wind energy companies such as Suzlon raise serious questions on their viability.
Solar power has become the catchword for many states in recent times. Internationally, the price of solar power components has been declining at 15% year over year, and states are leveraging this trend to get good deals. Recently, Madhya Pradesh was able to get solar power-projects to offer electricity at a startling low of Rs 5.05 a unit.
However land acquisition, a stumbling block for most infrastructure projects, is particularly acute in the case of solar power for India. According to an exhaustive Forbes India report in April, generating 1 MW of solar power requires 5 acres of land over which the photovoltaic cells, or PVCs, are spread. The price apart, India's fragmented land-holding structure means that there are several claimants for every acre of land which trigger disputes, court cases, inordinate delay and eventually stalled projects.
Tarun Kapoor the joint secretary in India's Ministry of New And Renewable Energy that facilitates solar power project development said that the government expects 10% of the capacity it awards will to never be built because developers fail to secure financing or land in time. About 100 megawatts of projects have been delayed by more than three months for similar reasons, he told Mint.
Earlier this year, Parliament saw one of its most cataclysmic disruptions on the back of protests over land-acquisition. The Modi government's attempt to amend the law to make it easier for developers to acquire land badly backfired after opposition parties rallied, stalled parliament and prevented this modification from coming through.
India's committments, announced a day after the informal October 1 deadline, says that its development plans will continue to lay a balanced emphasis on economic development and environment.
India said its submission represented highest possible efforts as evident from multiple initiatives undertaken by the government and added that it reserves the right to make additional submissions on INDC as and when required.
The country would need, as per preliminary estimates, around USD 206 billion between 2015 and 2030 for implementing adaptation actions in agriculture, forestry, fisheries infrastructure, water resources and ecosystems.
Noting that mitigation requirements are even more enormous for the country, India referred to an estimate given by NITI Aayog saying that the mitigation activities for moderate low carbon development would cost around USD 834 billion till 2030.
All nations were due to come out with emission targets ahead of a climate change conference in Paris in December, where they are supposed to adopt a landmark deal to fight climate change.



Popular in the Community