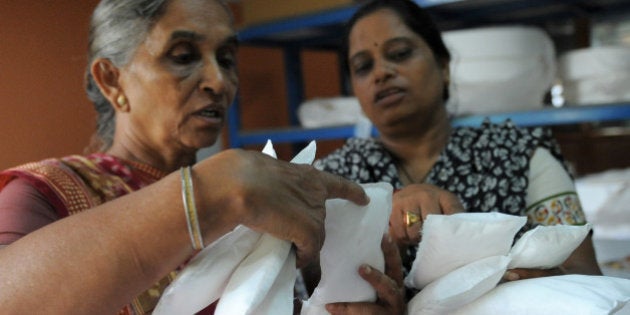 Syrian woman refugees in Jordan's relief camp might never wrap their heads around 'Arunachalam Muruganantham,' but the sanitary pads, which the Coimbatore-based inventor pioneered at the turn of the century, may be a different matter.
An American non-governmental organisation, Loving Humanity, that works with the UN in relief camps in Jordan is all set to replicate the low-cost sanitary napkin manufacturing model of Sakhi enterprise, founded by Vadodara's Swati Bedekar, who works for menstrual hygiene in rural India. Bedekar's NGO, Vatsalya Foundation, draws on the machine and business practices first conceived by Muruganantham.
Were the endeavour to succeed, it could be the first instance of a unique Indian innovation being replicated outside of India's borders, akin to marketing lores of Re-1 shampoo satchets--first conceived in India-- that went on to become staples of consumer-product companies in South America and Africa.
Sakhi is the brand name for sanitary napkins that are made and sold by associations of women's self-help groups in Gujarat and led by the Vatsalya Foundation.
"I realized that setting up 12 units in the Zataari refugee camp in Jordan would not just improve menstrual sanitation, but also empower at least 50 families as it brings in money through employment," Amy Peake, the founder of Loving Humanity, told the Indian Express.
She is currently in Vadodara to prepare way to ship 12 machines and the raw material for manufacturing low-cost sanitary napkins and expects to begin production soon.
Muruganantham, a school dropout from Coimbatore and who brought his wife her first sanitary pad to "impress her", is feted as among India's most creative grassroot innovators. The road to his invention of the sanitary-pad-making machine is evocatively narrated in the documentary, Menstrual Man, as well as this BBC magazine feature.
Muruganantham sells his machines for Rs 75,000, which can produce 200-250 pads a day and costs about 2.5 rupees. On an average, branded sanitary pads manufactured by multinational companies range from Rs 6-12. The ones developed by Bedekar's group has a custom-made disposal machine, akin to an incinerator, developed by her scientist husband Shyam.
More than it being a low-cost product in a country, where less than 8 in 10 women use a sanitary napkin, the business model hinges on it being used, managed and sold by women, several of whom are extremely poor and now have an alternate source of employment.
Approximately 80 percent of Syrian refugees in Jordan live in urban areas in the north of Jordan, while the remaining 20 percent live in the Za'atari, Marjeeb al-Fahood, Cyber City and Al-Azraq camps.
Northern Jordan has been dramatically altered by the Syrian civil war. Since the uprising began in March 2011 right across the border in the city of Deraa, Jordanians have experienced the conflict via the thousands that have crossed into their country through the towns of Jabir and Ramtha.
As of February 2015, over 622,000 Syrians had registered with UNHCR in Jordan.