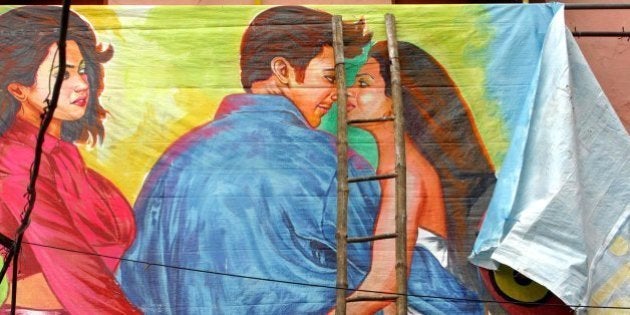 A variety of colourful Hindi and English cuss words are reportedly among 30 odd items on a list circulated by Pahlaj Nihalani, the chief of the Central Board of Film Certification, commonly known as the Censor Board of India, to the Producers' Association and Regional Officers directing the members to delete these from films.
According to The Times Of India, the circular read: "It has been noticed that some of the objectionable words/abusive words are not still deleted from the films. All ROs are directed not to allow such words in any category of the certificate. This is also applicable to regional languages films."
The words are supposed to be part of an internal memo, so obviously it was immediately available on social media as screenshots tweeted out by users.
The usual suspects - f**k, screw, c**t, p***y, dick, f*****g dick, are part of the list of course, along with their Hindi counterparts. But for some inexplicable reason, the Censor Board also wants the words masturbating banned from Indian films.
Samson resigned in January 2015 alleging government interference, a claim refuted by the Information and Broadcasting ministry, over the release of a controversial film the CBFC had refused to release in India. Samson was replaced immediately by Nihalani, a supporter of the ruling Bharatiya Janata Party, who has vowed to clean up content in Indian cinema.
Ashoke Pandit, a censor board member who was recently slammed on social media for abusing a group of standup comedians for the roast of two popular Bollywood celebrities, said he knew nothing about this list and did not endorse it.
I as a Filmmaker & #CBFC board member do not endorse the list issued by the Chairperson On words not to be used in films.I ws nt consulted.

— Ashoke Pandit (@ashokepandit) February 13, 2015
"It's about control. Today they're telling us what words we can use in our films, tomorrow they'll tell us what films to make," said filmmaker Suparn Verma.
Btw just curious Vani Tripathi a BJP official spokesperson is part of the censor board. Is that a usual practise?

— Suparn Verma (@Suparn) February 13, 2015
"The self-regulation is not being followed. There is vulgarity on TV... it should be controlled," Nihalani had earlier told TOI.
The list has upset many and social media users expressed their outrage the best way could--through acerbic takedown of the censor board in tweets.
anybody has that told email joke of MNC phirangs who state all the dos & dont's & list of cuss words NOT to use? think censor board read it

— Neetakolhatkar (@neetakolhatkar) February 13, 2015
Indian Censor Board is such a long, boring name. So it's really nice they released a list of fun nicknames for themselves.

— Abhishek Mutton (@abhishekmadan) February 13, 2015
The board also cautions against showing any content that promotes violence against women.
Popular in the Community