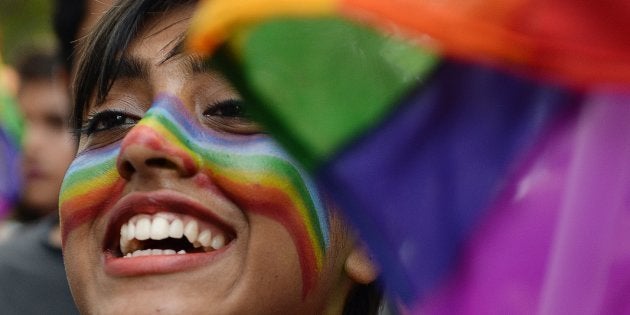 NEW DELHI — "I have to tell you something," the 45 year old wellness professional said to her 18 year old daughter.
"Tell me what?" her daughter replied, "That you're gay?"
The woman was lost for words. How did her daughter know?
"I have known for at least a year Mom," her daughter replied, and broke into laughter at the shock on her mother's face.
As her smiling daughter sat across her the woman realised — much to her relief — that her girl had grown up at a time when homosexuality wasn't entirely beyond her comprehension.
She had expected her daughter to react with anger or sorrow, but unlike the woman — who grew up in a Muslim family in the 1970s — her daughter was coming of age at the time of the long, unflinching legal battle that the LGBTQIA community has fought to decriminalise Section 377 of the Indian Penal Code.
The petition to strike down Section 377, a colonial-era provision criminalising 'unnatural sexual acts', was filed by the Naz Foundation in 2001, when the internet was the privilege of the few and social media was did not exist.
When the Delhi High Court declared Section 377 unconstitutional in 2009, the news was amplified by news channels, papers and India's budding social media landscape. After the Supreme Court overturned the High Court's decision in 2013, the uproar was palpable, and provided fresh impetus to the movement. The Naz Foundation filed a curative petition in 2014.
Now, as a five-judge constitutional bench of the Indian Supreme Court is expected to deliver its verdict on Thursday, many in the LGBTQIA community said the protracted legal battle has played a crucial role in making sexuality, long considered taboo, a subject of frank, open, and raw conversation — both public and private — across India.
Sidharth Singh was 16-years-old in 2009 when the Delhi High Court decriminalised homosexuality. At the time, he said, he did not understand why he found men attractive.
When he embraced his sexuality two years later in college in Delhi, he found solace in the elation he recalled seeing on the television when Delhi High Court judgement was delivered.
"It was a validation of my existence at a time when I used to sit alone on a bench in my classroom because other boys thought I would turn them gay if they sat with me," said Singh, who is now at law school in Delhi. "It was terrible. But I was not alone and of course, not a criminal in the eyes of the law."
'NOT A CRIMINAL'
Debolina (she chooses not to reveal her surname), an assistant professor at Delhi University remembers the Delhi High Court judgment as a 'coming out' for people in the country in general.
"People I wasn't really close to, people who I had no clue would be happy for me, called and messaged me saying, 'Congratulations' when the judgment came," she said. "I also gave my first interview on camera that day. It was a muggy evening and I turned up at Barakhamba Road with my then partner to celebrate."
She views the fresh round of hearings with anxiety.
"I came out to my parents a year back. They still don't fully get it and think it is criminal to be what I am," she said. "A host of sexual acts is deemed criminal, being gay essentially isn't, but they don't get it. It makes them scared and anxious."
Mumbai-based queer rights activist Chayanika Shah said since the case was first lodged, the context of the conversations around it has changed significantly.
"The case itself allows for some articulation of issues of sexuality, in a manner that hasn't been done till then. It is not to say that if the case had not been there, these issues wouldn't have come up.. it definitely acted as a catalyst," she said, adding that the conversations around the case and emergence of internet together helped marginalised people helped find others like them.
Rishu (he doesn't wish to reveal his surname) said he felt embarrassed when the 2009 judgment was passed.
"Growing up in a hetero-normative society, I struggled very long to embrace my sexuality. I had created a fake account which I used to chat with men and one day my brother found out. He then went and told my parents about me," he said. "When you have grown up with problematic stereotypes of masculinity and you are gay, the first response to your sexuality is deep embarrassment. That's what I felt, and told my parents all that was a lie."
It took him several years to find a community, and embrace his own sexuality. Four months ago, he finally had the courage to tell his parents that what he had once dismissed as a 'lie' was actually the truth.
"But by then, SC had re-criminalised homosexuality and the conversation became even more difficult," Rishu recalled.
His parents were convinced that if the Supreme Court had overturned a judgement, homosexuality really was a serious crime.
His parents took Rishu to doctors and ayurvedic practitioners who promised to 'cure' him.
"Now they have told me that they love me because I am their son," he said. "But they still don't get my sexuality, or accept it and would rather stay in denial about it."
The legal battle and the conversations it sparked, Rishu said, helped him come out to himself, but confused his parents, one a government official and another a homemaker.
THE CASE
The curative petition to overturn the Supreme Court's 2013 decision was filed by the Naz Foundation in 2014. Since that year, several more petitions challenging the constitutional validity of Section 377 have been filed. One is by celebrity chef Ritu Dalmia, hotelier Aman Nath, and three other petitioners. A separate petition has been filed by hotelier Keshav Suri of the Lalit Group.
A collective of 16 academics have also filed a plea to be heard alongside the primary petitioners. Two more petitions have been been filed by activist Ashok Row Kavi and the Hamsafar Trust. A group of former and present students of various Indian Institutes of Technology (IIT) have also asked to be impleaded. Most recently, 20 LGBTQIA activists from across the country have filed another petition against Section 377.
The 5-judge bench hearing the petition comprises Chief Justice Dipak Mishra, and Justices Rohinton Nariman, D.Y. Chandrachud, A.M. Khanwilkar and Indu Malhotra.
Amritananda Chakravorty, who is representing the group of academicians, said the Supreme Court is looking at Section 377 afresh in the light of the landmark privacy judgment in 2017, which said "right to privacy and the protection of sexual orientation lie at the core of the fundamental rights guaranteed by Articles 14, 15 and 21 of the Constitution".
"That will be the backbone of the arguments against Section 377 and how it violates the fundamental rights of citizens. Apart from that, we will use the NALSA judgment on transgender rights. We will also mention the Supreme Court judgment on the Hadiya case when they set aside the Kerala HC judgment annulling her marriage," Chakravorty said. The points the apex court made about autonomy and freedom to choose one's partner will be used to argue against Section 377.
In 2015, the lower house of the Parliament voted against the introduction of a private member's bill to decriminalise homosexuality. The Bill was proposed by Shashi Tharoor and the BJP is a majority in the Lok Sabha.
HOWEVER...
While Shah said she is glad people came together for the legal battle around Section 377, the conversation around it didn't take all the dimensions she would have liked it to.
"There are many ways in which mobilisation happened, one of them is the case. The uniqueness of the case has also been that finally it has been something around which most people have come together. Not as if it needed to be the only thing on which everyone could have come together... there could be other things as well," she said.
Shah pointed out that simultaneously there has been an articulation of trans rights, the case for which reached the Supreme Court and rights were granted but that did not become a rallying point for most of the country. She said she would have imagined people coming together over issues that are equally important to the queer community in India — sexual assault or family laws — but that didn't happen.
"An easy interpretation has become popular in the media. Sec 377 also talks about a larger thing — it talks about unnatural sexual acts. It has many more implications. Be it campaigners or the media, we didn't explore the other implications of the law. As a society, we did not delve into that. The debate that we kept alive that it criminalises homosexuality. Actually the section is telling the country what kind of sex we should have — denying anal sex, denying oral sex for everybody. Now the imagination is that heterosexuals don't have anal and oral sex, which is incorrect. Then you're not having a discussion on sexuality or what kinds of sexual acts are acceptable in society," she said.
Popular in the Community