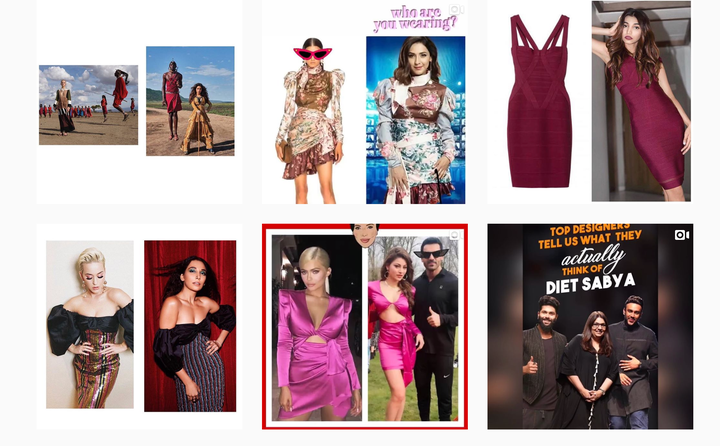 In a clip from a TV show that has garnered over 120,000 views since it was first posted on Instagram, model Erika Packard is seen showing a shirt with patterned patches on it to her co-host Gabriella Demetriades and explaining how she is upcycled her 'uncle's shirt' using her mother's 'old bandhni saree'.
Only, the patches Packard points at are ikat, not bandhni and the shirt is not a hand-me-down from the model's uncle but a design created by Mumbai-based brand Ikat Story, which the channel sourced for the show. Chances are, the blatant appropriation of a designer's work on a show put together by powerful businesses like AXN, Sony and Conde Nast would remain as another piece of gossip in Mumbai's sequestered fashion circles had it not been for a Instagram handle called Diet Sabya (DS). The handle, then just a few months old, posted a clip, tagged the model in question, the show's producers and directed its thousands of followers to the designer Chandni Sareen who deserved actual credits.
Packard later confessed on Instagram that the she was simply following a script given to her by the makers of the show. The post was hashtagged 'gandi' (dirty) like a few of Diet Sabya's previous posts and it seemed appropriate since it was targeted at corporate houses making money off stealing a designer's works.
Indian fashion has a massive plagiarism problem. That boutique "designers" make bulk purchases at Bangkok to sell under their own labels at astronomical prices back home has long been one of the industry's worst-kept secret. Sabyasachi Couture makes sure to register its designs before they enter the market and Tarun Tahiliani battled pattern infringement in court.
Diet Sabya's snark therefore seemed like a legitimate way to have designers copying from other brands and selling clothes for obscene amounts of money, actually develop some sort of a conscience. Or fear of being called out.
However, as Diet Sabya's followers swelled, people started pointing out that the handle's snark was often misdirected and at times, plain uncalled for.
FASHION POLICING AND FEMINISM
Despite the occasional knock, the account gets it mostly right, ensuring that chronic plagiarists have to at least face public scrutiny and the shame of exposure, if not legal action. It's the reason why Diet Sabya finds support from many stakeholders in the fashion industry. Designer Nachiket Barve, who was featured as someone whose work has been copied in the past, fashion entrepreneur Pernia Qureshi, and celebrity stylist Ami Patel, who has been called out by the account on several occasions, all believe that Diet Sabya serves the important purpose of making designers, brands, stylists, and photographers conscious of the originality of their work.
When actress Sanya Malhotra wore a jumpsuit from Madison boutique, the account was the first to point out that it was a complete rip-off — colour, cut, and design — of Australian brand Sheike.
Similarly, when a lehenga from Suneet Verma's 2018/19 couture collection very closely resembled the one designed by Abu Jani and Sandeep Khosla in 2015, Diet Sabya was quick to note, and poke fun at, the glaring similarities.
It's a form of criticism that's new to the Indian fashion industry, which itself is an infant in the global scheme of things. India's first fashion week was in 2000, 53 long years after the first New York Fashion Week. "For a long time, the only kind of fashion criticism we knew in India was the criticism of omission. If we didn't like a brand or a designer, we didn't cover it. You couldn't waste precious print space on negativity," says Nonita Kalra, editor of Harper's Bazaar India who believes Diet Sabya signals a 'democratisation in the process of giving opinions'.
With 167K followers, Diet Sabya said they started out as a platform to "call out copies and fakes, but has evolved into a larger platform to highlight issues like workplace injustice, bullying, worker safety, photoshop in media…" and the list is growing. But to many, including this writer, it looks a lot like Internet bullying, albeit with an impressive knowledge of fashion.
FUN VERSUS KINDNESS
The "gandi" hashtag (a constant in Diet Sabya's posts) has a lot to do with my perception of Diet Sabya's particular brand of fashion criticism as being little more than a glorified version of online bullying. The language of fashion and beauty commentary is evolving, thanks to all the voices advocating for inclusivity and kindness in the way people — especially women — are spoken to.
Using a descriptor like gandi (dirty), which has historically been used as a pejorative to describe women and their characters, is primitive and problematic at best, and derogatory at worst. It is tough to overlook the association when used by an account that mostly traffics in the criticism of women's fashion. To be fair, Diet Sabya does use the hashtag on posts related to male fashion as well, but compared to the women, male fashion or celebrities rarely ever get called out.
Diet Sabya describes its tone as "simple, sharp, and a direct antithesis of the self-congratulatory nature the fashion world is so proud of," and defends "#gandi" as "not for the women (or men) in question, but for the choice of fashion they'd want to associate themselves with," in an email interview with HuffPost India. But the link between taking potshots at the women who didn't even design the clothes and holding up a mirror to the fashion industry is tenuous at best.
One post features television actress Mouni Roy alongside Hollywood actress Blake Lively Both women are in similar-looking yellow dresses. The caption takes a swipe at Roy's inability to land the original Oscar De La Renta original that Lively is wearing — it loosely translates into a chant that maybe she'll wear an original in her next life.
Another one, this one featuring Bollywood actress Yami Gautam alongside Bella Hadid, calls Gautam "Bella Hadid from Bandra". Chronicled within its highlighted stories is a poll that Diet Sabya ran in its early days — "Is Tanya Patni Ridhi Mehra with bad photoshop?"
In October last year, when television actor Yuvika Chaudhry wore a lime green lehenga, similar to Sabyasachi ensemble Alia Bhatt wore to Sonam Kapoor's wedding, for her own mehendi ceremony, DS posted a photo from Chaudhry's wedding celebrations captioning it 'It's a mess'.
The owners of the account believe that it is the celebrity's "job to enquire before seamlessly sliding into knock-off gowns," but that still doesn't explain how making cruel jibes at actresses and television stars — who probably cannot afford the styling and wardrobe budget of a top Bollywood actress — makes fashion accountable.
When asked why the account has only ever called out a handful of male celebrities, they claim it's because "male celebrity fashion is (mostly) so bland, there's nothing to call out." They don't subscribe to "ANY biases," the owners emphasise, in their response.
UN-FOLLOWERS
For some, like former fan and fashion commentator Varun Rana, and celebrity stylist Nitasha Gaurav, the constant stream of negativity isn't worth the service Diet Sabya offers, and have chosen to unfollow the account. Both believe that the owners took a much-needed and good idea, and ruined it with the execution. "If it was meant to be about fashion, their knowledge and research would speak for itself. They wouldn't need a "gandi" hashtag or poop emojis," says Rana.
Gaurav describes Diet Sabya's way or expression "catty and bitchy, with overtones of bullying", and doesn't agree with its penchant for targeting smaller stars like TV actresses, Bollywood newbies, or models. "They're not very snarky when the stars are big, but are particularly nasty about smaller stars. Which is worse, because they have access to fewer things. It is common knowledge that the bigger the star, the wider their access to designers within the country and internationally."
But for others, like stylist Ami Patel, as long as the process is unbiased, the means justify the end. The account may be doing nothing to moderate the gleefully nasty, sometimes even abusive comments that its more dedicated followers often leave on the account's posts; but it also doesn't stop designers, brands, celebrities or stylists from vehemently refuting them, or putting forward their side of the story. Kalra defends Diet Sabya's right to stay true to its voice. "You can't call yourself liberal and force someone to self-censor. The freedom of expression is sacrosanct to creativity," she says. "Personally, I believe that people having a voice is better than them not having a voice, even if you don't always agree with what they're saying, or how they're saying it. It's forced me to be more liberal and less old-fashioned in the way I think."
ANONYMOUS WATCHDOG
Anonymity is another important variable in the 'critic or bully?' debate. Anyone who has ever spent any length of time on the Internet can attest to this: it's a lot easier to say cruel, hurtful things online when you don't have to suffer the consequences of those words in the real world. In the case of Diet Sabya, where its acerbic tone is fast becoming the very fabric of its identity, anonymity helps cushion its owners as much as it enables them. If nothing else, it is hypocritical for an anonymous account to demand that the fashion industry be accountable for their work, while being answerable to no one for their own. Is concealing the owners' identity important to the account's purpose of exposing design thieves, or is it a convenient way of subverting accountability? Perhaps, a bit of both.
Gaurav and Barve believe that anonymity is fine, as long as the focus is firmly on fashion. But Qureshi and Rana feel otherwise. "Without anonymity, they wouldn't have the courage to say one-tenth of what they do," says Qureshi.
Diet Sabya might believe itself to be an "unbiased" platform that "calls out stuff that needs to be called out" in all their "unfiltered glory", but even they aren't completely immune to public and celebrity pressure.
In January this year, Diet Sabya called out Anamika Khanna for the conceptual similarity in her AK-OK lehenga and Vogue editor-in-chief Anna Wintour's AWOK Air Jordan sneakers. Sonam and Rhea Kapoor immediately rushed to defend Khanna, writing lengthy social media posts about how AK-OK was an inside joke between Khanna and her son while she battled a medical emergency. Eventually, the post was taken down. Diet Sabya claimed that it was decision spurred by "empathy, not intimidation" and apologised to their followers for "failing them". In our email interview, the owners of the account, without mentioning this specific incident, claimed they "Possibly regretted a call-out one time, but also regretted taking it down."
Anamika Khanna, on her part, categorically denies having asked for the post to be taken down. "Neither I, nor anyone from my brand reached out to Diet Sabya. I think it was Sonam and Rhea's posts that made them reach out to us and after hearing our side, they made the decision to take it down."
Diet Sabya is modelled after Diet Prada, an Instagram platform that calls out ripoffs and imitations long international designers. But Diet Prada's focus is squarely about educating fashion enthusiasts and starting important conversations about the difference between inspiration and imitation, even as it continues to name and shame designers for pirating; Diet Sabya's "growth" in the last year can be chalked down to this: it's even more cocky and toxic than it was when it started a year ago.