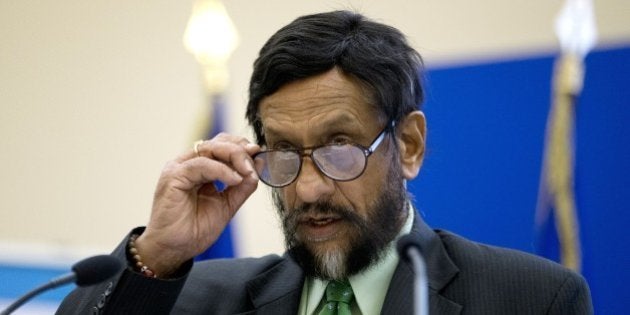 NEW DELHI: Police in Delhi have commenced investigation in a sexual harassment case under criminal and non-bailable charges against Rajendra Pachauri, the 75-year-old chairman of the United Nation's Intergovernmental Panel on Climate Change. The complainant is a 29-year old woman who works in his office at The Energy and Resources Institute, the research thinktank he heads as director general.
Pachauri is a globally influential voice on climate change and received the Nobel Peace Prize on behalf of IPCC in 2007.
The complainant has worked in Pachauri's office for the past year and a half, and registered a complaint against him last week, alleging that he had sexually harassed her since September 2013. A first information report (FIR) was registered in the Lodhi Colony police station in Delhi on Wednesday.
The FIR, which has named Dr. Pachauri, has been filed under sections 354, 354A, 354D, and 506 of the Indian Penal Code which pertain to outraging the modesty of a woman, assault and criminal force on her, unwelcome physical contact or advances, and making sexually-coloured remarks. All of them are non-bailable offences and based on the evidence thrown up by the investigation, police can move to arrest an accused.
Police sources told HuffPost India that they were in the preliminary stages of investigation and were as yet recording statements. An arrest at this stage would be unlikely, they said. Forensic evidence is also being gathered in the case. The SHO of Lodhi Colony police station, Virender Singh Dalal, declined comment.
Pachauri has alleged that his computer and phone was hacked, in a response to The Economic Times, which first reported the story. Pachauri subsequently obtained an injunction from the Delhi high court, which has restrained the media from reporting on or discussing the details of the complaint.
Full Text: Statement From Pachauri's Spokesperson:
"The Delhi High Court has been pleased to pass order dated 17/02/2015 which is appended herewith. The said matter came up for hearing on 18/2/2015 wherein modifications have been made in the said order for defendant no. 1, 2 and 3 only. However subject to the modifications in the order concerning defendants no 1 to 3, the order dated 17/02/2015 is applicable to the defendants and continues to be operational."

"Given the fact that the said matter is currently subjudice and the Hon'ble High Court is seized of the matter, it will not be prudent or appropriate to comment anything on the matter pending adjudication before the Hon'ble Delhi High Court."
Sub-inspector Pratibha Sharma will head the investigation in the case.
Popular in the Community