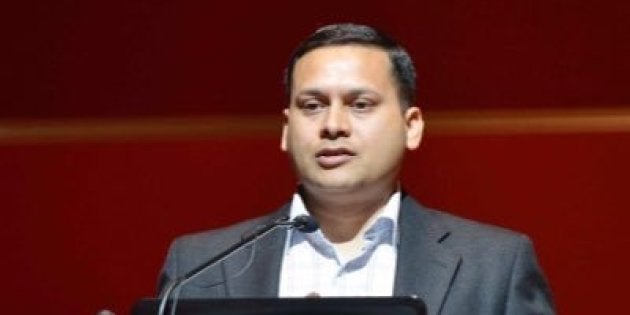 As head of the BJP's IT cell Amit Malviya should be quite aware about fake news.
Perhaps he's only too aware.
Malviya tweeted out a picture of Rahul Gandhi saying "Rahul Gandhi visited Dera Sacha Sauda as recently as Jan 2017 to seek support... Congress rules Punjab. What quid pro quo did they promise?"
Unfortunately it was not a picture of Gurmeet Ram Rahim with Rahul. As Altnews reported it was taken from an Indian Express article that clearly stated the Congress leader was visiting Dera Sach Khand Ballan. He was meeting with its head Sant Niranjan Dass.
But for the purpose of fake news one dera is as good as another. This cannot just be an honest mistake. If the head of the BJP's IT cell is genuinely unable to identify someone as "photogenic" and well-photographed as Love Charger Ram Rahim, he really has no business heading an IT cell.
Instead what this smacks of is a rather desperate attempt to duck, dodge and deflect.
Malviya's timeline has several tweets that are all about pointing fingers at the Congress.
Unfortunately the more Malviya huffs and puffs and bluffs, the more he gets stuck in the loser's defence which is to spread the blame around.
That boils down to this sad line – The Congress also did that.
But the BJP was not elected to be another Congress. The more Malviya flails and points to Congress leaders who met Ram Rahim the more he draws attention to the numerous photographs of BJP ministers, MPs and MLAs who have kowtowed before Ram Rahim. When he asks if Rahul Gandhi did not know about the rape cases against Ram Rahim when Amarinder Singh went to meet him in 2012, it simply begs the question whether Narendra Modi did not know about that when he tweeted about "Appreciable effort by Baba Ram Rahim ji & his team" in 2014.
Now Ram Rahim's adopted daughter Honeypreet Insan has said he had met with BJP National president Amit Shah and offered votes of his followers for the BJP in return for removing rape cases against him. Speaking of quid pro quos that's a clear one. Insan could be desperate and lying and she has provided no proof that such a deal was even on the table, but the BJP really should not be talking about quid pro quos and Congress coziness with dubious godmen at this point.
At best they are merely proving that they are no better than those they dismissed as corrupt, venal and opportunistic. That hardly makes for a party with a difference. Given how much the BJP has mocked Rahul Gandhi's political judgement, does Malviya really want the centrepiece of his defence to be "Rahul Gandhi also did that"? What makes it worse is then he offers as proof the wrong picture. That's not even whataboutery. That's plain old facepalm.
The point is not one erroneous picture. As any social media guru knows, the idea of a social media barrage made up of facts, semi-facts and outright untruths is not to establish facts but to change a conversation. Malviya's tweet flurry is about changing the conversation to the misdeeds of the Congress which no one other than the Congress wants to contest. It's the same as when after Gorakhpur BJP officials were busy pointing out the Samajwadi Party was just as negligent.
In the process though Malviya is inadvertently shining a light on his own party's feet of clay at least in this regard. As Santosh Desai points out in a recent column the BJP is rapidly chalking up many of the sins of the Congress of yore. In Gorakhpur, the deaths of children elicited the time-tested reactions of "(d)enial, obfuscation, a desperate search for scapegoats." The Rajya Sabha election saw Congressi tactics of "(h)orse-trading, misuse of government machinery and intrigue" where "individuals changed sides without any guilt or shame." Several state elections have seen the BJP come to power by the same kind of tactics that Indira Gandhi loved to use. And the Chandigarh case of a young woman being pursued by two well-connected goons initially elicited the same old response of a slow response from the police, a missing surveillance video and victim shaming before social media pressure and the victim's own family clout forced sterner action.
Desai writes "There is a governance gap that this government is simply unable to bridge, and it cannot keep up the pretence that it is somehow different."
In that regard Malviya does his party no favours by his tweets. Instead of pointing out how different the BJP is from the parties it has dislodged, he is just underlining that it's all, as we often say in these parts, same-to-same.