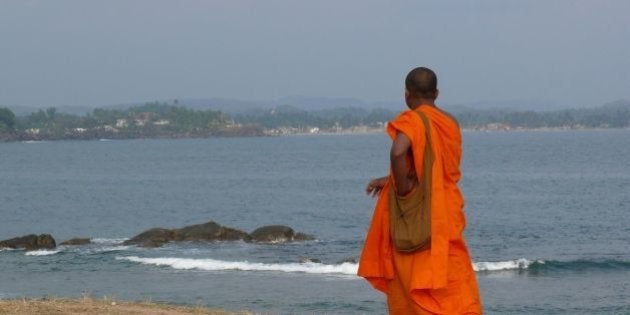 Fear. We all experience it.
We might feel anxious about our loved ones, our self-esteem, growing old, or even dying. Or we might read the news, see stories of violence, tragedies on India's roads or railways, details of the latest health scare.
What we fear varies according to who we are as individuals, and the environment we live in. In a society driven by competition, we might be fearful of not keeping up with our peers, our neighbours, or colleagues. In a culture driven by the accumulation of material wealth, we might fear the feeling of not having 'enough', or not having as much money as others.
Such fears are extremely common. The good news is that experiencing fear is not a bad thing - it means that you are alive. But being overwhelmed by fear is something different.
Buddha himself, before he reached Enlightenment, experienced fear like everyone else. He, too, feared growing old, falling ill, and dying. But he realised that fear is like a self-fulfilling prophecy - without understanding the cyclic nature of this world, that which we fear will keep on repeating itself.
If we fear something in this moment, in this life - and fail to truly understand it - the same pattern will repeat itself in future moments, in future lives.
In Buddhist terms, only when we liberate ourselves from the causes (Karma - causal actions, and Kleśas - afflictive emotions), conditions (habitual patterns and tendencies), and effects (the various existences) of fear, can we begin to overcome it.
The idea of overcoming afflictive emotions and non-virtuous actions might sound easier said than done. But our future depends on it. For there is a greater type of fear that could undermine everything that is good in our world. This fear, or perhaps more accurately 'terror', is born when we give in to our negative emotions, and dismiss the universal law of Karma and causality. When we have no belief in cause and effect, when we ignore the cyclic nature of fear and of life itself, then we are able to commit all kinds of atrocities. When we give in to our fear, we shake the foundations of virtue, and risk losing the moral fabric of our society. When we fail to understand fear, fear becomes our foe.
Overcoming fear by understanding fear
Fortunately, as human beings we have a unique advantage when it comes to overcoming fear.
Other sentient beings, such as animals, experience fear and other emotions, but they are limited only to the five senses. Humans, however, can utilise logic, reasoning, and particularly our inner qualities, such as the mind looking inwardly, and try to examine and understand what fear is.
Understanding fear and overcoming it are one in the same thing. Fear itself derives from a lack of knowledge and understanding - about the 'unknown.' The solution, therefore, lies in understanding fear - not to get rid of it, but to recognise it as a part of life, and to try to channel it for positive means. When we understand fear, fear becomes our friend.
Human beings have a unique choice and opportunity to overcome fear. We may not always see this choice, particularly in the moments when we feel afraid, but it is there. Whether we use this opportunity, is up to us.
One of the worst things about not understanding fear is that it can waste time, which is so precious. If we have a non-virtuous attitude, or fail to understand the true nature of our emotions, fear can accumulate until it is overwhelming. We feel defeated. From a Buddhist perspective, in that moment we have forgotten that compassion exists, that compassion will prevail - and in this forgotten moment, our fear is compounded.
Channeling fear for loving kindness
When we approach fear with a virtuous attitude, we can use reasoning and logic to overcome it. Whether it is through meditation, talking to loved ones, or other ways, we are able to uncover the 'unknown,' and take away fear's power. When we examine fear, we discover a simple and powerful truth: fear is neither good nor bad. Fear is neutral. What is positive or negative is our response and relationship to fear - how we understand it, approach it, channel it. It's like any other tool that we can find in life. We discover that fear does not inherently exist - if it did, we would not experience peace or compassion at all.
When we understand that it is us, and not our emotions, that have the power, we are able to channel our fear in a positive way. Understanding fear helps us to be decent, kind and caring people. And by being a kind person, with a good heart, we are also able to face fear more easily. This kind of virtuous circle, or Karmic cycle, holds great hope for humanity.
In Buddhist terms, all of the problems in our society stem from a lack of understanding, a fear of the unknown. When we challenge this ignorance through logic, through reasoning, through tapping into our boundless internal resources of wisdom and compassion, we manifest hope - not just for ourselves, but for our world. Understanding fear implies that we understand ourselves. If we understand fear, then we understand more about compassion, about what it means to be human.
Perhaps the greatest benefit of facing fear and overcoming it, is that we do not waste time. In fact, we use our fear to focus more on the precious present. We all know that we face serious challenges, in India and all around the world. Let us not waste a moment, for every moment is an opportunity. Let us face our fears with courage, with understanding, and loving kindness for all sentient beings.