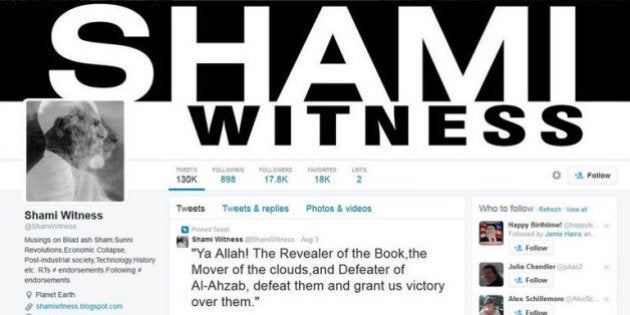 Police in Bengaluru and India's intelligence agencies are hot on the heels of a city resident who was reportedly running an influential Twitter account that voiced the agenda of the Islamic State, formerly The Islamic State of Iraq and Syria.
The information that a marketing executive in Bangalore was running an influential Twitter account for ISIS has sent shockwaves through India's security establishment, which has been on alert about ISIS's efforts to recruit fighters and supporters from India through social media. The anti-terror outfit National Investigation Agency is currently questioning Areeb Majeed, the Mumbai man who had joined ISIS and fought in Iraq. Majeed used to follow the Twitter account @ShamiWitness.
Bengaluru is India's tech capital, where major global corporations run development centres and a number of companies do outsourced development and tech work.
In an update Friday evening, Channel 4 said the man they outed has told them that the police was now searching for him and he didn't know what to do.
In his interview to Channel 4, he said that he hoped he was an "honest Muslim," and that he would have joined ISIS if he could. Mehdi shut down his account after Channel 4 contacted him.
The @ShamiWitness account was followed by two-thirds of all foreign fighters on Twitter, and had over 17,700 followers. His Twitter account was reportedly followed by jihadist fighters and Middle East analysts. On Twitter, he praised dead extremists as martyrs, and networked with other pro-ISIS voices, but maintained a totally different persona on Facebook, Channel 4 reported. He had tweeted out 1,30,000 times and posted about 1,900-odd photos and videos including beheadings by ISIS. He joined Twitter in 2009, and has been tweeting about Syria since at least 2011.
Shami has written for jihadi expert Pieter van Ostaeyen's blog where he is described as "a rising star as it concerns Syrian Jihadism."
The Channel 4 investigative team was able to track down the man behind the handle by tracking his former Twitter handle -- @ElSaltador, the same name was was used to register on Google+ and Facebook.
"If I had a chance to leave everything and join them I might have." He said in a phone interview with Channel 4. Mehdi agrees with most of the methods of ISIS, including beheading. "I don't think any honest muslim will ever tell you he's against beheadings per se." he added.
The Central Crime Branch (CCB) has been assigned the job to hunt down Mehdi, Bangalore Police Commissioner M.N. Reddi, told The Hindu, refusing to share any further details.