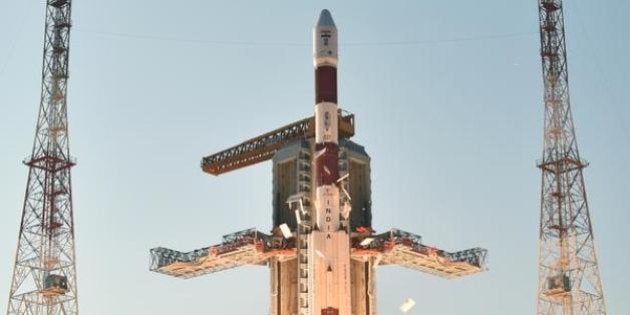 In response to a Parliament question, Union Minister for Science and Technology, Jitendra Singh, said that India's space agency Isro had made $100 million from launching 45 commercial satellites in space. That is however money made (and not profits) over eight years and by comparison Arianespace, a French company and the dominant player in the commercial space launch market reported revenues of €1.399 and a €3 million profit just last year.
The reason why India is yet to rake in big money is because most of these foreign satellites are light satellites (less than 1600 kg) and for India to begin making a significant dent in the space-launch industry, worth $3 billion, it must be able to lob heavy communication satellites that are atleast four tonnes.
According to industry reports, more than 80% of the revenues from satellite launches come from heavy satellites.
India has spent more than two decades developing a class of rockets called the Geostationary Satellite Launch Vehicles (GSLV) for these weighty satellites, it still can't reliably depend on them for its own missions, let alone offer them to foreign players.
To realise a reliable GSLV, India must develop a stable cryogenic engine and since 2001, when India launched a GSLV for the first time, it has had an abysmal 26% success rate.
Yet there couldn't be a better time for Antrix, Isro's commercial arm, to up its game for a variety of reasons. For one, it can keep costs low.
Indian scientists work on a fifth of the salaries of their counterparts in space agencies in Europe and the United States. These low costs are reflected in the entire ecosystem of manufacturers that include nearly 400 Indian private companies making different parts of the rockets and satellites. Ajay Lele, an expert on space studies at the Institute for Defence Studies and Analysis notes that Isro is frequently able to offer satellite launches at 75% of the cost of space agencies in the West.
With all the positive press that Isro has garnered with its Mars mission, there is a global buzz about the Indian space industry and this would be the right time for the agency to spruce up its commercial act. That includes, as Lele notes, farming out more of its commercial activities to private players and focussing more on technology development.
In fact, the most heartening news out of Isro of late has been a successful test, on the ground, of its indigenously-developed cryogenic engine that is absolutely necessary for powering rockets that can venture into deep space, guide manned missions and catapult all those heavy satellites.