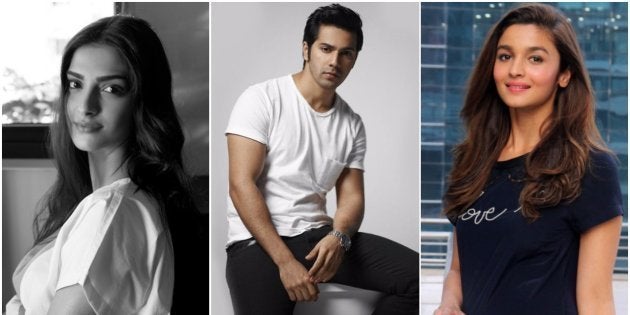 One of the toughest things for an actor belonging to a Bollywood family is to admit that they've had it easy. Before you start aiming brickbats at me, let's try defining 'easy' here. I have no doubt star kids have had their share of personal struggles, some of them have worked hard on their bodies, dancing, emoting and in some cases, the results are right before us. They are stars that we would spend our hard-earned money to watch and for good reason. Yet, there should be no doubt over the fact that they've had it easy. Because hundreds of men and women in Mumbai go through similar motions of 'training' and it is years before they even land a commercial. And several of these men and women -- who we refer to as 'struggling actors' could be equally talented, if not more.
I haven't encountered any star kid who spoke empathetically about an outsider's struggle, reflecting some amount of self-awareness of his or her privilege.
Now, why do I want them to admit to their privilege? Well, basic human decency I guess.
It's not very different from the need for people like us to admit to and understand our privileges -- which has given us access to education, healthcare, jobs, a life so to say.
Take for instance this particularly insensitive comment made by Varun Dhawan in a recent interview. While speaking about rampant nepotism in the Hindi film industry, he said: "They (outsiders) are acting if their father hasn't even bought a pencil box for them. After a point, it just becomes an excuse."
A few months ago, Alia Bhatt had said something even worse. In a Bombay Times interview, she said, "I want to punch all those people who say that star kids have it easy because it makes no sense. The way the world is today, either you have it or you don't."
While debates around nepotism in Bollywood have surfaced occasionally, it has picked momentum in the past couple of weeks. We have to thank Kangana Ranaut for it, who held a mirror to Karan Johar on Koffee With Karan. As a journalist, I have always tried to bring this question up with actors descending from Bollywood families.
Often, their responses are extremely defensive, as if you are making them feel guilty for something. It's true it's no fault of theirs that they were born into rich, influential families. It is also true that, like every other person with privileges, it is their moral responsibility to acknowledge how these privileges have put them in a place of professional advantage compared to several others. And they continue to reap its benefits.
However, the way some of these young stars have responded to conversations around nepotism have left a lot to be desired. I mean, it couldn't possibly hurt to say something as brief and simple like: "True, we have had access to many things that cannot be easily accessed by actors who don't belong to families with strong Bollywood connections. The knowledge is humbling and I can't even begin to admire the courage of so many of my colleagues."
That's it. It's that easy.
In September last year, I met Sonam Kapoor for breakfast. Following a casual banter, the conversation moved to a tricky territory -- of nepotism enabling her success in Bollywood. Kapoor was furious and explained that none of the films she's worked in has been directed by her father's friends.
What Sonam doesn't want to acknowledge is that she was considered for her first film, Saawariya, because she had the access that an outsider would perhaps have to spend years to get. She could be an Assistant Director to Sanjay Leela Bhansali largely because of her family background, the same reason why her co-star Ranbir Kapoor got the chance to assist the Black director or, for that matter, a Varun Dhawan got to assist Karan Johar (on My Name is Khan).
The access immediately puts you into an advantageous spot, an elevated space that makes a world of difference.
The way nepotism works can often be subtle. As was the case with Sonam's brother, Harshvardhan Kapoor.
The actor was launched by Rakeysh Omprakash Mehra in Mirzya. But how did he land the role? According to what Mehra told me in an interview, he spotted him when Kapoor was chilling on the sets of Delhi 6, a film which Mehra directed and Sonam acted in.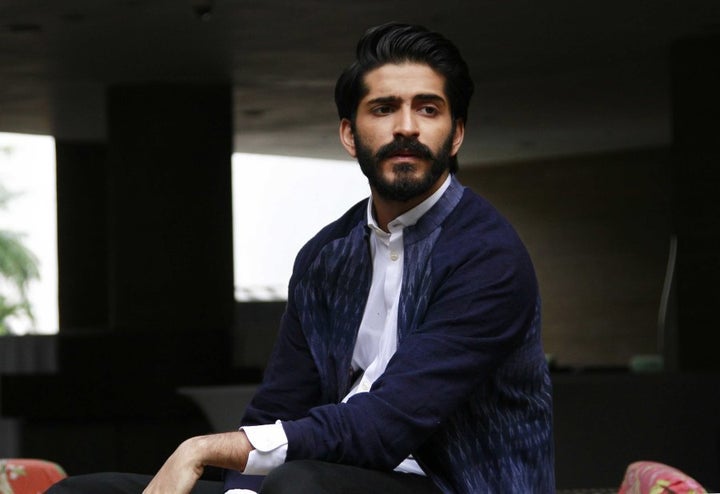 Harsh was just hanging out on sets. A struggling actor, who shares a room with six other strugglers in a cramped apartment on the outskirts of Mumbai, will never be able to "just hang" on any movie set. Even if they tried, chances are, they'll be rudely shooed off by security.
That, dear Sonam, is privilege. And Harsh being signed for Mirziya, a big-budget romantic saga, is the end-result of what privilege can achieve.
Another argument that comes in defense of nepotism is, "Oh, but you don't complain when a doctor's son becomes a doctor and a lawyer's daughter becomes a lawyer? Nepotism is everywhere."
Firstly, the universality of it doesn't make it something to be proud of. Secondly, there's a difference between doctors, lawyers, engineers, and their offspring continuing with the same vocation as compared to actors.
For one, they have to appear for the same exams/entrance tests than any other person wanting to be a doctor/lawyer. Yes, an engineering aspirant whose parents are engineers has great privileges, starting with the privilege of belonging to an economic section where education itself is easily accessible. But at the end of the day, in most plausible situations, they have to crack an exam themselves and there's no way around it. And yes, like I said before, they must be aware of their privileges and admit to them during conversations around it.
However, it is wildly different from the entranceexams that Bollywood aspirants have to go through. It's not like that X's father is a Doctor so it gets you the question paper a day in advance. But yes, if your last name is Kapoor, it does get you a Dharma film. See the difference?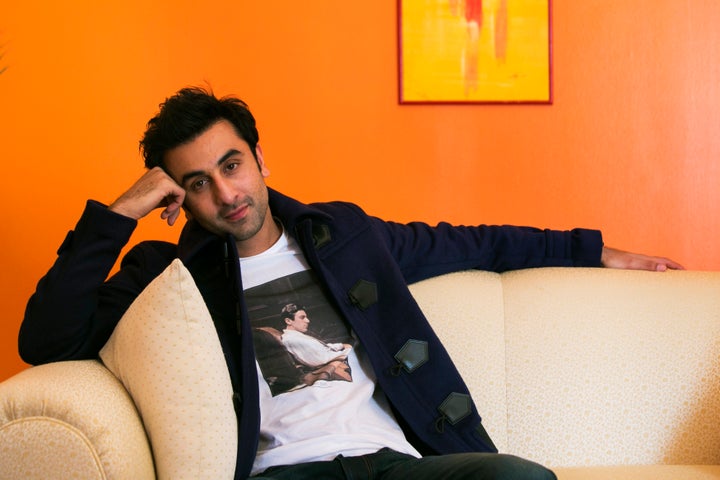 There is another defense, one that Alia Bhatt made when I interviewed her. To give credit where it's due, she did acknowledge that a famous last name gets you the film but said it can only "take you so far".
After that, it's your own struggle, she said. Which isn't true. Not entirely.
An actor from a film family will get 10 more chances compared to the one shot that an outsider has.
The likes of Abhishek Bachchan, Uday Chopra, Tusshar Kapoor, Esha Deol, Fardeen Khan, Sikander Kher -- actors who come from influential families but couldn't establish themselves successfully -- were launched, re-launched, and launched again, till there was evidence beyond reasonable doubt that the box office was not into them at all.
For instance, here's a list of films (or chances) Abhishek Bachchan got before delivering his first hit in Mani Ratnam's Yuva. They amount to 15 films, all of which failed both, critically and commercially.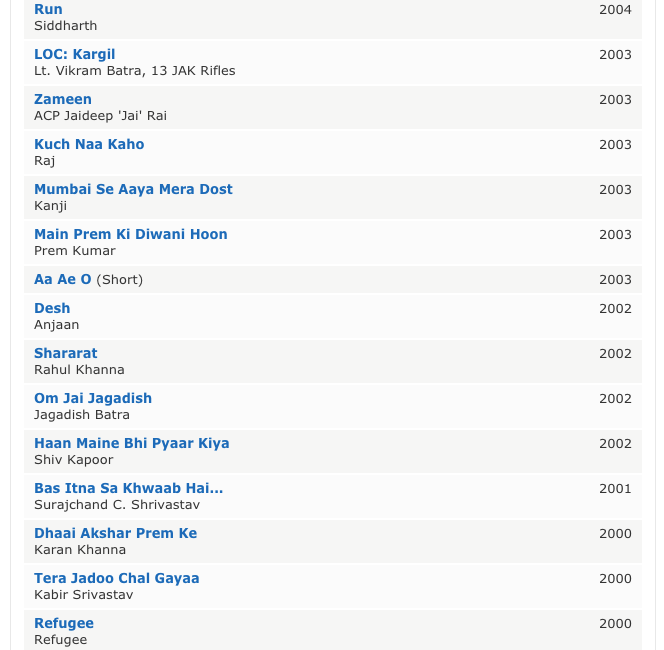 The point is: If you are Bollywood blue-blood, there'll be a number of attempts to propel you into stardom as opposed to a solitary chance given to an outsider, for whom that one film will be life and death. Failure of that film is their cue card to go back to the small-town they came from.
But for a Sooraj Pancholi and an Athiya Shetty (who made their debut in Hero, a film produced by Salman Khan) or a Harshvardhan Kapoor, does the failure of their debut film mean it's all over? Hardly.
Athiya will be seen alongside, well, Arjun Kapoor in a film produced by a major studio (Sony's Mubarakan) while Harshvardhan Kapoor has a solo-hero project with Vikramaditya Motwane (Bhavesh Joshi). Sooraj Pancholi has signed a film with ABCD hitmaker, Remo D'Souza.
Opportunities abound -- so what if you flounder the first time around.
"Seekh lenge," like the filmies say.
Other than Sidharth Malhotra, there isn't a single male outsider who's turned into a 'star'.
Sure, we have Nawazuddin Siddiqui, Irrfan Khan, and Manoj Bajpayi, but mainstream commercial success and popularity are largely restricted to Varun Dhawan, Ranveer Singh, Ranbir Kapoor, Hrithik Roshan, Shahid Kapoor and Arjun Kapoor.
On the fringes are Sushant Singh Rajput and Amit Sadh, two very talented actors who slogged it out on television before being considered worthy of Bollywood films.
Bollywood is mostly run on private wealth. So you may argue, production houses have every right to put their money wherever they fancy. They can pack a bag with money and toss it into the Arabian Sea instead of giving a chance to an 'outsider' if they fancy. But let them at least have the guts to say that they want to blow up their own money like they fancy. It's at least honest.
When journalists and viewers ask stars about nepotism, it isn't always an attempt to guilt-trip them. The problem is real and it needs to be acknowledged. A creative industry owes its audience an effort to scout and discover the best possible creative talent, which is not exclusively passed down the gene pool.
The least you can do is not trivialize the struggle of an outsider and acknowledge that the competition has never been on a level-playing field but tilted decidedly in your favor.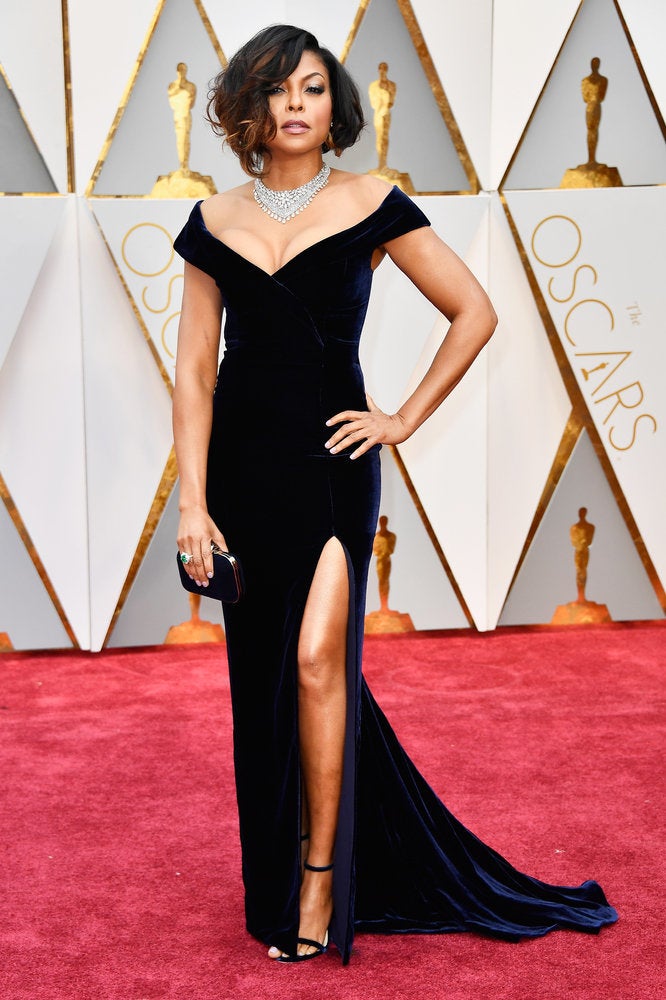 Oscars 2017 Best And Worst Dressed
Popular in the Community