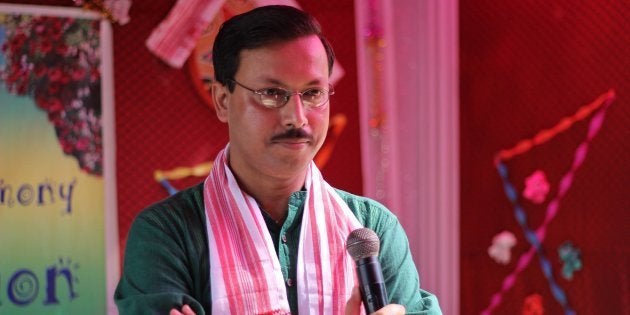 "What does the BJP need that could put it ahead of other parties?" During a car ride to a campaign venue in Uttar Pradesh in 2007, BJP president Rajnath Singh tossed an unusual question at his media assistant Prodyut Bora. The 33-year-old was taken slightly by surprise. He had been a part of the party for less than three years and didn't belong to a political dynasty. But he took his chance. Remember, this was 2007, barely a year after Facebook and Twitter had been launched; the IT industry was booming and no party, Bora felt, had a narrative that could attract this new voting class of young professionals.
A few months later, the Bharatiya Janata Party's 'IT Cell' was born, with Bora as a national convenor. Eleven years later, Bora, now also an entrepreneur in clean air technologies with an office in Gurgaon, says his brainchild has mutated beyond recognition.
"It's like Frankenstein's monster," he said.
How did you end up joining BJP?
I come from a middle class family where the first option was to get a job, so I had never been part of student politics or anything before. I studied literature in St Stephen's College and then did my post graduate diploma in management from IIM Ahmedabad. I worked, got married, and then finally joined politics when I turned 30.
That happened purely out of a whim.
I was a management consultant advising companies how to change. So I thought, if I can tell companies how to change, why not go and work for the change of the country — just kind of making your canvas bigger. And you're 30 and you think you can change the world and all that.
It was just around the time BJP had lost power, September 2004.
I was a great admirer of Mr Vajpayee, so I felt that this is a man who deserves to get elected again and I would definitely want to contribute. Of course we couldn't have known that his health would deteriorate so quickly. Nonetheless, with all those ideals and idealism, I joined the BJP in 2004. Then I set up the IT cell in 2007 and then I was tasked with the responsibility of running the communications office for LK Advani during 2009 general elections.
Soon after he joined, Bora was assigned to the media cell of the BJP in Delhi under Arun Jaitley. The convenor of the media cell at that time was Siddharth Nath Singh, who he directly reported to. Before Bora left to join politics, he had worked in the DT group which has cinemas in Delhi, his first job, he recounts with a hint of pride, was at Biblio, a celebrated literary magazine. In 2007, Bora was nominated from the cell to join Rajnath Singh during the state polls in UP as his media assistant and spent all of January 2007 traveling with him. Then in May-June, the party announced two new cells. One was Bora's IT cell, the other was the cow protection cell.
Why did the IT cell come to be?
One day we were going from Kanpur to Lucknow in a car, and Rajnath Singh asked randomly, "So Prodyut ji, what is that we should do in the party, that we aren't doing?"
I don't know how the light bulb of my brain got on, so I said, "Well Sir, as a management student, we were taught to always pay attention to CRM — customer relationship management. It's not just enough to sell a product, after that you got to maintain a relationship with the customer as well, so that he or she becomes a repeat customer. So if there can be CRM for the corporate sector, why not VRM -- voter relationship management — for political parties?"
He said, "That's a good idea, let's do this, but how to do it?"
I said, "Sir, there are already 25 cells in the party, let's make another cell and call it the IT cell."
After the cell was formed, some people in the party came and congratulated me, though a little confused. They said, "Congratulations on the Income Tax cell."
When you started the IT Cell, what is it that you wanted it to achieve?
This was the pre-social media age, and the first objective of the IT cell was automating the party. Before we got on to the voters and did voter relations, the party itself needed to be automated first. The second objective was to reach out to voters, the third was advising the party on IT policy matters.
What kind of policy matters did the cell advise the party on?
A lot of things, for example bandwidth. In 2007, bandwidth was a huge challenge. What should be the party's policy — BJP was the main opposition — on internet roll out? What should be our position on VOIP, it was discussed then but it has still not been rolled out in India. We set up the IT cell in about 15 states if I remember correctly. (Editor's note: In 2007, the tariffs were high enough that Internet companies offering cheap calls were a real risk to the bottom line of Airtel and Vodafone. The launch of Reliance Jio in 2016 however changed things dramatically, and today calling is close to - or even entirely - free, with data being king.)
What were the qualifiers that you looked at to induct people into the cell?
A majority of the people were basically IT enthusiasts and experts who were interested in the party. You know, it was purely about technology — it was not about cursing people and running trolls.
What were the significant achievements of IT cell during your tenure?
I think we were capitalising technology like no one else was doing. Even Congress-leaning media houses declared that BJP was way ahead of Congress when it came to technology. In terms of using IT to attract the youth — the early 2000s was considered to be the years of the IT boom — it was very successful. A lot of people who had not thought about politics had begun to think about it. Our interest in IT and using IT as a gateway, got a lot of them associated with the BJP. In terms of automating the party, we did a good job as well.
The charter of the IT cell that Bora shared with HuffPost India begins with the words -- 'Jai Vigyan (Hail Science)' -- and goes on to explain how though lawyers have dominated political parties, the party has noticed people from the IT industry gravitating towards politics.
"The second mandate of the IT Cell is to draw the best of IT talent and provide them a platform to operate in the public space. The IT Cell is inspired by the fact that the Indian independence movement was led by professionals," the document states.
It adds that the IT cells job would be to establish systems that would help party workers reach out to each other and to the public. It also invited IT professionals to join the party to discuss various issues listed as following:
How can IT be used for the greater public good, and not just for private profit?

How can it be used for providing better access to government and private services; for facilitating income-generating activities; and for bridging the urban-rural divide?"
After the BJP lost the general elections in 2009 and Rajnath Singh's tenure as the BJP President ended, Bora moved to his home state Assam as the state general secretary of the party. By then the leadership of the IT cell had changed hands and moved to Arvind Gupta, appointed by the new party president Nitin Gadkari. In 2015, Bora he quit the BJP and 2016 formed his own party, the Liberal Democratic Front in Assam. His party contested in the state elections in Assam in 14 seats and lost all of them. However, they plan to contest in the general elections again.
When you look back, what was the legacy you wanted to leave the IT Cell with?
My legacy doesn't stand. It has been turned upside down. It is like -- maybe this is a bad example -- but it is like asking Mr Vajpayee today what legacy he has left in the BJP. It's completely destroyed. Fortunately for us, we did not have social media. I mean it had just come in and in India, people had dismissed social media as something not happening...
Did you ever consider the possibility that social media will become a behemoth it is now?
Nobody thought! But we very enthusiastic about its implications. Back when we were just getting to understand it, it was all about democratisation of content, democratisation of voice, democratisation of access, multiple narratives — I mean those are the beautiful words.
We thought, until now we had media, now everyone can be media barons'. Nobody thought it would turn out to be what it is now.
When did you start feeling that the party has turned the IT cell into a polarising weapon?
I think it was the 2014 campaign. During the 2014 campaign, the IT cell was being controlled and managed completely from Gandhinagar. It was being run by the Modi team and I think the rot started there. The formal head of the IT cell was there peripherally but the entire thing was Modi's team. So Team Modi started the rot.
When you look at the IT cell today and what it allegedly does, what do you feel about it?
I mean, occasionally, its just painful to watch what they have done with it. But I try to be dispassionate about it as well. Institutions go up, go down and I look at the IT cell as a small institution that I had the privilege of setting up.
But it's no more a small thing. A few days back, there was news that in UP, BJP is looking to recruit 2 lakh people into the IT cell...
(Chuckles) When you have money, you can do anything. In those days, we didn't have money. See, I look at it this way — I was given a job. I did a good and honest job. Now somebody has driven it to the ground.
Also, you know we cannot keep talking about the IT cell in isolation. The IT cell carries out the mandate of the BJP president. Whatever directions the president kind of gives you, you do that.
During my time at the cell, we drafted out a charter, we showed it to Mr Rajnath Singh. He approved it and said, "Okay this is your job."
So today, whatever they are doing is a mandate that has come down from their president. I mean people should ask the party president what's going and not the IT cell.
Why did you quit the BJP?
I wanted to quit the day Mr Modi was made the prime ministerial candidate for the party...
Why did you feel that way?
Uncomfortable. Whatever has happened, I think I know too much. I was just uncomfortable. I think that it was not a good choice, it's a bad choice. But my colleagues said that everybody deserves a second chance, especially in public life and so does Mr Modi.
They also said, "That there are too many checks and balances in Delhi. There's a Supreme Court, the media is more intense, the Parliament... so we are sure he's going to change. Give him a second choice."
That I felt, was sane advice. So I gave him a chance, I waited. I resigned in February 2015, I gave him 10 months. Then when I saw that more of the same things were happening, I did the only honourable thing that could be done — quit.
Can you explain what you mean by 'same things'?
The same things that were happening in Gujarat — you know one man and the bureaucrats kind of running the show. The same thing is happening at the Centre. In fact, it's one man running the country and another man running the party. Just one man and his cabal running the country — the same kind of surveillance and pressure on the media, society and dissidence — what they did in Gujarat. Same thing they are doing across the country. One man taking all major policy decisions like it was in Gujarat — demonetisation, GST, this and that. In 10 months I could figure out that things will not change.
You joined the party in 2004. Before that, in 2001, the Gujarat riots happened and even before that Advani was widely acknowledged to be the architect unrest that led to the Babri Masjid demolition and the riots that followed. You said you wanted to do something for the country, so how did you overlook the party's communal history?
I didn't think there was any logic to this violence. In 2001, I was actually extremely proud of the fact that Vajpayee ji talked about 'rajdharma' and expressed his disapproval for Modi's discriminatory politics. (A letter obtained through RTI found that in a rare instance, Atal Behari Vajpayee had written to Modi after the riots reminding him what his job as a CM was and that was not to fan discrimination.)
It's another thing, that due to the intra-party politics, he could not fire Mr Modi, he wanted to. In that flight to Goa, everyone pounced upon him and he couldn't do anything. I empathised with his handicaps. Number one, he was running a 23-party coalition, his position was not one of absolute power. Within the party, I think, the control of the party was still with Advani. I felt he wanted things to change, but he couldn't change it. My attraction to the BJP was not BJP, it was not RSS, it was Mr Vajpayee.
How would you describe the trajectory of the IT cell?
The IT Cell's trajectory went a bit like SIMI's. The first president of SIMI, who was instrumental in starting it, is now a professor in United States and this is a banned organisation in India. He started SIMI with a different objective, you know, to help Muslim students who were backward. Using the power of education to help them progress, the founder later said, that was the idea behind SIMI.
Later, it became a banned organisation. The IT cell started with a very different mandate, it was not created to abuse people. I actually think, the people who joined in 2004, that wasn't even the culture of the party. The BJP used to be a cultured party, I mean there was some sense of it, some decorum within the party. Now it has crossed all limits.
Would you have advice on how to fix what the IT cell has become?
You cannot fix the IT cell until you fix the party's president.
Popular in the Community